Choosing Between Permanent & Mobile Safari Camps in the Serengeti
by Dori Saltzman /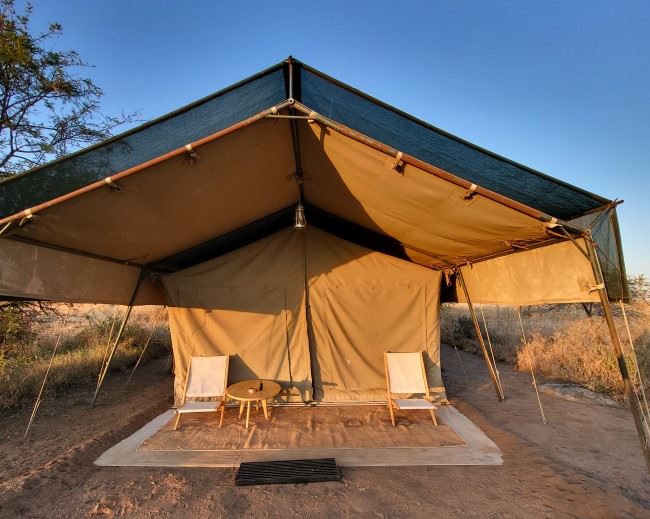 Until this year, travel advisors looking to book a Serengeti safari for their clients often looked to mobile camps as a way to get their clients closer to the action. But under new regulations by the Tanzania National Parks Authority (TANAPA), all mobile camps in the north have been pushed back, putting many permanent camps closer to the Mara River, where most of the action takes place.
The move makes the selection of which camp(s) to send your clients to – in the Northern Serengeti, at least – more complicated, as proximity to the river was the mobile camps' main attraction. (There are far more mobile tent options than permanent options in some parts of the Serengeti making the question of choice moot in these areas.)
"Traditionally the advantage of a mobile is that they would have been close to the Mara River for the crossings but last year TANAPA forced all the mobile camp sites back from the river," said Mercedes Bailey, group PR manager for Asilia, which operates several safari camps throughout the Serengeti (permanent and mobile). "Now our permanent Sayari Camp is actually closest to the river, so that argument does not work."
So why pick a mobile camp these days? Travel Market Report reached out to several safari experts to find out what they think the pros and cons of permanent vs mobile camps are.
Permanent Camps = More Facilities
"For a permanent camp, the pros would be obvious," Sandy Salle, founder and president of Hills of Africa told TMR. "Luxury and comfort being chief among them… it's an incredible luxurious experience, especially in contrast to a mobile camp."
Andrew Drummond, director of product for Kensington Tours, agreed. "The permanent tented camps are elaborate and so incredibly awe-striking in so many instances… whereas a mobile camp is eventually going to need to get packed up and moved."
One example of luxury that can't be moved and so is only found in permanent camps: swimming pools, Bailey pointed out.
On a recent Tanzania safari, we found this to indeed be the case. Of the three camps we stayed at that were in national parks (one in Tarangire and two in the Serengeti), only one had a pool and it was a permanent camp.
Additionally, permanent camps feature tented accommodations built on raised platforms, usually have nicer ensuite bathrooms, and often have a fancier dining area.
Luxury Sometimes Overshadows Wildlife
Both Salle and Drummond told TMR that the luxuriousness of the permanent camps can overshadow everything else.
Guests may end up feeling cut off from nature, Salle said and the addition of a pool or a spa can make the camp feel manufactured and inauthentic.
And because there's more to do, guests might find themselves drawn more to the camp and its amenities than the safari experience, Drummond added.
Mobile Camps: A Step Back in Time
While permanent camps tend to be fancier, staying at a mobile camp doesn't necessarily mean roughing it. Many mobile camps can offer a level of comfort you'd expect to find at a nice hotel. Yet by their very nature, they do lend an air of authenticity that comes from having to ask for hot water when you want to shower or hearing a hyena brush past your tent in the middle of the night.
"It does really feel like if you were going to the Serengeti in the 1920s, this would be the style of accommodation that you'd encounter," Drummond said.
"I love mobile camps," Sandy Salle, founder and president of Hills of Africa told TMR. "You feel like you're a part of the bush, in the heart of Africa."
Unlike permanent camps, tents are staked out on the ground, putting you that little bit closer to the wildlife that surrounds the camps at night. And because they have less amenities the focus stays on the wildlife, making it perfect for the client who wants to get back to nature and be off the grid during their safari.
"The fact that they're mobile and they don't have as many amenities makes them a little bit more distraction free," Drummond said. "The focus really does become the wildlife. The guide and the staff become so much more important because you can't just go lounge by the pool or hop on your iPad in your site."
They also tend to be smaller, Drummond said, giving them a more intimate feel. And, making them perfect for buy-outs.
Focus On Nature
"You can really hear what's going on outside," Salle said, adding that if the thought of animal noises makes your client nervous, a traditional mobile camp might not be right for them.
During our stay at mobile camps in the Serengeti, we clearly heard a variety of animals at night, sometimes seemingly right outside our tent. (Leopard paw prints right outside our tent pointed out by our security escort the next morning lent those noises a lot more gravity!)
We did not hear much at the one permanent camp we stayed at, inside Tarangire National Park.
Drummond also pointed out the environmental benefits of mobile camps.
"The have less of an impact," he said. "When they move, the land that they were set up on gets an opportunity to regrow and go back to the way that it was."
Pricing & Availability
Though prices vary and despite their luxuriousness, some permanent camps are actually less expensive than comparable mobile camps. This is because it costs more to put the mobile camps up and take them down at the start and end of each season.
Because of their higher level of comfort – and now dependable proximity to the Mara River – permanent camps also usually book up years in advance. Meaning, clients that wait until a year or less to book their safari might not actually have a choice.
Choosing the Right Style
Both permanent and mobile tented camps have their place on a safari. Which one is the best option depends on your client. Do they want to spend their lunches at the pool and their evenings on their iPads? Do they want to be further afield, wondering what that noise was that woke them from sleep?
Finding out which style they prefer is up to you. Explain bucket showers, for which you need to ask for the water to be heated, to ensure your client is comfortable with the idea.
Not everyone wants to trade away comfort, Salle told TMR. Both she and Drummond agreed bucket showers are a pro for some and a con for others.
(We had a bucket shower at one of our mobile camps. And, yes, it layered on a feeling of being on a "real" safari.)
Unless there's a real reason not to (like your client absolutely doesn't want one or the other style), both Salle and Drummond recommend advisors try to book their clients in a mix of the two for an optimal safari experience.