Explora I Doesn't Disappoint Say Advisors on First Sailing
by Dori Saltzman /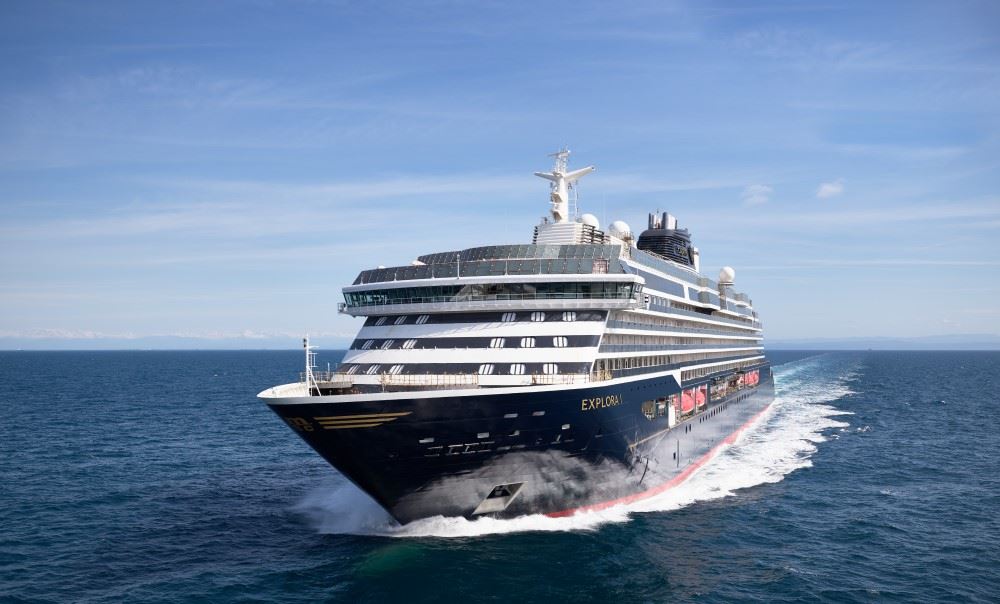 After years of anticipation and a delayed launch, several travel advisors finally made it onto the inaugural sailing of Explora Journeys' first luxury ship, Explora I. After so much waiting, expectations have been a mix of very high and wait and see. Travel Market Report reached out to a number of advisors who were onboard to find out their initial impressions.
Without exception, everyone we heard from had nothing but great things to say.
"There is nothing like it at sea," said Eric Goldring, owner of Goldring Travel, an Ensemble member agency. "You truly feel like you are in a luxury resort; not a cruise ship. There is an elegance and design that is truly unique."
Lisa Moss Yates, ECC, owner of YC Travel, agreed.
"The ship and décor were breathtaking and beyond our imaginations of what she would be. Specifically, the design, color schemes, and layout made us feel as though we just stepped inside a luxury hotel at sea."
"When I stepped onboard Explora I, I felt like I was walking into a welcoming picture of elegance and refined spaces," said Tina Robinson-Quirke, owner of TRQ Travel. "Explora I lounges have endless views of the ocean… suites create a sense of staying in a home at sea with luxurious amenities and enrichment experiences that stimulate the mind and body…
Yates, an Explora Journeys Pioneer, currently has 40 clients booked for an ocean journey on Explora I, and Goldring said he's completely comfortable recommending the ship to his clients.
"Explora Journeys has far exceeded my expectations…" he told TMR.
What will luxury cruisers love?
According to all three advisors, Explora I achieves its goal of providing a top-notch luxury experience.
When asked what one or two things they think their luxury clients will love about Explora I, the three were hard-pressed to keep it to two.
"Impossible to limit it to that," said Goldring. "Spacious and well-designed suites, culinary experiences at a level higher than another ship, sophisticated and varied entertainment, superlative retail shops, five unique pools, beautiful public spaces, an amazing amount of personal space, and the list goes on."
"The things we believe luxury cruisers will love about Explora Journeys is the beauty and style of the ship, along with the itineraries available. Secondly, the variety of culinary options and experiences," Yates said.
Goldring also emphasized dining, telling TMR the five main restaurants – including Emporium, which he called "so much more than a buffet" – and 10 lounges "impresses immediately and continues throughout one's journey."
Robinson-Quirke echoed Yates and Goldring on the culinary options, but also said she believes luxury clients will love the crew.
"The crew was also something that stood out to me," she said. "Everyone was, of course, excited for the Maiden Voyage, but the genuineness and congeniality of the entire crew really shone through in exceptional service and care."
Even better, Yates said, the experience begins before your clients even step onboard.
"It's a concierge service that helps clients from conception of their booking to the completion of their journey."
Does Explora Journeys compare to MSC Cruises' Yacht Club?
All three advisors told TMR you can't compare Explora Journeys to MSC Cruises' ship-within-a-ship Yacht Club concept.
"Explora is truly independent of MSC and any effort to tie the two together is a horrible disservice to Explora," said Goldring. "There is simply no comparison between the two from hardware to software to amenities to cuisine."
Who is the "right" client for Explora Journeys?
According to Yates, the right clients to target for an Explora Journeys cruise are experienced travelers that seek out luxury, but are also independent minded.
Goldring, on the other hand, told TMR it's more about who is not a good fit.
"If a guest is looking for a Carnival or Royal Caribbean high-energy experience, this is not the ship. But a Royal Caribbean guest that loves the suite experience, may well love Explora.
As for whether current luxury cruise clients will love Explora, he said that depends on the client.
"Some guests may love Silversea and find Explora to be a great fit, while others may not. As for the luxury brands, I truly believe it competes at – or above – the levels of Silversea, Seabourn, and Regent."