Here's What's Trending in Luxury Cruising for 2022
by Dori Saltzman /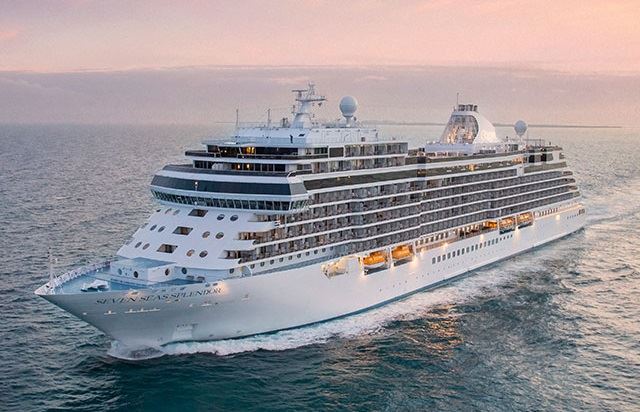 The floodgates have opened and the demand for travel is booming. People are tired of being stuck at home and are ready to hit the open seas and getaway. And because they've been holding on to their travel budgets for a year or more, they're also prepared to splurge. The result is a surge in luxury cruise bookings many travel agencies report is unprecedented.
But most of the demand is for next year or beyond. With the Delta variation of COVID-19 still causing problems globally and some uncertainty over which countries are open and will stay open, many cruisers are waiting just a little bit longer.
But they're not holding out on their spending.
Regent Seven Seas Cruises saw its largest ever booking day when it launched its 2022-2023 sailings in the fall of 2020, with cruises in Africa, Asia, the Mediterranean, and the Baltic pulling in the most bookings. And, for the line's 2023 World Cruise, every single one of its penthouse or higher suites sold out within a matter of hours.
Similarly, Silversea and Oceania sold out their 2023 world cruises in a single day and Seabourn sold out all its penthouse and spa premium suites for world trips in 2022 and 2023.
Higher spend, far-flung destinations, rapidly diminishing space…all are trends travel advisors are reporting as well.
Travel Market Report reached out to cruise selling agencies to learn what they're seeing among their clients when it comes to luxury cruising for 2022 and beyond.
Here are the top five trends we found.
1. More Spending on Suites & Long Cruises
Almost without exception, every travel advisor we spoke to reported a pent-up demand for travel that is resulting in higher spending than they're used to seeing.
Having held on to their travel budgets for more than a year, people are ready to spend.
"People are booking homes, villas, suites, and jet vacations like I've never seen before," said Susan Reder, managing partner at Frosch Classic Cruise & Travel, a Signature member agency.
On cruise ships, that's translating into more top-tier suites being booked, along with more longer vacations.
"There is a definite trend of booking longer cruises and higher category suites," said Eric Goldring of Goldring Travel, an Ensemble member agency. "There's less inquiries for seven-day cruises and lower categories."
Some cruise sellers also report they're seeing more movement among their clientele from non-luxury cruising to luxury ships.
"My clients are spending more than before, and those who weren't cruising luxury in the past are now considering the luxury brands or choosing them," said Susan Pretkus-Combs, owner of a Dream Vacations franchise in Trabuco Canyon, California.

Blue footed boobies in Santa Isabela Islad, Galápagos. Photo: Shutterstock.com.
2. Exotic Is Hot
Most of the agencies Travel Market Report spoke with reported an uptick in cruise bookings to exotic destinations.
Mara Hargarther, owner of Hargarther, Thaler & Associates, a Dream Vacations franchise in Ponte Vedra, Florida, said her clients are mostly booking exotics and Europe "largely with little trepidation."
Pretkus-Combs even referred to it as an "urgency" among her clients.
"I'm seeing more interest in exotic itineraries, such as Antarctica, Galapagos, and more unusual, far-flung destinations. Clients have said they put off their bucket list trips in the past, waiting for better timing or more money. But the pandemic made them realize the best time for these trips is now. They've seen friends and family members become ill or worse…"
But not everyone we spoke with is booking cruises to far-flung destinations.
Both Paula Kaisner, owner of Kaisner Travel, a Dream Vacations franchise in Austin, Texas and Susan Walsh, executive vice president of Keene Luxury Travel, a Signature member agency, reported their clients are staying a bit closer to home.
"Alaska is a destination for luxury cruising that has picked up since it's a domestic sailing opportunity," Kaisner said.
And Goldring said that while they're getting inquiries about exotic locations (Antarctica, Australia/New Zealand, and Asia, in particular), clients that have already had cruises canceled – sometimes several times – are still taking a "wait and see" approach before committing.
3. Expedition Picked Up Right Where It Left Off
Before the COVID-19 pandemic hit in early 2020, expedition cruising was poised to have its biggest year ever with more new ships than ever before. A year's break from cruising hasn't slowed the niche's movement down.
Between pent-up travel demand and more talk about climate change, the demand for expedition cruising, particularly in the luxury segment has never been higher.
"The luxury expedition hybrid continues to be sizzling hot as the geographical areas become more extreme," said Angela Hughes, owner of Trips & Ships Luxury Travel. "Antarctica is on everyone's mind, as is Iceland and Greenland… I literally watched an Iceland sailing sell out in one day when it opened…"
Pretkus-Combs said her agency is seeing the same thing. "My franchise has been quoting and booking these luxury/expedition hybrids at a greater pace in the past month."