Quark Expeditions: What Travel Advisors Should Know Before Booking
by Judi Cohen /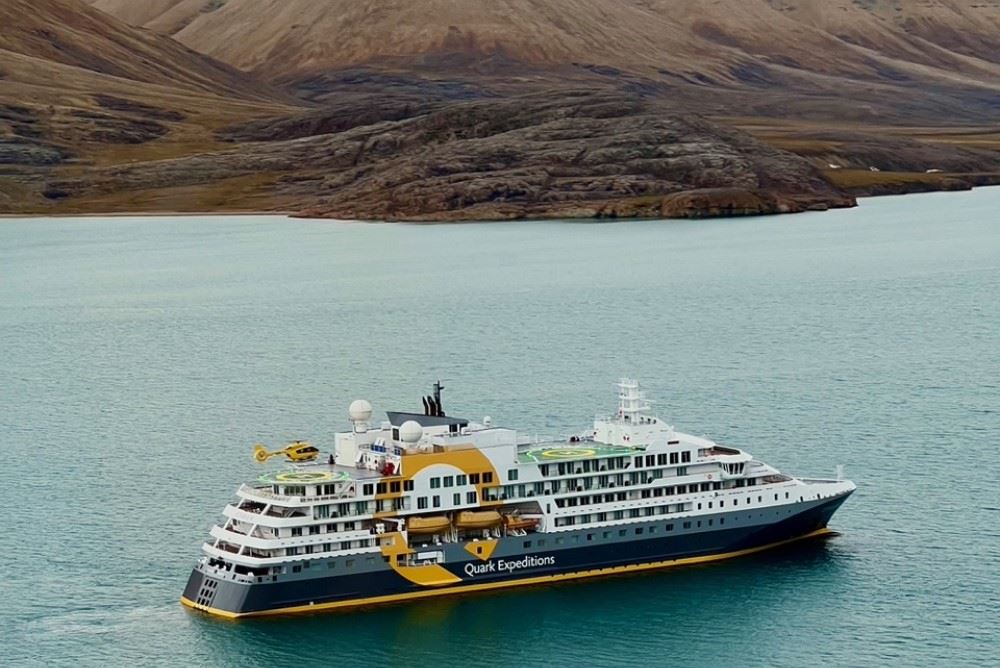 Travel Market Report contributor Judi Cohen recently spent 10 days onboard Quark Expedition's Ultramarine in the Canadian High Arctic. She cruised from Iqaluit to Resolute, Nunavut along the coast of Baffin Island to Lancaster Sound following the route of storied explorers in the Northwest Passage. This was her sixth polar expedition north and south of the Arctic Circle.
For advisors who have never sailed with Quark Expeditions, here are a few things to know about the expedition cruise line before recommending it to clients.
Thirty plus years of polar experience
You won't find an itinerary outside of the polar regions with Quark Expeditions. The line, which has been in existence for more than 32 years, operates only in the Arctic during the summer months (May to October) and in the Antarctic during the winter months (November to March). The line's fleet includes three small expedition ships with ice-strengthened hulls (Ultramarine, Ocean Adventurer, and World Explorer). All carry less than 200 guests enabling all guests to leave the ship at one time, an experience larger expedition ships cannot offer.
Ultramarine: the perfect combination of comfort and adventure
The 199-passenger Ultramarine, Quark's newest ship in the fleet, is the ultimate adventure platform with two twin-engine helicopters, virtually every adventure activity possible, elegant cabins and suites (some with balconies), sophisticated public spaces, and superb outdoor wildlife viewing areas. Zodiacs, kayaks, and other adventure equipment is stored at the water level making adventure activities more easily accessible.
By contrast, some other expedition ships store this equipment on the top deck using cranes to transport Zodiacs to and from the water level.
When asked "Why Quark?" repeat Quark cruisers we met onboard took turns waxing on about great meals in the dining room with panoramic views, the quality of the lectures and presentations, and above all else, an experienced expedition team delivering exceptional adventures by helicopter, Zodiac, and kayak.
Healthy food and drink options are available at every meal in addition to a full range of foods catering to every dietary need.
Quark Expeditions prioritizes adventure over luxury, however, so if your clients are exclusively seeking casinos, entertainment, and multiple restaurants, this kind of small ship will likely not be suitable for them.
On the other hand, if they are interested in an immersive and active adventure and are prepared to pack a spirit of adventure, a Quark Expedition is a terrific choice that will not disappoint and may even have them coming back for more expeditions to far flung polar destinations.
Be prepared for changes to itinerary and activities
With itineraries in two of the most remote regions of the world, wind, water, and ice pose challenges, often necessitating changes to planned itineraries and activities. On our most recent expedition, charter flights were rerouted, and the entire itinerary was adjusted, even after sailing. The captain and expedition leader communicated throughout the day about ice conditions and anticipated changes.
Few expeditions to the Arctic or Antarctic end up following the itinerary exactly as shown in the brochure, and Zodiac excursions and landing sites are often changed subject to local conditions. For instance, a planned kayak excursion and Zodiac landing were cancelled when polar bears were spotted by the expedition team in the water around our ship. Safety is always the number one priority.
Experienced expedition cruisers expect and are accepting of such changes and consider them to be part of the adventure, but this can be off putting for clients new to the niche.
Age is less important than sense of adventure
The average age of guests on our Ultramarine expedition was 63 with some guests well into their 80s. We had the opportunity to spend time with Cara Matthew, Quark's regional sales manager for Canada who was onboard. She told us about an expedition in Antarctica with a 92-year-old guest who enjoyed every adventure activity effortlessly.
Adventurous guests had multiple options to fuel their need for physical activity including kayak excursions, Zodiac tours and landings with moderate to extreme hikes, helicopter flight-seeing, yoga classes, and a gym with weights and workout equipment.
Guests do, however, need to be realistic about their physical ability to partake in many of the activities and must have the strength and balance to transfer to the ship from Zodiacs often in rough waters.
Quark Expeditions focus on getting you out on the land as much as possible. And on sea days, they offer optional educational sessions.
Popular with many passengers on Ultramarine was the helicopter excursions. This was a great add on, to be able to see from above the rugged landscapes that surrounded us.
Based on the number of guests with elaborate cameras, lenses and binoculars crowding the observation decks on the lookout for polar bears, walruses, whales, and birds, as well as photogenic icebergs, this expedition is also ideal for photographers and wildlife enthusiasts.
Almost all-inclusive
Quite a lot is included with Quark – even helicopter flight-seeing and Zodiac expeditions, though there is an extra charge for sea kayaking. (Spaces for excursions fill up fast, book your clients' spots early to guarantee them a spot.)
All meals in the Balena Restaurant, offering a variety of international cuisine, is included, as are wine and beer at dinner. Basic Wi-Fi is also included, however faster service can be purchased daily.
Charter flights are included, as are a pre- and post- hotel night on some remote itineraries.
Gratuities for crew and staff, spa services, and purchases from the onboard gift shop are not included.
While meals in the dining room are included, some Quark sailings have an extra-fee options your foodie clients might like. On our sailing, the "Tundra to Table" Inuit fusion-style dining experience was available at an additional charge and worth every penny. Greenlandic chefs, Miki Siegstad and Peter Berthelsen prepared each of the four courses and stayed after dinner for conversations with guests.
Easy to work with
During our time onboard, we had time to get to know Canadian travel advisor and arctic travel specialist, Carole Gobeil, who was onboard with a group of clients. She told us that "the sales staff at Quark are exceptional and very easy to work with."
She also noted how devoted and passionate the expedition team onboard is.