Silversea Cruises to Introduce New Suite Categories on Silver Endeavour
by Dori Saltzman /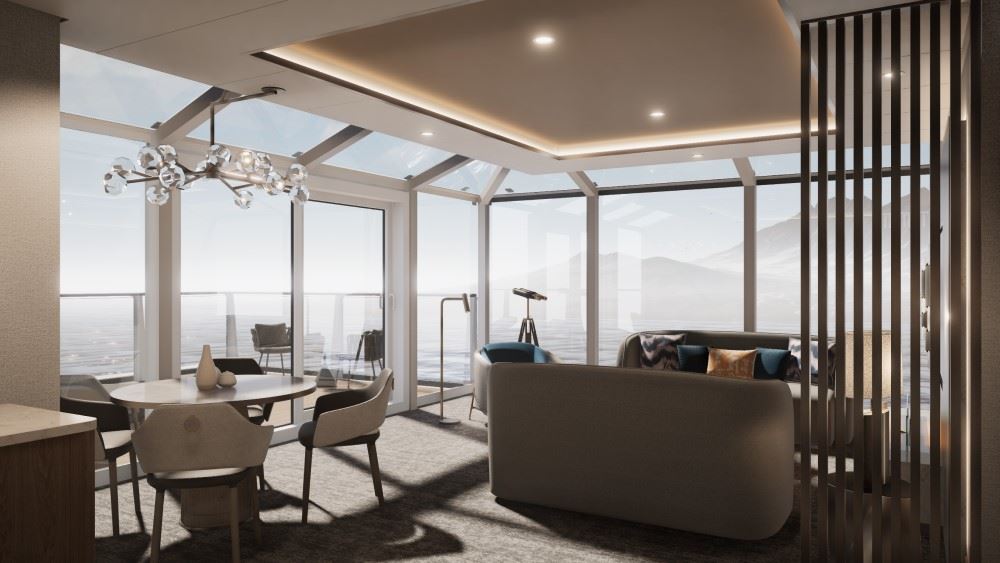 When Silver Endeavour emerges from its upcoming refurbishment it will boast 10 new guest suites in two new suite categories.
"Silver Endeavour's refurbishment will strengthen her status as the world's most luxurious expedition ship," said Roberto Bruzzone, Silversea's senior vice president of marine operations. "With our guests' cruise experience in mind, we are broadening her range of accommodation options by introducing two new suite categories, enriching a selection of public venues, and creating space for addition [sic] crew members to maintain one of the industry's highest crew-to-guest ratios."
Replacing the former helicopter hangar amidships, Silversea will install two Master Suites and four Signature Suites. Starboard side on deck five, four Classic Veranda Suites will replace the Medical Center, which will relocate to the space currently occupied by the casino on deck four.
Master Suites
The ship's two new Master Suites, located towards the ship's aft, will provide uninterrupted 270-degree views from their 312-square-foot balconies and large living areas. Inside, the 1,163-square-foot suites will feature expansive living and dining areas, a bedroom with king-sized or twin beds, a walk-in closet, and a roomy bathroom with a walk-in shower and separate whirlpool bath. The living room will have a convertible sofa to accommodate a third guest.
Signature Suites
Four new signature suites, ranging from 721 to 850 square feet, will feature an open living room and dining area, expansive bedroom with king-sized or twin beds, floor-to-ceiling windows, a walk-in closet, and an adjoining bathroom complete with walk-in shower and whirlpool bath. The living room will have a convertible sofa to accommodate a third guest, as well as floor-to-ceiling glass doors. Balconies range in size from 167 to 269 square feet.
Classic Veranda Suites
Four classic veranda suites will be installed on the ship's starboard side on deck four, featuring the traditional layout, features and amenities of Silversea's existing veranda suites. Each of the 356-square-foot suites will have a 52-square-foot balcony.
More Crew
The removal of the casino on deck four will create space for four new crew cabins, which will host seven additional crew members. As well as bolstering the ship's hotel team, the extra cabins will enable the line to enlarge the ship's expedition team to 22.
Silver Endeavour will enter dry dock at the San Giorgio del Porto shipyard in Genova, Italy on April 3, 2023. Following its refurbishment, the ship will undertake two voyages in the British Isles and Iceland, before embarking on its inaugural Arctic season in June 2023.