Uniworld Introduces Limited Edition Cruise Collection
by Dori Saltzman /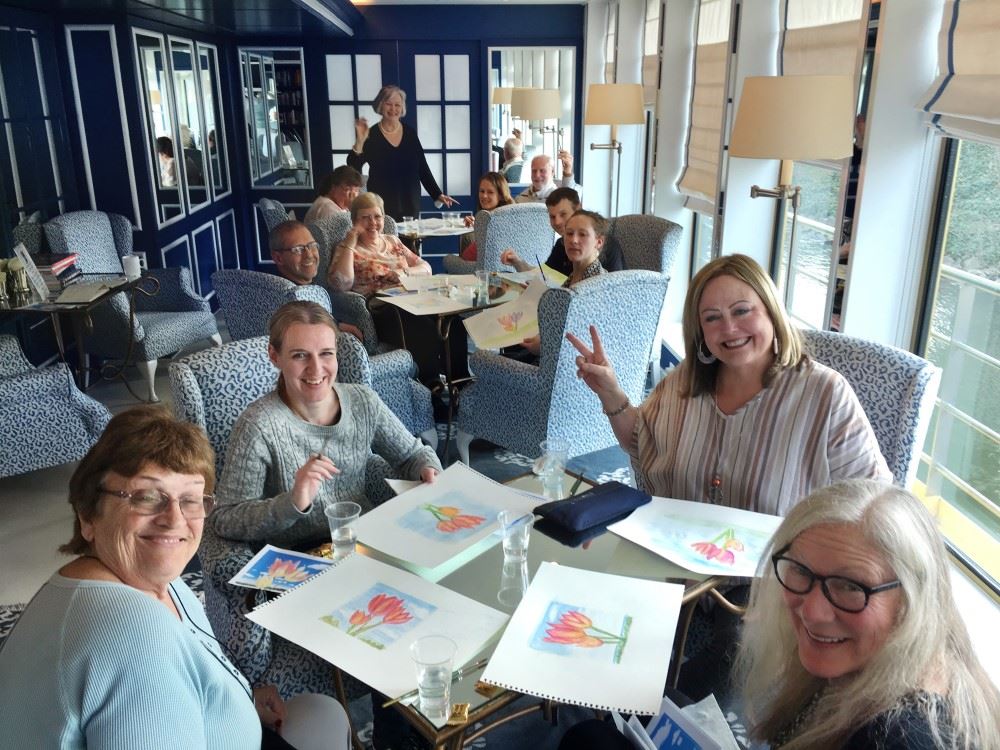 Uniworld Boutique River Cruises has introduced its Limited Edition Collection, a group of exclusive sailings with just one or two departures per year. Itineraries include the line's popular Mystery Cruise, along with LGTBQ+ sailings, floating art workshops and more.
"Our Limited-Edition Collection is full of incredible journeys, created to bring likeminded travelers together for extra special trips that are unique to our portfolio," said Ellen Bettridge, president and CEO of Uniworld. "The collection includes inclusive LGBTQ+ sailings hosted by gay and lesbian travel veterans, floating art workshops with special guest artists, cycling-themed cruises and more on select dates… We're even adding a women's cruise for 2024 to the collection, so female travelers should keep an eye out for more details coming soon."
Uniworld's Limited Edition Collection includes:
Mystery Cruises
Back by popular demand, Uniworld will offer two all-new surprise Mystery Cruises in 2023 (departing June 18 and July 7). The 10-day trips are a mystery itinerary and both completely different, full of surprises and "over-the-top" inclusions at every turn. New this year, guests will be told the airports that they need to fly in and out of, for the opportunity to extend their European vacation. Uniworld's president and CEO, Ellen Bettridge, will host the July departure.
Mystery Revealed: Salzburg & the Danube
Hosted by special guest Jacqui Gifford, editor and chief of Travel + Leisure Magazine, this is a one-time only repeat of Uniworld's fall 2022 Mystery Cruises, departing June 2, 2023. The 10-day trip starts with a private, two-day stay at the Salzburg Hotel Ubergossene Alm followed by a cruise through Austria, Germany, Slovakia and Hungary on the S.S. Maria Theresa. Special events include a reception with an Austrian count in his ancestral castle, and after-hours viewing of Klimt masterpieces at the Belvedere, an onboard Bavarian theme night and more.
Out! On the Rivers LGBTQ+ Sailings
Hosted by gay and lesbian travel veterans Gregg Kaminsky and Kelly Carpenter, this sailing features special programming such as LGBTQ+ performers, dance parties, themed events and more. Options include 'Out in Bordeaux!' on May 14, 2023 and 'Out in the Tulips' departing April 14, 2024.
Butterfield & Robinson Cycling-Themed Trips
River cruisers can explore Europe by river and bike via Uniworld's partnership with tour operator Butterfield & Robinson on select Cycle & Cruise dates: September 10, 2023 and September 16, 2023. Cycling routes are provided, as well as customized bicycles, detailed maps, a support vehicle and expert bike guides. Bikes include a handle-bar mounted tablet with preloaded maps, as well, for easy navigation.
Floating Art Workshops
Travelers interested in sharpening their art skills can join a Floating Art Workshop with Larry Aarons on the Brilliant Bordeaux itinerary departing April 30, 2023 or the Delightful Danube itinerary on August 9, 2023. Portrait and landscape artist Larry Aarons will serve as art instructor and mentor, providing workshops designed for all skill levels. Guests will create a charcoal portrait of an onboard model, paint a watercolor landscape of a destination on the itinerary, and more. Another option is the Floating Art Workshop with Leora Raikin on the Venice & the Jewels of Veneto itinerary departing August 13, 2023. Onboard, Raikin will host a two-part series including an art lecture on the life and works of David Labkovski, a Lithuanian Jewish painter, and a small group art workshop.
The line's inaugural 46-night Rivers of the World Cruise, which departs this May, and next year's 54-night Rivers of the World Cruise are also part of the Uniworld's Limited Edition Cruise Collection.