We're wrapping up our Travel Fam Trip series by following travel agent Lila Fox of SmartFlyer in Madisonville, LA, with a two-part diary (read part one). Having spent some time with her deciding and preparing to visit Milan, Florence and Tuscany in her first entry, we join her now on her trip to get a feel for her experience, and what it's like to return back home.
I use Instagram to post "editorial-style" photos of the destination and hotels. I use Facebook daily as well to share a highlight of the day with a photograph. I try not to post more than once a day on Facebook but I get a little carried away with Instagram though posting a few times a day while traveling. My audiences are different on Instagram and Facebook so I try to "speak" to the audience with the appropriate imagery and words. And I'm reaching out to some clients real time while I'm on property via email—"Hey, I'm here now, and thought of you guys…"
If we are all meeting up at 9 a.m., I set my alarm for 5 a.m. and pre-order a pot of coffee to be delivered to my room. The plan is to work until eight. If dinner is over at 10, I'm usually up until midnight/1 a.m. tending to emails, sometimes later. But I try to get at least four or five hours of sleep each night.
The Armani Milano was better than expected. Dark, sexy, quiet, great service, lovely spacious room product, killer bar, central location. All of the other hotels I saw in Milan were wonderful to see because websites can often be misleading. Lungarno in Florence is quintessential Florentine, traditional with an impressive innovative restaurant on property. Love when hotels get that right.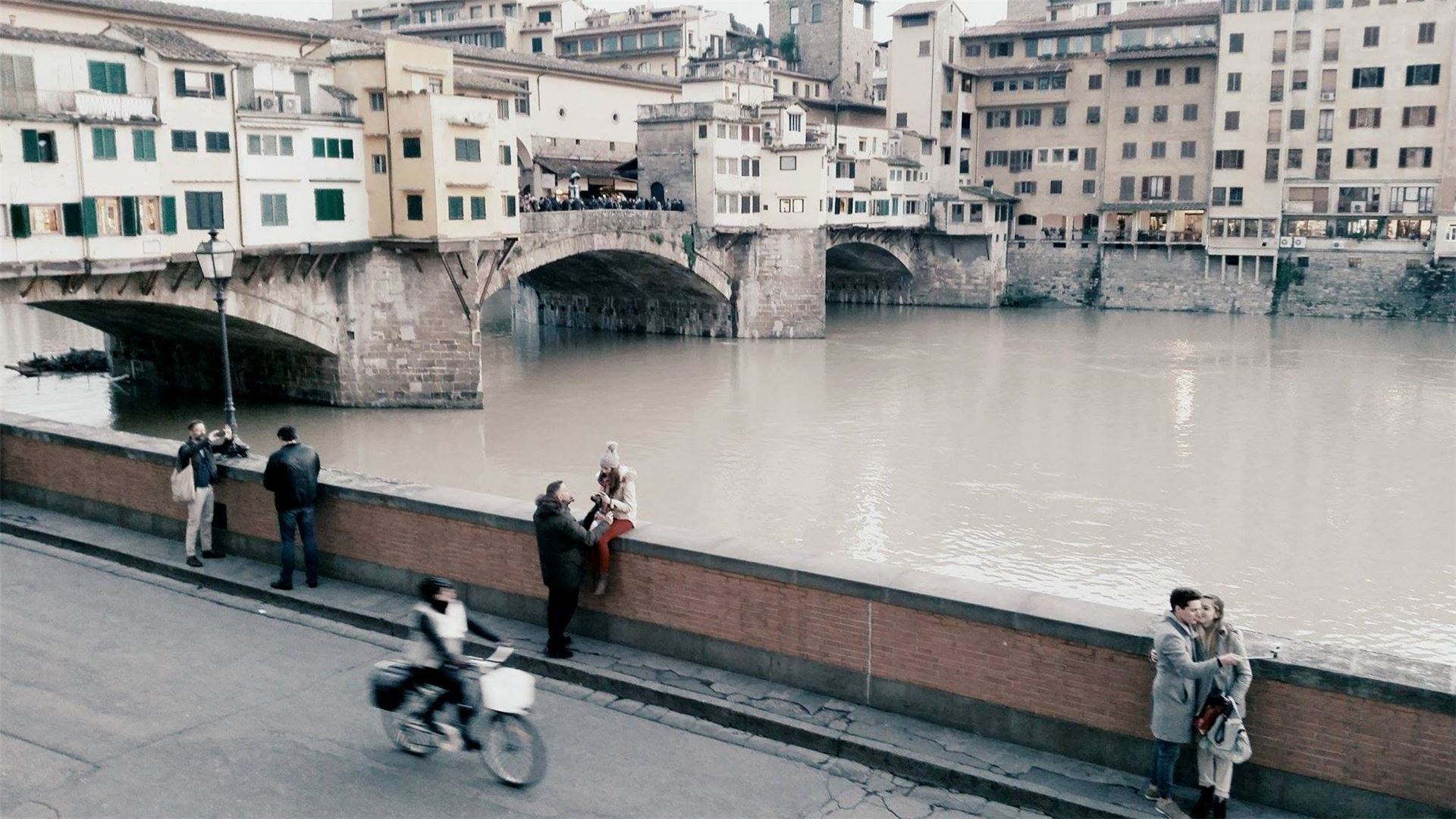 The Arno River in Florence. Photo: Lila Ermel Fox
Monteverdi Tuscany is such a surprise as well. It's basically a UNESCO village that has been converted into this hotel project. But it's not kitschy, which is hard to accomplish.
Note: This portion of the stay was hosted by Michael Cioffi whose family owns the property. The agents got to meet with the general manager Massimo Romagnoli, enjoyed spa treatments on property featuring products from Santa Maria Novella, a centuries-old Florentine apothecary; enjoyed a private wine tour and meet and greet at Casanova de Neri, and lunched at Agriolca Icario. During our stay we also had a cooking class with chef Giancarla Bodoni, who taught us how to make Pici Pasta and a Tuscan Bean soup.
Everything feels very authentic and cool, understated luxury, and the fact that they mingle the arts into their property by bringing in artists for small concerts is icing on the cake. It is a very unique offering that I'm excited to talk to people about.
As I'm touring, I'm constantly thinking about certain clients, like "Ooh, Monteverdi will be perfect for Billee—she was looking for a cool concert in Tuscany next summer…"

A hotel room in Monteverdi, Tuscany. Photo: Lila Ermel Fox
I don't do a ton of family travel but I do have a number of clients with children so I'm also looking for those little family-friendly amenities, like connecting rooms, and making sure the restaurants can handle food allergies. I'm also looking at access: Are there a lot of steps or railings? Is this good for folks with limited mobility or for small children?
I look outside the windows to determine street noise for light sleepers. (I'm one of them!) I look at décor to make sure it makes sense and is authentic to the destination and overall style of the hotel. I take note of smells—a number of clients are sticklers for disliking strong aromas. A hotel should have a very faint pleasant smell.
Dining in local restaurants that the local hoteliers themselves love is always super-valuable, because those are the ones that get added to my recommendation list to clients. Any sort of unique city tour that highlights the local food scene or sharing of sordid scandalous history is always memorable.
When it comes to hotel site inspections, I think it's very agent-specific. I don't need to see every square inch of a resort. If a hotel has soul or a good feel to it, I'm generally sold and know which type of traveler it would be right for. So site visits that last hours are probably the least valuable to me.
What's invaluable is getting to meet the hotel manager and staff. It's a huge part of why I fly across the world to do this. Being able to meet face to face, sit and have a drink or meal with the folks managing the hotel on the ground—from the concierge team to the reservations team to the General Manager—is gold because the next time I'm booking that hotel or reaching out to the concierge for help with impossible dining reservations for clients, the conversation is a bit different. Now there is familiarity, especially if you hit it off as friends. You both want to do well for each other, and the end result is typically a favorable one for the client.