14 Exciting Reasons For Travel Agents to Recommend A Croatia Adventure
by Steve Gillick /

On a recent trip to Croatia, we traveled the southern coast, from a first night in Cavtat, and on to Pula, Rovinj, Zadar, Split, Trogir, Hvar, Jelsa, Vrboska, Korcula, Lumbarda and Dubrovnik. Early on, I learned that "Zivili," the toast you make as you click glasses and drink, means "be filled with life" – and that seemed to be the theme of our travels, including the people we met, the sites we explored, and the energy and positivity we felt wherever we went.
Here are 14 reasons why Croatia may be just what your clients are looking for:
1. Croatia is a relatively safe destination.
Whether exploring cities and towns during the quiet mornings or the really busy afternoons and evenings, or wandering the countryside with no one else around, we always felt safe and comfortable.
2. Just about everyone in the country speaks English.
Italian is also widely spoken, as is German and French.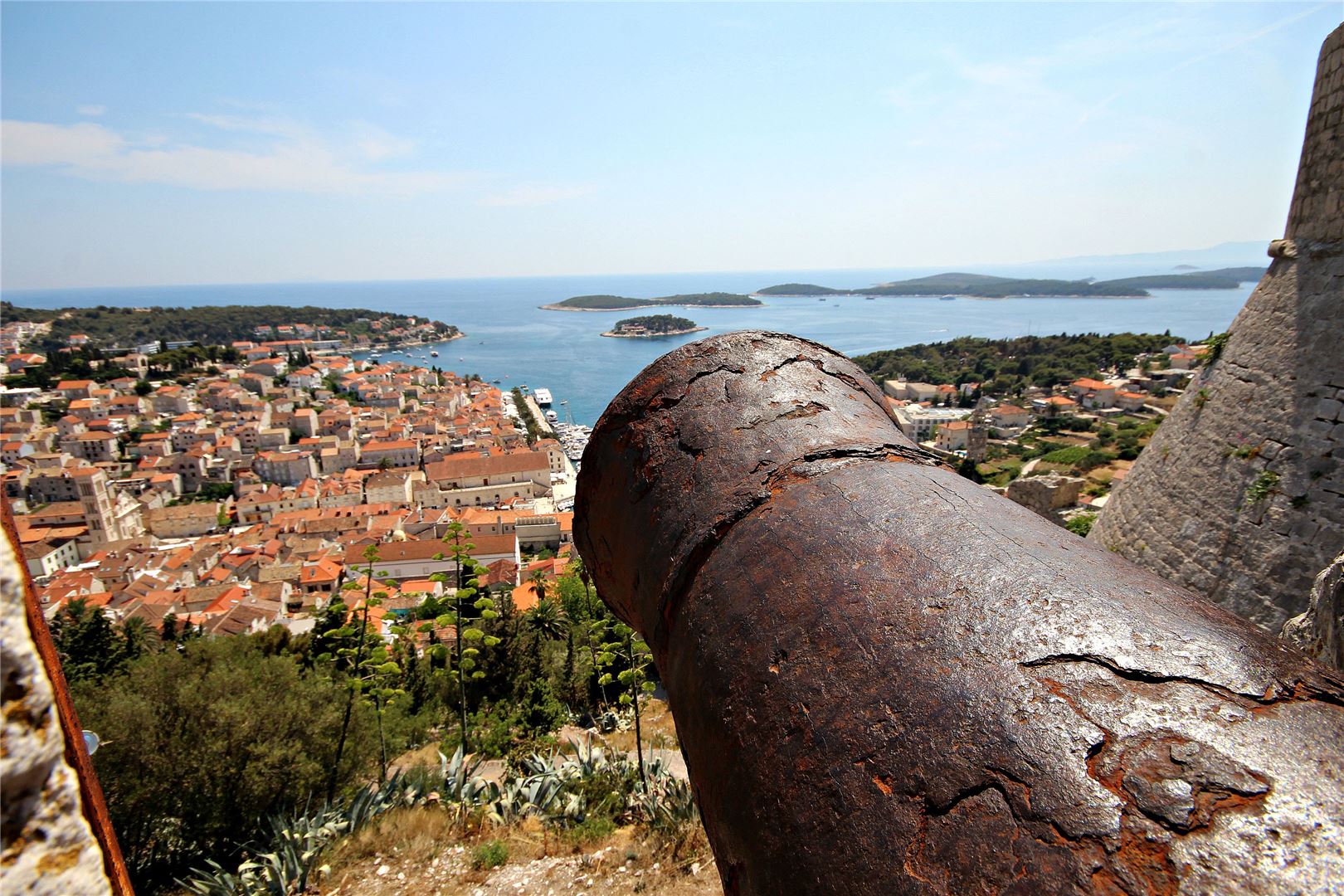 Hvar from the Spanjola Fortress.
3. Outstanding food.
Out of our 15-day journey, the majority of our meals verged on amazing. Most of the restaurants are family owned and many are owned by fishermen who personally bring home the daily catch; seafood specialties include sardines, squid/calamari, octopus, sea bream and mussels. But also, salads are fresh, the olive oil is light and tasty, and local cheeses (sheep, goat and cow) are excellent.
4. Café culture.
Cafés can be found in every nook and cranny of every public square and around many historic monuments. Some just serve coffee, while others serve food and drinks. But the idea is to relax, take your time, enjoy the taste of the coffee, chat with friends, people-watch and escape the North American fast-food expectation that you have to finish quickly and leave.
5. Easy to get around.
We flew Croatia Airlines, took highway coaches and local buses, boarded catamarans, ferries and small cruise boats, took a few taxis and did a lot of walking. It was very easy to buy tickets or pay on the bus or ferry, and schedules are readily available on the internet or at information kiosks.
6. History and Culture.
The Romans conquered Istria (the western region of Croatia) in 175 BCE and since then, while the association with Italy has remained strong, the Croats have developed their own traditions and culture, often celebrating those of their European neighbors. One of our tour guides used the term "Gastro-Religious" to explain the phenomenon that, "whenever someone has a holiday with food and drink and celebration, WE have that holiday too.

Pula's Roman Amphitheatre.
7. Local wines and beers.
A cold mug of Karlavacko or Ozujsko beer can be very refreshing on a hot summer day. But the local white, red and rosé wines are excellent and also inexpensive to sip at a café or purchase at the grocery store and take back to the hotel for a mid-day "Zivili."
8. Sunshine.
Croatia enjoys an average of 300 days of sunshine per year. Tourist season follows the warmer months of June through September, while May and October still have temperatures in the mid 60s.
9. Legendary hospitality.
If there were a grading system for customer service and locals who are genuinely "tourism-friendly," Croatia would get an "A.". Whether we were at a café in a small town or a busy information kiosk, we enjoyed great service, engaging conversations, advice about places to visit or eat, and lots of smiles.
10. Wifi everywhere.
In addition to bus stations and ferry terminals, Wifi is available on most buses and ferries. As we climbed to a lookout in Split, there was a solar-powered Wifi bench for those who needed to check their email before checking out the view of the city.
11. Gorgeous scenery.
Seeing Hvar from the ramparts of the Spanjola Fortress, climbing the Bell Tower in Zadar or walking through vineyards in Lumbarda are just some of the opportunities for visitors to feast their eyes and their imaginations.

Waiting for sunset on the promenade in Zadar.
12. Morning markets.
Every city and town has a morning market with vendors selling a variety of fruits, vegetables, cheeses, prosciutto, pastries, olive oil, wine, brandy, black truffle spread, honey and more. Many vendors offer a taste (or a drink) of what they're selling.
13. Variety of attractions for just about every special interest.
Niche travel interests often drive people to choose one destination over another. In Croatia, special interests include olive oil and winery tours, gastronomy, hiking, birding, waterfalls, fishing, scuba, yachting, swimming, nightlife, history, mountains, shopping, photography, beaches, luxury and super-luxury, spas, museums, art galleries, pilgrimages, golf, naturists and even skiing in the winter.
14. The spirit of Zivili.
In many restaurants, following a conversation with the owner, we were offered schnapps or rakija or honey brandy. The toast "be filled with life" seems to convey a strong message that Croatia is a destination like no other and that eating great food, talking with locals, visiting the attractions, taking in the history and just enjoying the ambiance of the country is good for the soul.