Headquarter Happenings: Virtuoso Stays Focused on Connection, Sustainability & Growth
by Marilee Crocker /

Editor's Note: Headquarter Happenings keeps you updated on the marketing and technology programs of major travel agencies, host agencies, travel agency consortia, cooperatives, travel networks and franchise groups.
Virtuoso rolled out new tools and services for its travel advisor members, celebrated its continued growth, and reaffirmed its focus on human connection as the foundation of travel agency success, at the 30th annual Virtuoso Travel Week in Las Vegas earlier this month.
"This is not just about getting more bookings. It's about getting more of the best clients who generate the best business – those based on value, and those based on values not just price – those clients with whom you are truly connected and those who you have the most fun with," Virtuoso Chairman and CEO Matthew Upchurch said during the week's opening ceremony.
The luxury network is all about delivering emotionally rich travel that satisfies "the growing craving for authentic human connection and experiences," Upchurch said. "It's not about what your clients see. It's about what they feel on every trip – before, during and after. It's about how they want to spend their life's energy."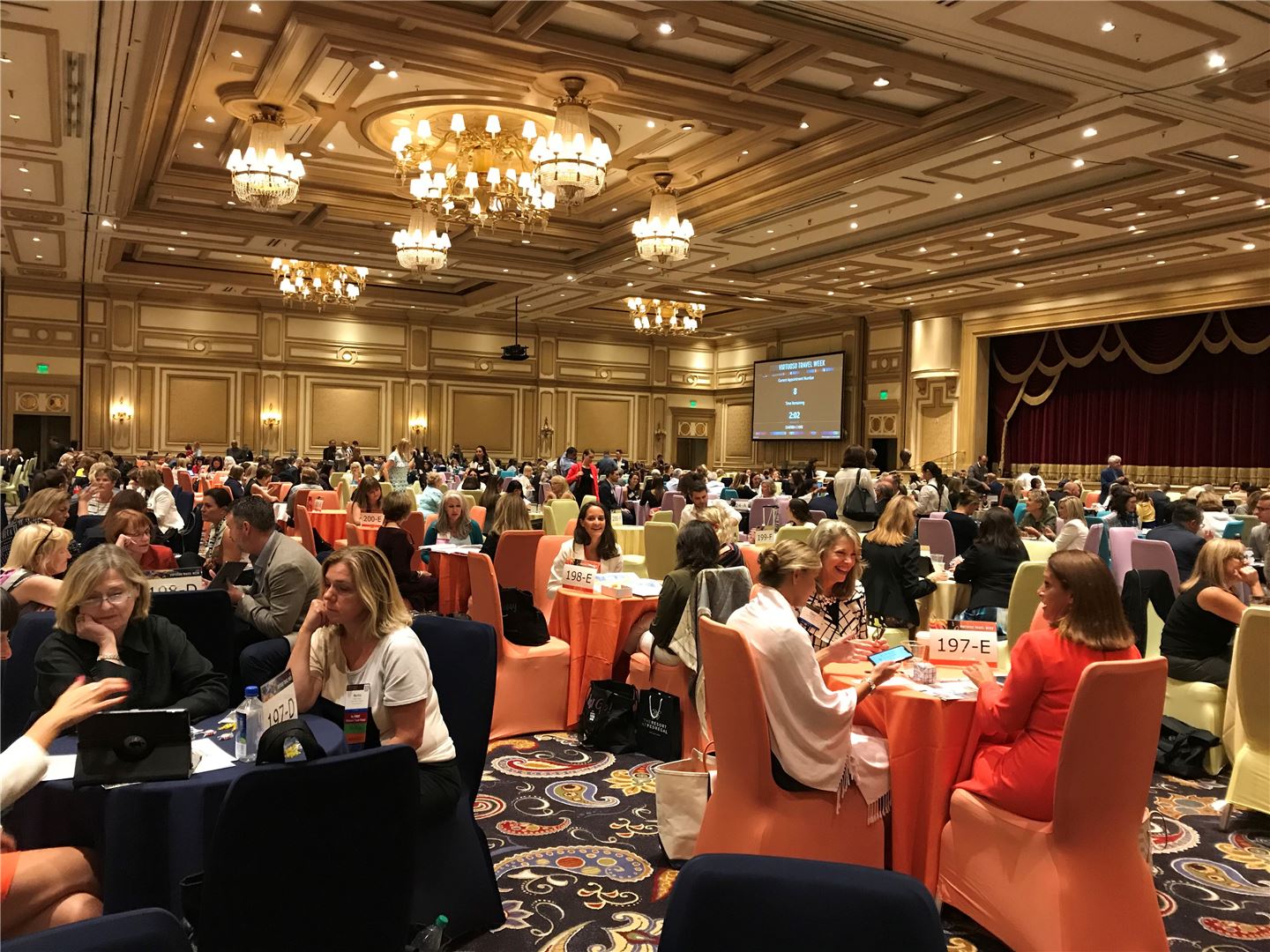 Attendees of VTW gather for a speed-dating session with suppliers.
Virtuoso Orchestrator
Part of Virtuoso's vision for its travel advisors is growing their role into that of lifelong consultants who assist clients in mapping out and managing their travel over the long term. A new digital platform in service of that vision, called Virtuoso Orchestrator, will be launched next year, Virtuoso announced.
Designed for use by both advisors and their clients, Orchestrator will guide travelers through what Upchurch described as a "very fun gamification of a survey," collecting information about their travel dreams and bucket lists, including both destinations and specific types of travel experiences. Orchestrator will use the data it collects to create a dashboard for advisors to use as they "sit down with travelers and start to create a multi-year, multi-trip, long-term range plan," explained Upchurch.
Orchestrator is an outgrowth of multiple consumer surveys showing that, in clients' eyes, "the number one thing that differentiates a transactional travel agent from a trusted travel advisor is whether they have a conversation or some sort of connection post-trip to make it a learning relationship," he said.
That is in keeping with something else Upchurch has noticed about the network's most successful travel advisors: In addition to always debriefing clients after their travels, top advisors are also "always planting seeds" about future trips.
Supporting sustainable travel
Sustainability continues to be a big focus for Virtuoso. This year marked Virtuoso Travel Week's second annual Sustainability Summit, the purpose of which is to facilitate the exchange of ideas between supplier executives and travel advisors. The overarching goals are to identify how travel advisors can make sustainability a bigger factor in their clients' travel choices and to support the success of suppliers that operate sustainably, said Upchurch.
"The first order of business, from the advisor perspective, is how to make advisors feel comfortable even talking about it, because it's very difficult to be an expert on this," he said. The best approach, Virtuoso has concluded, is to train agents in telling clients relatable real-world stories that communicate the meaningful impact of suppliers' sustainability initiatives. Virtuoso now conducts monthly webinars for agents on suppliers' sustainability stories and best practices.
Communities program expands
Another headline for Virtuoso is the growth of its Communities program, which debuted last year with a focus on four travel specialties: adventure, family, wellness, and Virtuoso Voyages (the network's cruise program).
The Communities program provides specialist agents with focused training, newsletters, marketing, leads, enhanced profiles on Virtuoso.com and supplier networking opportunities – including during Virtuoso Travel Week's Globetrotting event, where advisors meet with specialist suppliers in small groups.
Some 2,300 advisors currently participate in one of four Virtuoso specialist communities. Virtuoso reported that, collectively, participating advisors sold 72 percent more of Communities-preferred partner products than advisors outside the communities. "All the tools really seem to be connecting," said David Kolner, senior vice president of global member partnerships.
Next year, Virtuoso will expand its communities to six, adding culinary travel and ultra-luxury travel. It also will tweak the program so it serves two groups of advisors – specialists who are already producing and those who are aspirational.
Expanded tools, services, partnerships
On the tech front, Virtuoso announced that, this fall, it will launch MyMarketing, a platform that centralizes for agents all their Virtuoso marketing campaigns and reports. The platform, with a dashboard that will have a graphical interface, will include an option to customize Virtuoso marketing campaigns and client messaging based on real-time data and client insights. It will also include a social media management component.
Virtuoso also has expanded its web services, giving agencies and advisors the ability to customize their private label Virtuoso.com websites; and, for those who prefer to build their own websites, they have access to an expanded portfolio of web services.
Other new programs announced at the conference include partnerships with Booking.com and ABC Global Services that allow Virtuoso agencies to earn commissions on non-preferred lodgings booked through the partners.
For air bookings, a new Global Private Rate Desk makes it easier for Virtuoso advisors to obtain savings for clients by accessing point-of-origin pricing and inventory in 15 different countries.
Virtuoso Voyages, the network's program of cruise enhancements and hosted departures, continues to grow. This year, 22 cruise lines are offering value-added benefits to Virtuoso clients on more than 4,700 sailings. The number of departures hosted by Virtuoso members has grown to more than 600 a year.
Training & education
In training news, Virtuoso reported that, as of Aug. 1, Virtuoso advisors had completed more than 71,000 courses so far this year, up 59 percent from this time last year.
The network's online training platform, Virtuoso Travel Academy, has been enhanced, including the addition of AI-generated training recommendations for individual advisors; an improved search tool; playlists featuring recommended videos, articles, websites and trainings; and a more intuitive user experience.
The Virtuoso Certified Travel Advisor (VCTA) program, a week-long program for advisors who are new to selling travel or new to Virtuoso, has graduated more than 270 advisors in its five years. Graduates sell 74 percent more than their peers, said Virtuoso.
Virtuoso growth
The Virtuoso network has grown to encompass more than 17,500 travel advisors and 1,000 agency locations in 50 countries. The network's annual sales have reached $23.7 billion. Virtuoso.com, its consumer-facing website, is expected to generate 200,000 leads for Virtuoso advisors in 2018.
Looking ahead to 2019, Virtuoso is projecting 15 percent year-over-year growth in cruise sales for its member agencies, 9 percent growth in tour, and 14 percent growth in sales of in-destination experiences.
A record-setting 6,071 travel professionals attended this year's Virtuoso Travel Week, where they participated in nearly 333,000 one-on-one meetings.