Marriott Debuts Augmented Reality Views of Properties on iPhone
by Cheryl Rosen /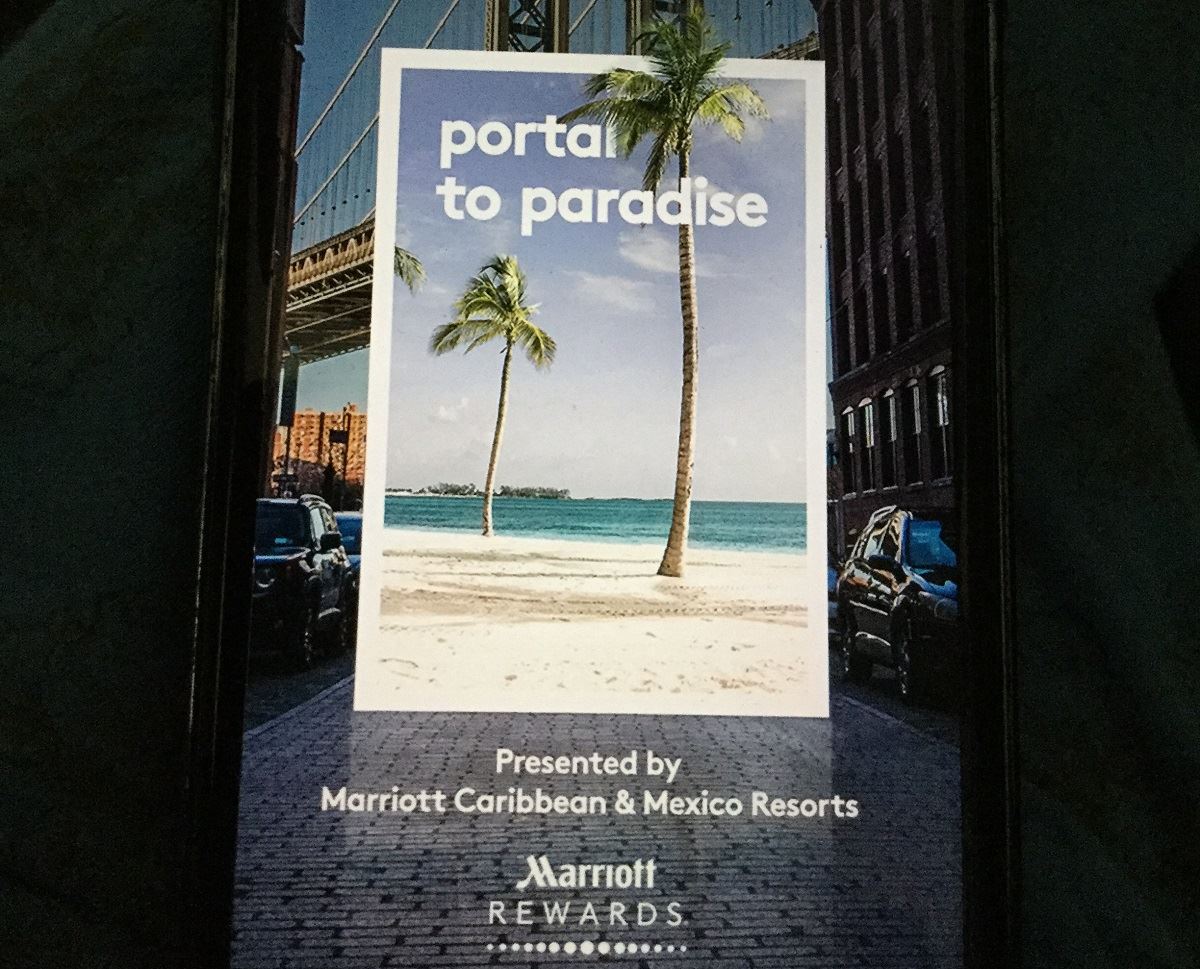 The Caribbean came to Grand Central Station yesterday as augmented reality (AR) technology brought eight Marriott International properties to life in Vanderbilt Hall.
The point was to show off a new app that gives customers — and the agents who help them make travel purchasing decisions – 360-degree, virtual reality (VR) views of properties in the Marriott Caribbean & Latin America Resorts collection. Where, until now, VR required wearing cumbersome and annoying goggles, Apple's new ARKit technology brings it to your iPhone.
After downloading the app, users aim their phones at a flat surface; a door appears and they walk through – and are transported to Mexico or the Caribbean. They can virtually step into the lobby, guest rooms, restaurants and pool areas of eight properties in Mexico and the Caribbean; there's even a wedding on the beach at the Aruba Marriott.
The system can be downloaded through the "Portal to Paradise" app in the Apple store or its website. Eight properties are currently available: the Aruba Marriott Resort & Stellaris Casino, Renaissance Aruba Resort & Casino, Marriott Cancun Resort, JW Marriott Cancun Resort & Spa, Marriott Puerta Vallarta Resort & Spa, JW Marriott Los Cabos Beach Resort & Spa, Grand Cayman Marriott Beach Resort, and St. Kitts Marriott Resort & The Royal Beach Casino.
"The AR views of real-world environments create an incredibly lifelike experience that allows users to easily imagine actually being there," said Diana Plazas, Marriott's vice president of brand, marketing & digital for the Caribbean and Latin America.
For Marriott, the goal is "to find new ways to get people to consider new options," she told Travel Market Report. "It's super exciting."
Travel agents can use the app to get better acquainted with the amenities and hotels they might have visited some time ago. When selling to friends or affinity groups, the app can help to "get everyone excited, and thinking about new destinations and hotels and brands they might not have considered before. And post-trip, you can come back and use it to show the hotel to your friends," she said.
With 225 properties in 33 countries in the Caribbean and Latin America, and 100 new ones coming online, Marriott expects to add 50 more properties to the "Portal to Paradise" system in the next 12 to 18 months, plus some Hawaiian and ski resorts, as well.
Dylan Ellsworth, senior manager for social media for the Caribbean and Latin America, spent a month in the Caribbean filming the properties in this first version of the app. "Augmented reality has a lot of promise; what's unique is that all you need to use it is your iPhone," he said. The system requires an iPhone 6S or higher; it will work on an iPad as well, but it is "really optimized for the phone."
Through Aug. 15, anyone who downloads the app will be entered into a drawing to win a seven-night trip for two to a participating Marriott resort, including airfare, ground transfers, resort credits and daily breakfast.