Norwegian Cruise Line Invests Big in Miami with Plans for New Terminal
by Daniel McCarthy /

Competing with other major brands, Norwegian Cruise Line doesn't see itself as the biggest, but it does call itself the best, according to Norwegian Cruise Line Holdings President and CEO Frank Del Rio.
Speaking in front of reporters at Seatrade Cruise Global this week, Del Rio said that while the line will always be looking for hardware upgrades, it will also look to improve where the ship is sailing from.
"We just can't keep building more and more ships and not look at the ports," he said.
To do that, Norwegian announced today that it is investing more into the port that Del Rio said Norwegian helped "establish Miami as the cruise capital of the world."
Norwegian will build a brand new terminal at the port, pending final approval. Construction right now is penciled in to start in May and Norwegian is hoping to host its first vessel there in fall 2019.
Norwegian will co-invest in the terminal, which will come in at 166,000 square-feet and will be capable of handling ships of 5,000 passengers or more. Del Rio said he hopes that the terminal will not only increase Norwegian's Miami presence, but also improve passenger experience.
"It won't just be a place that we want to rush you through to the ship," he said.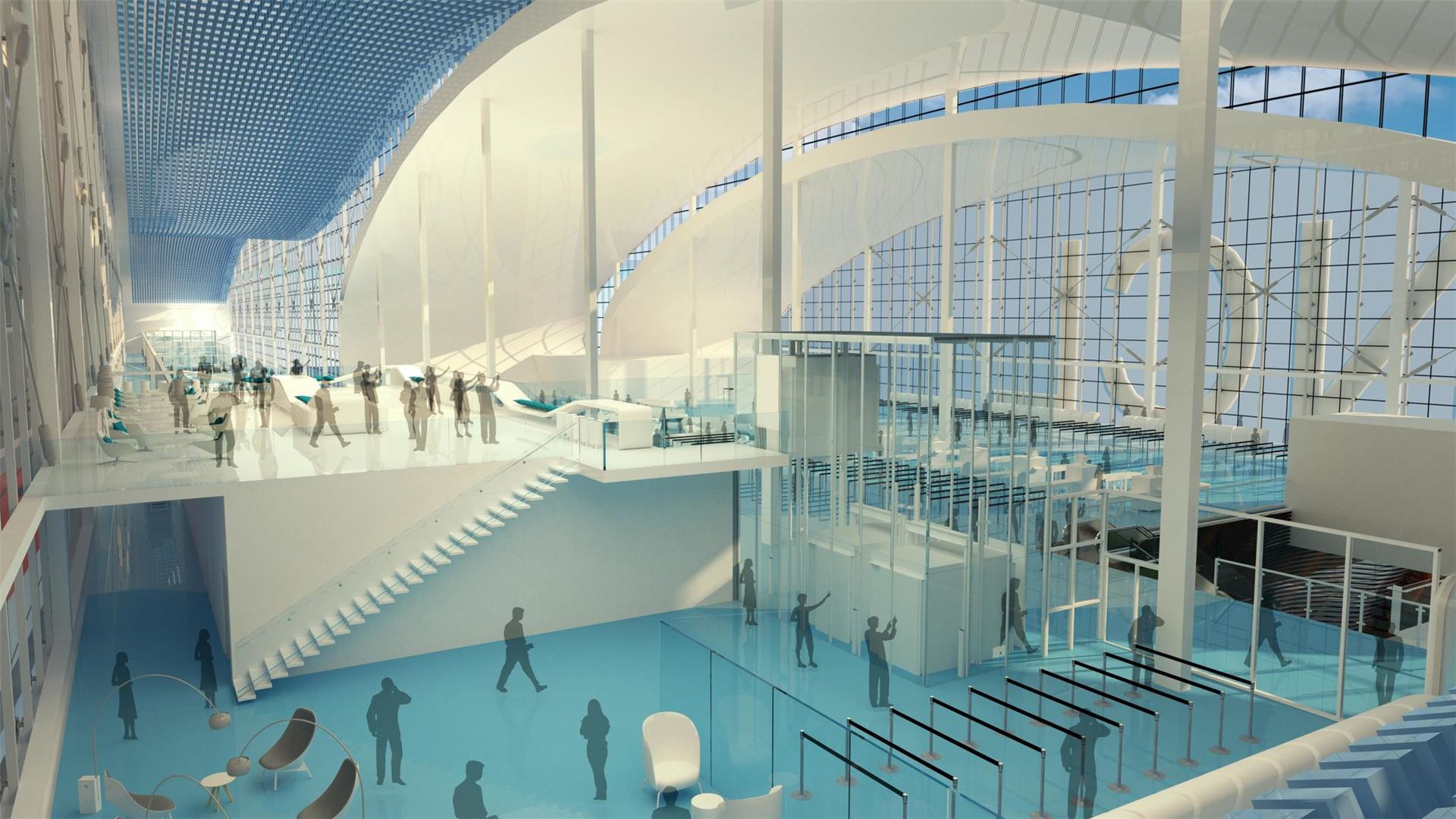 A rendering of inside the new terminal. Photo: Bermello Ajamil & Partners.
Luis Aljamil, president and CEO of Bermello Ajamil & Partners, Inc, will design the terminal. He told reporters that "This is really the flagship terminal we envision," and that it will be called "the Pearl of Miami."
Del Rio also said he plans to christen Encore, which will be delivered on Oct. 31, 2019, in Miami to officially open the terminal. That ship will enter service as another one of Norwegian's Breakaway-Plus Class ships, joining Norwegian Escape, Norwegian Joy, and Norwegian Bliss. It will be the fourth and final of the Breakaway-Plus ships, and the line's seventeenth ship in total.
Update on Bliss
Bliss is "just around the corner," Stuart said as the line gets set to take delivery on April 19. The ship will enter service as the 16th ship in the Norwegian fleet.
Bliss will arrive with a number of firsts for Norwegian—it will feature the "first full blown Starbucks" at sea and the previously announced two-level, 1,000-foot-long race track, the first in the fleet.
It will also offer guests performances of Jersey Boys, which will headline the ship's main stage, the Bliss Theater.
Bliss is already the best booked ship that Norwegian has ever had, according to Stuart.