Sales Superstars: Goodtime Travel's Charlie Brown Talks Expedition Cruises
by Doug Gollan /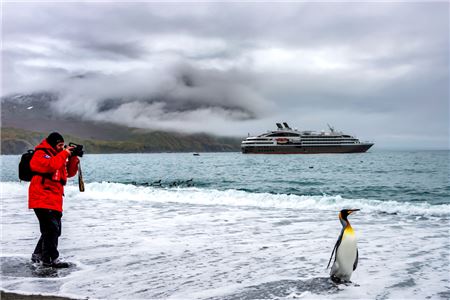 This article is part of Travel Market Report's "2019 Outlook on Expedition Cruising," which was released last week. The Outlook, sponsored by Seabourn, surveyed 660 travel advisors between Feb. 6 and 14, 2019, on their experience selling expedition cruises.
The report, available here, shows that the number of advisors who plan to start selling expedition cruises this year or next will double, in time for a wave of new ships and new itineraries from cruise lines across the board.
Travel Market Report sat down with Charlie Brown, owner/president of Charlie Brown's Goodtime Travel, in Colorado Springs, Colorado. Here's what he had to say about the emerging expedition cruising market.
Brown began the company in 1985 and has been to over 80 countries and on more than 80 cruises. In 2018, expedition cruise sales were up more than 50% and he is projecting an increase of 26-50% this year. Despite the results, he says he doesn't consider himself a specialist in the category, however he is "starting to get serious about it."
Brown says, "It seems as though all of the companies serve the same areas with their cruises. Would like to see more cruises to new locations." In terms of his expedition cruise clients, they are well-traveled; they also take land-based adventure or soft adventure trips; they sail on luxury ships and river cruises; they typically stay in luxury hotels and resorts; they like to travel independently; they like to travel to exotic and remote destinations; and they like to travel as a couple or with immediate family.
The biggest obstacles are "not enough personal experience to sell with confidence, and lack of inventory for the times and places my clients want to go."
To drive sales, he uses his email list, print advertising in newspapers and magazines, direct mail, and referrals from existing clients.
Browns said he would like to see more webinars, fam trips and content that he can share with customers. Africa, the Amazon, Indian Ocean, Northern Europe, Papua New Guinea and Madagascar are the places his customers are most interested in.
Travel Market Report: How long have you been selling Expedition Cruises?
Charlie Brown: Just for a few years. I had looked into this niche market quite a while back, but most of my clients are upscale and most of the expedition ships back then just didn't fit their lifestyle.
TMR: What are the biggest changes you've seen in the market?
CB: I am fascinated with all of the new ships coming into the market. Not just from luxury companies like Crystal, Seabourn, Silversea and a few others, but some of the newer lines or lines no one thought much of in the past. With so much competition, some of the new routes are already spectacular, and when the number of ships increase and they're trying to outdo each other, it should only get better.
TMR: How do you think the new inventory will change the market?
CB: I see mostly positives with the new inventory. There will still be ships for people who only want the most basic necessities, all the way to complete luxury. The only real downside I potentially see is that, with so many ships, you will have too many visiting the same areas at the same time. I remember about 30 years ago when I first went to the Galapagos Islands. I was on a 12-passenger yacht, and I don't think we saw anyone else the entire week. Now it's boats everywhere, and while still a great experience, it's definitely not as it was."
TMR: What advice would you give to advisors who want to sell the market?
CB: Study the itineraries and know your clients. Actually, know your clients should be first on that list. Expedition cruising is not for everyone. Even with the luxury ships, it will be difficult for a lot of people to maneuver from the ship to the zodiac and onto land and back. Some clients just want to go where they've never been before, even if it means staying on the ship and viewing from a distance, and that's fine. Expedition cruisers who really want to participate in the full experience need to be in above-average physical condition. Just make certain your luxury clients booking Crystal realize the shore excursions can often be difficult.
TMR: Anything else you would like to add regarding expedition cruises?
CB: I hope the expedition companies try to really mix up their destinations. I have clients who want to do an intensive Madagascar experience in 2020. Last year, Silversea had a few sailings there, but nothing is scheduled this year or next, and I haven't had any luck thus far finding anyone else going there either, other than maybe one port.