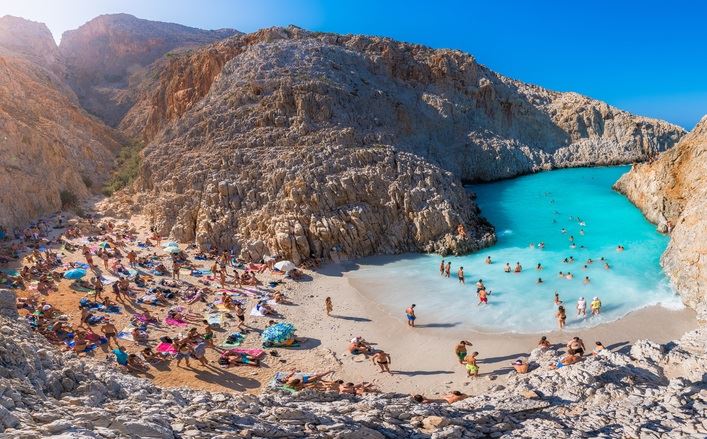 Insight Vacations and Luxury Gold, the upper premium and luxury tour brands of The Travel Corporation, are seeing the Egypt travel market move from recovery to boom, or at least to boomlet, with further results still waiting to be seen as 2019 roars into action.
The Travel Corporation's president for the USA for both brands, Jon Grutzner, told Travel Market Report that Insight and Luxury Gold are beginning to see a return to the glory days of Egypt, which was historically one of Insight's most popular destinations.
"We used to move more guests to Egypt than to Europe," said Grutzner. "We have a beautiful product in Egypt. We believe it's our fastest-growing destination, along with India. It's really going to be a push. We believe it's the next Iceland."
The end of Egypt's travel slump
Egypt's tourism slump was kicked off by a series of political clashes in Egypt starting with the Arab Spring in 2011. Initially with a hopeful move towards democracy and self-determination, events turned sour and news stories of violent clashes among political factions scared tourists away.
Egypt's political violence was limited to Egyptians feuding with each other and did not affect tourists or the tourism areas because there is one thing all sides of the political spectrum in Egypt agree on: Tourism is essential to the country's economic well-being.
A large percentage of Egypt's population relies on tourism to help supply its daily bread. Although tourists were not targeted during the political upheaval, the news of political strife put a severe damper on tourism that depressed the economy for years. Elections in 2012 led to more social unrest leading to a power struggle that ended when the army removed the president, and finally there was a new presidential election in March 2018.
The unrest is now years behind us, and memories of it have faded and tourism is flowing back into Egypt. Insight has been seeing double-digit growth every year since the company returned to Egypt in January 2015.
"We believe it's the safest time that it's been in almost 20 years," said Grutzner. "The value is good."
The number of visitors from the U.S. is still not nearly as high as it was before the Arab Spring, but that creates advantages as well.
"In 2004, Egypt had 10 million visitors from the U.S.," said Grutzner. "Now, there are only about 3 million, so it's not as crowded at the incredible sites, in Luxor and Aswan. If we are talking about an emerging destination for us, it's definitely Egypt."
Greece is resurging
Also in a resurgence mode this year for Insight is Greece. Grutzner said: "Greece, along with Egypt, is an up-and-coming destination for Insight. We have a few unique programs. One focuses on Athens, Santorini and Mykonos; it's called the 'Greek Island Hopper.' Another new program that can be combined with Greek island cruise is called 'Greek Island Stay,' which is awesome, with cruise and land around Athens."
Ultimate Ireland and more
Ireland is also figuring highly in Luxury Gold's program for 2019. "The biggest new destination that we are excited about for 2019 is Ireland, with our new 'Ultimate Ireland' program," said Grutzner. "One of the reasons is that it includes a two-night stay at Ashford Castle, which is one of the top hotels in the world. We refer to it as the family castle, because it is owned by the Tollmans."
The Tollman family owns The Travel Corporation, parent company of Insight as well as Trafalgar, Uniworld, Contiki; and Red Carnation Hotels, which owns and operates Ashford Castle.
Ashford Castle is an authentic, historical Irish castle, parts of which date back to 1228. From 1852 to 1939, it was owned by the Guinness family, of Guinness Stout fame. Then, it was turned into a hotel in 1939. It has hosted celebrities from George V and Princess Grace of Monaco to Edward Kennedy, Ronald Reagan, John Lennon and Brad Pitt.
Among the immersive experiences offered at Ashford Castle is its falconry program, the Hawk Walk, which includes a direct interaction with a trained falcon at Ireland's School of Falconry on the Ashford grounds.
"If you want to extend, we have a 20-day program in which we combine Ireland and the UK," said Grutzner. "It's called 'Castles and Kingdoms.'"
Other new programs for Luxury Gold in 2019 are a new "Remarkable Russia" with a Trans-Siberian option; and a returning program for New Zealand called "The Long White Cloud," which Grutzner said is spectacular and back by popular demand.
New U.S. tours
With domestic travel also growing, Insight and Luxury Gold are emphasizing its domestic North American programs for 2019. Four of the new Luxury Gold programs in North America are: "Trans-Canadian Grandeur and Majesty of the Rockies," "The Sumptuous Soul of America and Southern Grace," "America's Captivating Pacific Northwest," and "New England's Magnificent Fall."