Top Ways to Market on a Shoestring Budget
by Kerry Tice /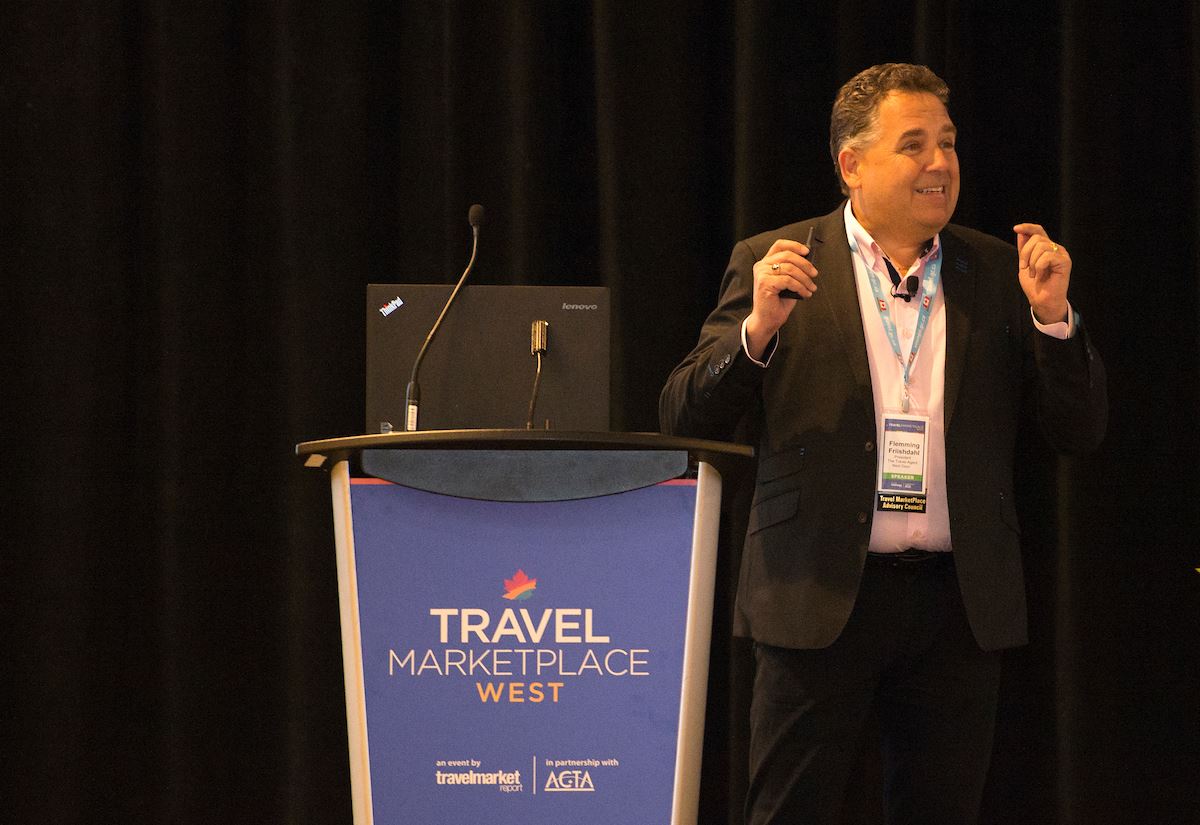 "There is no correlation between spending more money and driving more sales." That was the powerful message behind "Top Marketing Ideas on a Shoestring Budget," a seminar presented at Travel MarketPlace in Vancouver last week by Canadian travel host network owner and industry expert Flemming Friisdahl, president of the Travel Agent Next Door.
In Friisdahl's address to a general session that included over 250 Canadian travel agents, he shared his own success by advising fellow agents on how to get the most out of social media; the importance of having a comprehensive database; and most importantly, keeping in constant contact with clients. "If you're out of sight, then you're out of mind," said Friisdahl, who gave specific examples of ways in which travel agents can stay connected without breaking the bank.
Here are some of the tips Friisdahl shared in his session that require little to, or in some cases, no cost at all:
1. Branding is essential. "Don't use a Gmail address," said Friisdahl, imploring travel professionals to brand anything and everything they send to prospective and existing clients. When dealing with a client's money, family and vacations, a travel agent needs to be a trusted source with a professional persona.
2. Diversify or no one will know what you sell. Be careful not to promote just one type of product because you assume this is all your customers will purchase from you. Often this is not the case. Friisdahl shared the story of the first consumer night he hosted on Egypt. "I sold out two groups, and afterwards the people who attended told me they never even knew we offered Egypt.
3. Social media and your website are key. "It is very important to have an online presence," said Friisdahl. Have a website that customers can book on, not just look at and that is updated weekly; create an account on Yelp (it gets 142 million visitors per month); and livestream on Facebook Live. Start a blog. Capture your amazing travel experiences and share them. And guest blog on other people's sites and comment, too – it makes you look like a travel expert.
4. Suppliers are not an ATM. If you want financial assistance, present suppliers with a professional overview of their return on investment. Put together a proper presentation on what you want to sell and how you plan on reaching that market; what the suppliers' ROI will be and the split between what you're investing and what you need from them.
5. Referrals are vital. Don't shy away from asking for referrals from family and friends and don't assume everyone knows what you do for a living. Friends and family are your biggest advocates. Do you have an elevator speech? Do you carry your business cards with you at all times? Project professionalism!
6. Stalk potential new clients and don't let go of the old ones. Okay, so don't exactly stalk, but follow their travel history online and learn their likes and dislikes so you can narrow your focus. But even easier than finding new clients, is not letting the current ones slip away. Stay in front of them. Send them an email and ask if they've planned their winter getaway yet.
7. Host a consumer event. Partner with a local wine store and invite the local newspaper to come cover the event. They are always looking for something to write about. Create a press release about the event you held and send it out. Use a free trip or some type of drawing to boost attendance.
8. Promote, promote, promote! Create a coupon discount offer and cross-promote with other businesses. Pay to push a promotion on Facebook, which can cost as little to $10-20 per month. Make sure your website comes up locally if consumers search for a travel agent. And wrap your car or get a magnetic sign to promote your business as you drive around town.