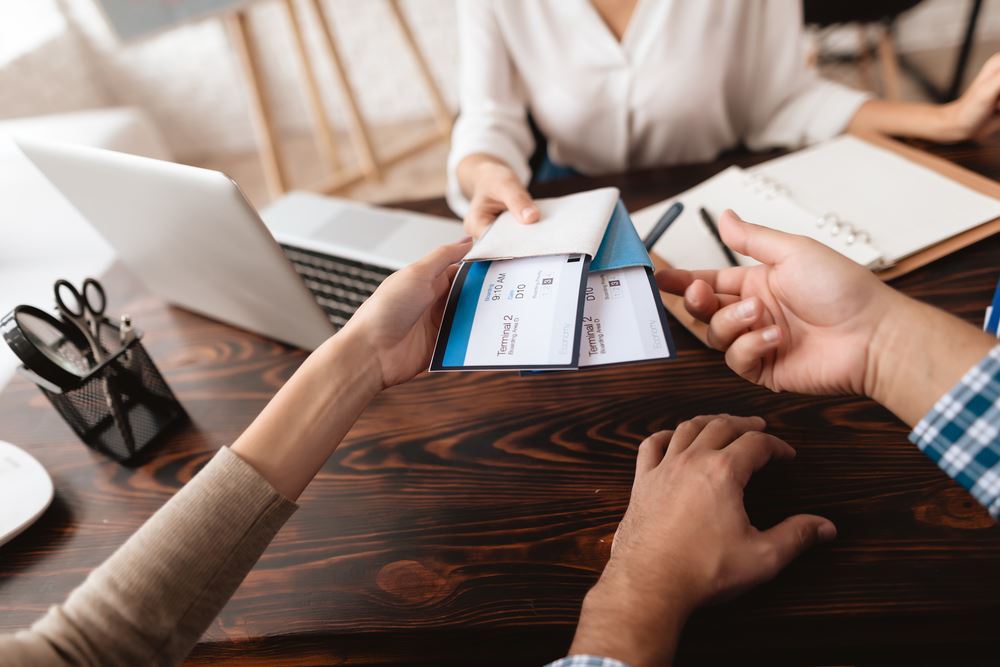 They'll stand in line for your passport, grab your car at the airport and park it, and get you going when your passport is lost. And for all they do, travel agents ask only one thing: your return business.
But still, sometimes a customer will do something special, something that touches the heart of their travel agent and reminds us all how special agents are in the lives of those they help. In honor of Travel Agent Appreciation Day, Travel Market Report asked some of our favorite travel agents to tell us about the special ways they showed how much they appreciate their clients — and vice versa.
"The Travel Doctor," Dr. Robin Alinkofsky at Florida Vacations, has been on both the giving and receiving ends of the appreciation scale. "The craziest thing I ever did for a client was to stand online at the passport bureau to get their passport for them," she said. But what goes around comes around. "One client gave me a piece of the Berlin Wall."
Amanda Storm, owner of Amanda's Travels in Lawrence, Kansas, once had a retiree customer traveling with a group of friends to the Kansas City Chief's game in London — her first time out of the country. "All seemed to be well, until about two hours prior to take off. She had lost her passport."
Storm "canceled the ticket with less than five minutes before full penalty and purchased a new ticket out of Chicago two days later. The guest got to Chicago, did same-day passport services and flew out to join her friends. They had a great time and she had so many fun memories."
Sande Bloom, owner of Amare Travel in Little Rock, Arkansas, has arranged a marriage proposal onstage at the welcome aboard show for a guest, and gotten the Captain and cruise director to go to a guest's birthday party. But the one that's closest to her heart, she said, was for a 30-something Mom who had recently lost her husband, a firefighter, in a line-of-duty death. On her first cruise, with two little girls, Bloom arranged a private tour in St. Maarten for them with a special touch.
"I said a shirt from the local Fire Department there would mean a lot to her if he could find one; firefighters trade t-shirts when they travel, and it is a special and meaningful tradition. He managed to find her one — amazingly, given that many of the crew were homeless, even though they were one of the first ships in port after the hurricanes. But it was important to them that she be part of this tradition. It brought her to tears, and also me when I read what she wrote: 'I started to see the parallel between this beautiful island and myself: beaten, battered, and torn – but needing to move forward and be happy again.' She went on to thank me for such a life-altering experience. I have never loved my profession more than in that moment. I am humbled."

Being on the receiving end of a great trip makes for a great story, too, of course.
For Amy Goldman, the best surprise ever was a birthday visit from Patti LaBelle to her office at All Seasons Travel in Birmingham, Alabama, where she used to work. "That day, as I was working away in my office, two limousines pulled up into the driveway, with Patti LaBelle coming through the front door yelling, 'Where does my Miss Travel Diva Work?' She was so funny, traipsing through my office, even posing for pictures with all of my coworkers and the owners! Then that night, she made everyone sing happy birthday to me in the middle of the concert! I felt like a superstar!" (Editor's note: Nowadays, Goldman is an independent consultant at Entertainment Travel in Nashville.)
Rene Fifek, the owner of On Your Way with Rene Travel in Streetsboro, Ohio, also has a story to tell. When she was pregnant with her fourth child, a client organized a baby shower through her client group on Facebook. "A month before Scarlett arrived, presents starting arriving from all over the country!"
Even agents get the gift of travel
For some lucky agents, though, the best gift ever was – what else? – a trip.
When Mary Delello of All About Travel in Winter Park, Fla., had a client who was having health issues after Delello planned a trip for her to San Francisco, Oahu, Kauai and the Big Island, she invited Delello to come along. "It was all five-star hotels and first-class air," Delello said. "Since I hadn't ever been to Hawaii, she took me along and I had the experience of a lifetime!

Laura Beyer, of Romantic Escapes by Laura, in Rochester, Minnesota, also got the gift of travel. She spent hours arranging a destination wedding for a regular client of her agency, CARE Travel. Beyer said: "One afternoon, they wanted to meet with me to 'talk' – and during lunch they handed me an invitation to their wedding in the Dominican Republic, all expenses paid. They insisted I do no work the entire time there and treated me like family. "
Becky Kehres, owner of Its Vacation Time Inc. in Fort Pierce, Florida, also got a trip from a grateful "very special client" after 20 years of planning his trips. Before he died, "he told his wife he wanted this family to sail on the Oasis of the Seas and paid for them all – and he paid for me and my husband to go, also. The Texas Tenors were the highlights; I still love their music and go to their concerts."