Travel Agent Partners with Destination, Drives Consumer Expo Sales
by Richard D'Ambrosio /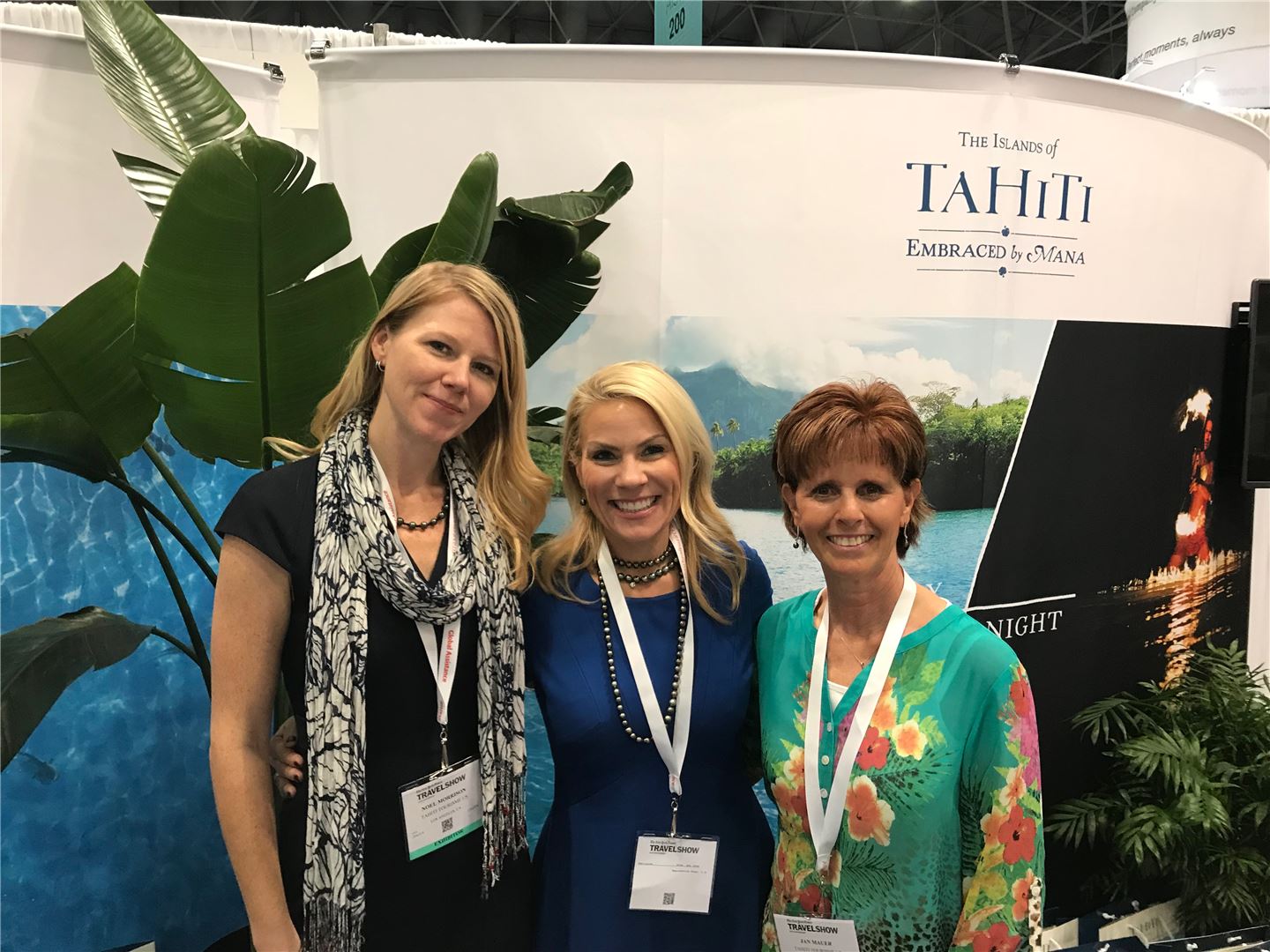 Selling French Polynesia to vacationers isn't an easy proposition. The 17-hour flight to Tahiti, the unique experiences and lodging options throughout French Polynesia, and the bucket list nature of the vacation, narrows down the list of potential clients and travel agents selling the destination.
In 2016, an estimated 68,000 Americans visited French Polynesia, so Tahiti Tourisme finds consumer expos like The New York Times Travel Show (held this year on Jan. 26-28 at the Jacob Javits Convention Center in Manhattan) critical to growing overall awareness.
To enhance the consumer attendee's experience, Tahiti Tourisme regularly partners with travel agents, to have them at their booth to work with prospective travelers, said Kristin Carlson Kemper, managing director, Tahiti Tourisme.
"Often people will come to the booth and want specifics on pricing, or to even book soon, and that is the kind of the knowledge an agent can pull right on the spot," Carlson Kemper told Travel Market Report.
Tahiti Tourisme offers trade show invitations to its approximately 300 U.S. certified Tahiti Tiare Program specialists. Earning the designation requires completing online training, visiting at least three of French Polynesia's islands, and maintaining booking goals.
About three weeks prior to the show, after reviewing the available Tahiti specialists in the region, Carlson Kemper invited Jan Mauer, owner of Exciting Vacations, LLC, in East Brunswick, New Jersey.
Mauer, who is one of the top three highest-producing specialists in the New York metropolitan area, has been to Tahiti six times, and has developed a personal relationship with Kemper and her small team.
Based on the number of high-income households projected for the expo, Mauer jumped at the opportunity for the relatively free exposure. Attending a show like this one on your own can be an extremely expensive proposition.
"It's a really good opportunity for a specialist like me," said Mauer, who attended both Saturday and Sunday. "You go with a positive attitude, pack all of your knowledge, and try to meet and make a connection with as many people as you can."
Qualifying questions
The New York Times claims that more than 22,000 consumers attended the 2018 show, which can be very daunting for a single travel agent looking for sales leads. With the volume of foot traffic, Mauer said she felt she had less than a minute to size someone up as a true prospect or just a "tire kicker."
"I felt like there were real quality people that I met, who were so welled-travel and right for Tahiti," she said. One of the methods Mauer uses to qualify potential Tahiti clients are questions about where they have previously traveled.
"I'm looking for destinations like Russia, China, that show me they are willing to stretch themselves and invest the time and money for a destination like Tahiti," she said.
At the show, Mauer estimates that she handed out approximately 80 Tahiti Tourisme brochures with her business card stapled to them and encouraged attendees to follow her on social media.
She also had a clipboard with a contact sheet for visitors to fill out, asking for their full contact information – including hometown, as Mauer prefers to visit potential clients at least once face-to-face – and took advantage of the shows badge scanning app, which allows exhibitors to automatically capture attendee contact information.
Results are promising
At the end of March, Mauer was still in the process of her follow-up email campaign but said she has received a few promising replies so far, including four clients who are "85 percent likely" to book with her.
"There is this one retired couple in Pennsylvania who is ready to go in 2019, as soon as I can get them pricing. They go on a bucket list vacation every year, and they approached me at the booth," Mauer said.
Also, Mauer is working with a young couple whose parents recently announced they can watch their young children for them this May. "That's tougher to do, because Tahiti doesn't have the number of hotel rooms that larger destinations have, but I'll make it work for them."
While most of her prospects were from the New York metro area, attending the show also introduced her to travelers from far away. "There was one couple from Ohio who came just for this show because they said they don't have anything like this locally to meet so many destinations and suppliers, and inspire them," she said.
Mauer has been in the travel industry for 30 years, but only opened her own business in 2007 and has attended many bridal shows and other travel expos on her own. Over the last ten years, she has attended only one other consumer show partnering with a supplier, an all-inclusive resort company.
Most of the time, she thinks it's better to attend on your own, so you can own the branding at the booth. "I believe that if you are going to do a show, you really need to sell your own brand, your unique self and expertise."
Work your industry contacts
While Mauer is a top producer for Tahiti, Carlson Kemper noted that organizations like hers also need to feel confident that the agent has the right skills for such a prominent marketing opportunity. That is where personal relationships come in.
"I've known Jan for years, through attending our receptions, going on fams," she said. Knowing Mauer's depth of knowledge and enthusiasm for the destination was a big part of her decision. "She cares so deeply about the destination, and she embodies the elegance and passion of what we are selling."
Carlson Kemper also advises agents to propose partnering at large consumer shows Tahiti might not already have booked. "One of our Tahiti Tiare specialists brought an opportunity to me for a Minneapolis show we are doing this year with them," she noted.