Want To Become A Destination Expert? Live There
by Jacob Marek /

You've probably heard that travel professionals need to become experts and specialize in a focused niche. With sites like Expedia and Orbitz, certain types of travel have become commoditized. Being a generalist is no longer sufficient. As professional travel advisors, we need to be experts in what we sell to our clients.
Last year, I took this advice to heart and took a slightly different path. In 2016, I launched my own online travel agency,
IntroverTravels
, helping curious introverts create life-changing travel experiences, with a focus on destinations that incorporate elements of nature, culture and history.
The view from Marek's "office" in Cusco, Peru.
Then, last summer, I took a leap of faith. I sold 90% of my belongings and traded my Miami high-rise loft for a studio apartment in my hometown of Sioux Falls, South Dakota (where I haven't lived in over 15 years). The move allowed me the freedom to travel four to six months a year – which leads to the next part of my strategy.
My plan over the next few years is to live in a new country each year, building the portfolio of destinations I want to specialize in. For IntroverTravels, this means places that are slightly off the beaten path, including Cuenca, Ecuador, and Cusco, Peru in 2017; Cape Town, South Africa in 2018; and Chiang Mai, Thailand in 2019.
A few of the criteria I use to decide where to live include cost of living, moderate weather, safety and a manageable size. The summer prior to each trip, I plan a rough outline. Then I research towns in which I want to live, visa requirements, and find short-term, affordable apartments – with WiFi!
Most importantly, I use the summer months to research and connect with on-site tour operators and start to build solid relationships with them. If we are a great fit, I'll work with these suppliers to organize my own trips and site inspections while I live and work there.
Many of these suppliers develop into genuine friendships! I recently spent time with my Ecuador supplier, Rodolfo, in his personal "Jungle House," a beautiful, rustic luxury home deep in the jungle, two hours from the city of Guayaquil. While there, we enjoyed delicious fresh fruits of the forest, relaxed during evening thunderstorms, and discussed ways to grow our travel businesses together. This is what collaboration looks like!
First Stop: Ecuador
I began my South America journey in early January 2017. My first three months were spent in Cuenca, Ecuador, a UNESCO World Heritage Trust Site. Cuenca is a charming town of around a half million people located 8,000 feet up in the Andes Mountains. It has plenty of delicious coffee shops and bakeries to work from, so I could still take care of customers remotely from my laptop.
While in Ecuador, I was able to add the first of several "signature" destinations to my portfolio: The Galapagos Islands! Having the opportunity to cruise aboard the Santa Cruz II, and a few more days to explore on my own, was essential in being able to get my clients inspired to visit Galapagos and to create content that my ideal clients will devour.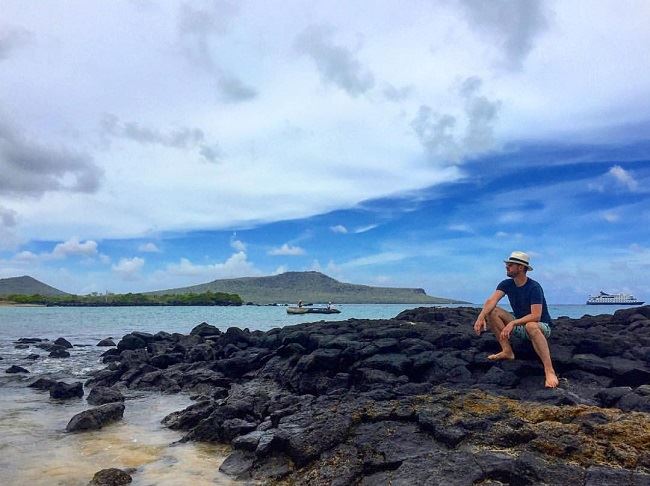 Marek on Floreana Island, Galapagos
Returning to the South American continent from the Galapagos, I headed straight to Peru. This is where things got tricky, testing my resolve and problem-solving skills. Torrential rains in the region washed out my route, so my land-based trip to Peru was cancelled. And once on tour in Peru - driving for a week from Lima to Cusco - my guide and I hit a patch of icy road and were involved in a roll-over accident (thankfully no serious injuries, just a sore shoulder for a few weeks!).
Finally in April, my time had come to hike the Inca Trail, a moderately challenging 26-mile journey in the Sacred Valley, culminating in the arrival at Machu Picchu on the fourth day. This was the other main highlight of my trip that I wanted to experience, in order to make this region a focus for my growing portfolio.
Marek spent four days on the famed Inca Trail.
Business still calls
Working for long stretches away from my office presented some unique challenges, but with high-speed wifi – and strong coffee – I was able to work remotely with no client disruptions.
I'm still a new travel business, so my client load is not as heavy as I'd like; however, I did receive a steady stream of client inquiries - many of whom found me via social media from my travels.
These clients were enough to pay for my travels in South America and help build my business from abroad. Most of my client communications are via email, but my phone number is through Skype, so it was no problem to make calls to the U.S. In fact, many clients were delighted to know that I was chatting with them from a different continent!
As with all travel businesses, issues do pop up from time to time. Fortunately, I didn't have any major issues, but I'll cite one client who was unhappy with his hotel in Israel. I was able to communicate with my on-site contact in Tel Aviv, who promptly assisted me in making the change.
And while I never had any urgent issues while I was away from WiFi (which occurred somewhat frequently when in remote areas of South America), I did have a colleague in the U.S. who was ready and willing to assist should any problems arise.
Becoming a true destination expert
Sitting in a cafe in Cusco, Peru - my home for six weeks - I was working, writing blogs, communicating with clients, and all the other things we do to run our businesses. What a privilege to do so from 11,000 feet above sea level, in the oldest continuously-inhabited city in the Western Hemisphere.
Living in South America has been one of the most profound and inspiring periods of my career. Being able to immerse myself in a foreign culture is something that is impossible to get sitting in on an hour-long webinar or even taking a week-long fam trip.
Being down here has strengthened my supplier relationships. And it has reaffirmed how I do business and why I do what I do, exactly who I help, and with what type of travel experience.
Street food. Dining like a local.
I realize that my lifestyle isn't feasible for the average person. Kids, spouses, and mortgages make six months of travel impossible for most people, but there are lessons that any travel professional can take away from my experience abroad.
Most importantly, I encourage travel agents to become true experts in a destination, which goes beyond a week-long familiarization trip to Cancun or other destinations. If you can, consider extending your fam trips by a few extra days and getting to know your suppliers on a more personal level.
Ask your supplier's salesperson to suggest the best local restaurant and then invite them to dinner there. Request a tour of their offices and meet their reservations staff, their porters, and see the inner workings of the operation! Not only is it fascinating, but it will demonstrate your interest in developing a long-lasting, healthy relationship with them.
You don't have to travel six months a year in order to have a compelling tale to tell, but consider the things that make you unique, different and memorable in order to craft a story that your ideal clients can relate to.
For example, consider a fam trip to Spain. Look at each site you visit as a way to incorporate elements of food and how your travels around the area - even if not directly related to food - helped shape your experience and newfound expertise of Spain. That is more compelling than a few photos from your smart phone of your hotel room or pool.
By thinking creatively and outside-of-the-box, even established travel professionals can breathe new life into their careers and business brand.