When Dealing With Anxiety, Focus on What You Can Control
by Cheryl Rosen /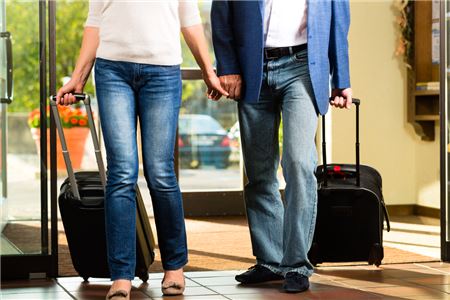 Travel agents often have to act as their client's therapist, helping them work through fears and concerns they may have about travel. At the ASTA Global Convention last month, the "Travel Anxiety in a World of Growing Uncertainty" session focused on concrete ways travel agents can help fearful clients.
Russell Goutierez, VP of operations and business development at the not-for-profit global relief agency Aviem International, said that the key in dealing with fearful travelers is to help them focus on what they CAN control rather than all they cannot. One survivor of an airline crash with whom he worked, for example, made a list of airlines she was willing to fly and another of those she would not; another wants to speak personally to each pilot before she boards the plane. "What you want to get across is that all it takes is a little research and a little preparation and they will feel a lot better."
For research, start with the Department of Transportation website, where travel agents and their customers can find information on their rights in case of cancellations or lost luggage. For bigger issues, The U.S. Department of State has a Traveler Checklist in a downloadable pdf. Suggest your clients enroll in the Smart Traveler program and download the app, which offers information on all countries, along with earnings and alerts.
But travel agents also can take a few extra steps to help keep their travelers calm as well as safe. Make up your own checklist, he suggested, with local emergency contact numbers, including the consulate and the local equivalent of 911 for emergencies. "The time to figure out whom to call is not when you are in an emergency," he noted.
Perhaps the most important thing, though, is to send a human being—and to do it quickly. One iconic study of survivors of plane crashes and other large-scale travel disasters found that when an organization provided prompt, effective assistance in the first 24 to 48 hours after an incident, the customer felt positive rather than negative. Harold Ruchelman, for example, was on a Celebrity Cruise and took private a tour with 15 others; the tour bus fell down a mountainside and 12 people died, including his wife. The tour had not been booked through Celebrity and so the cruise line had no responsibility, but nonetheless, two Celebrity staffers stayed with him for the first full day and night.
"I didn't know what to do for myself, how do I get home, what do I do. But I felt they were taking care of me, they were doing things and making calls. I don't know what would have happened to me otherwise. I thank Celebrity and Royal Caribbean for the treatment; I will never forget it," he said.
And finally, take precautions and be smart, he said. Get travel insurance, count the rows to the door on your plane, trust your intuition and be aware of where you are and where you should go in an emergency.