Why Multibillionaire Philip Anschutz Bought Sea Island, Georgia
by Cheryl Rosen /

Eighteen months after being bought by reclusive billionaire Philip Anschutz—the owner of the NHL's LA Kings, a third of the NBA's LA Lakers and the Staples Center they play in, plus Windstar Cruises—Sea Island and its sister, the Broadmoor in Colorado, are stepping out into the spotlight a little. And so is their new owner.
If you have never heard of Anschutz, you are surely not alone. He is notoriously low-key; in one of the few interviews he has ever done, in the March issue of Town and Country magazine, they called him "the anti-Trump" for his avoidance of the limelight. He started out in the oil business before moving into railroads, telecom, and then entertainment—and now, travel—and is one of the 100 largest landowners in the United States. He's also a renowned philanthropist who has donated more than $100 million to the University of Colorado.
But these days Anschutz is getting out a little more, as he is on a mission. He is saddened to see the 295 hotels in National Trust for Historic Preservation slowly being scooped up by hospitality chains and private-equity firms and multinational corporations rather than people who really care about America's history. He is a man who loves great hotels—and he wants to preserve them.
That's why he acquired the Broadmoor in 2011, reportedly for $1 billion, and then Sea Island, and in June 2016 preserved them in a 100-year trust—arguably the longest-term vision in the hospitality industry.
Designed by Palm Beach architect Addison Mizner, the five-mile-long Sea Island opened in 1928. It is the only resort in the world to have achieved four Forbes Five-Stars nine years in a row—for two buildings, The Cloister and The Lodge, plus the Georgian Room restaurant and the Spa. It's also the only U.S. resort ever to have hosted a G-8 summit; guests now can hold their own meetings there, and sit in the very seat that once held George W. Bush.
The fact that G-8 was held here speaks to the security, of course, which makes it a draw for politicians and celebrities. Sea Island is accessible only via a private gated bridge, and the staff is dotted with former members of the military and law enforcement; on a press trip in March, my limo driver was the town's former deputy sheriff. Most of the staff grew up in these parts, and many are second- or third-generation Sea Island employees.
But that's all behind the scenes; what draws guests is the long list of things to do. Golfers come for the award-winning Golf Performance Center and its Elite Instructor and putting guru Mike Shannon; the Scottish-style links on the tidal basin; the PGA's annual RSM Classic. ("Seventy percent of the game of golf is from 50 yards in," says Shannon. "A putter is worth four shots a round—it will complement you or hurt what you do.")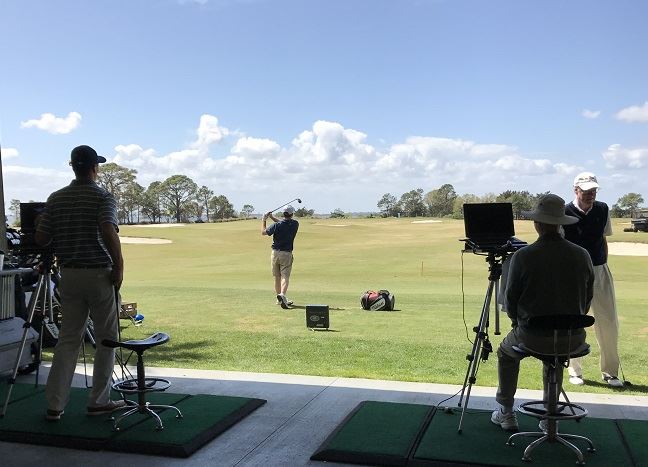 Sea Island's Golf Performance Center.
There are ocean and river and tides here, and everything above and below them, from the serene heated swimming pool in the Spa to the yacht parked out back to the horses that ride along the seashore to the fishing boats in the canal. There's clay—clay pigeons to shoot at and Har-Tru clay courts to play tennis on and clay to mold in the full-day kids' program. There's even a complimentary BMW to tool into town in (where you'll find the best barbecue in the world, the locals say, cooked up by a former Sea Island chef.)
For groups and weddings and families and celebrations of all kinds, Sea Island has pretty much whatever you need—and much that you will not find anywhere else. The private wine cellar in the basement offers up a unique and unforgettable venue—and epicurean experience—for pre-wedding get-togethers, corporate boards, or small group of clients or top salespeople. Broadfield, Sea Island's Sporting Club and Lodge, offers quail hunting in the private woods, a unique bonding experience for fathers and sons or co-workers. And the staff still talks about the Downton-Abbey-themed wedding attendees are not likely to ever forget.
"Massive tide changes" bring nutrients to the hotel's door, along with the sweetest shrimp and freshest fish. There are dolphin and alligators—and even a bagpiper who serenades the coming sunset on the golf course at the end of each day; while we were there he played the Itsy Bitsy Spider for a fascinated group of toddlers.

Sea Island wine cellar.

There's more than 87,000 square feet of meeting and gathering space, and an onsite events team that works with travel agents to ensure the success of every celebration and conference they send here.
And there's food and wine, of course. In the Colt and Alison restaurant, waiters prepare the Caesar Salad and the Bananas Foster tableside—and quickly replace that white napkin with a black one lest you get lint on your lap. The expanded Tavola restaurant, serving continental and Italian food, reopened this month. And try the lesson in cooking and wine-pairing at 11 a.m., the best time to taste wine, the sommelier says, while the palate is still clean.
Sarah Churchill was married here; Bushes and Eisenhowers have stayed. The guest list includes Carters and Thatchers and Clintons, movie stars and rock stars whose names the staff carefully guard.
And there are the small touches—the 1,400 rugs hand-woven over a period of two years by five villages in Turkey, the $10 million oceanfront home that rents for $3,000-6,000 a night.
"There will never be another hotel like this," says director of national sales Reint Venker.
In short, Anschutz felt the need to preserve Sea Island as an American tradition. And while the word "value" does not come easily here, Venker told TMR that the resort is looking to build its business in January and February, when both corporate and family travel are a little soft. Where rooms might run in the $400-$500s in high season, they may be available for half that amount in the slow months, especially for corporate groups and incentives, to help the property fill its book of business and keep the staff busy. And the weather even in January averages a low of 48 and a high of 71.
"Right now we are about 50-50 groups and leisure, and we are trying to get to more 60-40," Venker said. Still, with Spring Break and Easter and summer vacations, "we're still very much a family resort."
Events here are legendary, he added. One corporate group held a "Crap Shoot," laying out all the merchandise that had not sold well during the year and shooting it to pieces; another flew in on more than 100 private jets that lined up at the resort's onsite air field. They can do "Cast and Blasts," with fishing in the morning, lunch on the dock, and then shooting in the afternoon; Hunger Games complete with shooting and archery "have gone crazy."
And travel agents and their clients, of course, are always welcome. "We see more groups coming through third parties," Venker said. "They are always looking for that 'Wow' factor—and we have our own design team and entertainment and A/V so you don't need a DMC."

Southern Tide at the Beach Club.