Selling Paradise: Delta Vacations Expands Luxury Options in Tahitian Islands
by Jessica Montevago /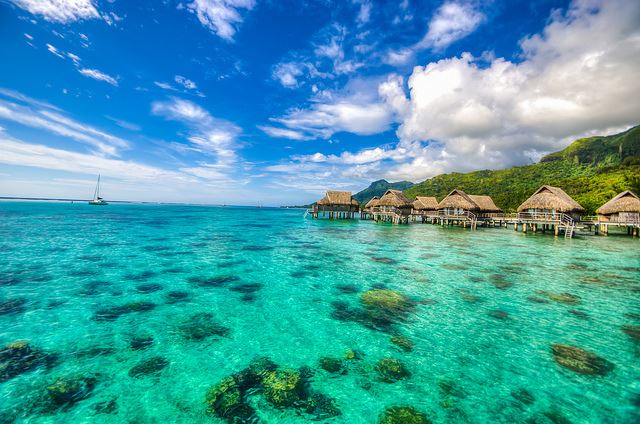 Before overwater bungalows were brought to the Caribbean, they were the signature of the Islands of Tahiti. As the territory celebrates the 50th anniversary of its first overwater bungalow, and the great foundation it has provided, its destination marketing organization is beginning to look at other ways to market itself as the field becomes more crowded.
In addition to spreading the word about its diverse offerings, the ministry of tourism wants to create more visibility in the U.S., which makes up 40 percent of Tahiti's visitors. Around 70,000 Americans visit the French territory each year.
"We're thankful we're known for the overwater bungalow and the lagoons, but like Sydney has more to offer than the Opera House and Paris has more to offer than the Eiffel Tower… there are other sides of the islands of Tahiti, as well as the people and the culture," said Kristin Carlson Kemper, managing director of Tahiti Tourisme, at Delta Vacations University in Atlanta, Ga.

To achieve this, Tahiti Tourisme began partnering with Delta Vacations. In September, the tour operator added four Tahitian islands to its portfolio: Bora Bora, Tetiaroa, Moorea, and Tahiti. If successful, it could be expanded to include additional programs.
Four- and five-star accommodations across the islands
All together there at 12 properties in the portfolio, a variety of four-and five-star accommodations for booking across all of the islands with international and boutique hotel brands such as: Marriot International's Le Meridien and St. Regis properties, Intercontinental Hotels and Resorts, Sofitel Hotels and Resorts, Hilton Hotels and Resorts' Conrad Bora Bora Nui, and Four Seasons Hotels and Resorts.
Included are: the five-star St. Regis Bora Bora Resort, the InterContinental Tahiti, and the Brando — the luxury resort located on the private island of Tetiaroa and infamous for its celebrity clientele.
Delta Vacations parent, Delta Air Lines, partnered with Air France, which will provide the eight-hour flight to Tahiti once travelers arrive in Los Angeles. Most travelers fly into the main island of Tahiti and then island-hop to the others.
"Our goal is to increase the number of arrivals from the U.S., which is exciting for us because we see this as new incremental business as opposed to just a market share," Kemper said. "This is such a new audience."
With Delta Vacations looking to ramp up its luxury offerings — which has seen a steady increase in demand — adding Tahiti to its portfolio seems like a natural addition. It also serves as a great opportunity for high commissions for travel agents, with the average booking costing around $10,000.
More than overwater bungalows
Located in the heart of the South Pacific, the chain of islands became known for their lagoons, pristine beaches, and lush vegetation. But the shift in branding will focus on the destination's rich culture, and targets families and explorers, as it looks to expand beyond its niche in romance travel.
Across the islands, there are a range of activities, from zip-lining and hiking to water sports and visiting UNESCO World Heritage sites. Some resorts cater to families with special amenities, menus and kids' clubs.
Cruise options to the territory are being expanded as well. French Polynesia increased its ports of call to more than 1,000 from 2012 to 2016, Ministry of Tourism Chief Program Officer Hironui Johnston said.
By 2020, the territory will have a new cruise terminal and will accommodate cruise ships from 100 passengers to 2,500 passengers, like the Norwegian Jewel.
"It's another way to discover our islands," Johnston said, adding it's a convenient way to see
the whole territory.
Airport improvements are also slated to be completed by 2020.
Destination specialist program for travel agents
Tahiti Tourisme is offering travel agents the chance to specialize in the destination while earning "real benefits," Kemper said. The destination specialist Tahiti Tiane Program is a tiered program, offering complimentary leads, FAM trips, and listings on its consumer-facing website.
To earn the designation, travel advisors must complete the modules and quizzes, visit the islands of Tahiti on a FAM trip, and make a minimum of $30,000 in bookings.