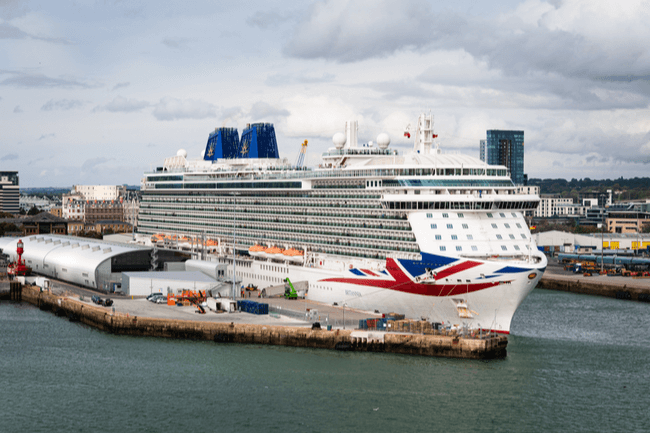 As long as plans remain on track, domestic cruising in the United Kingdom could start as soon as May 17, 2021.
According to reports, the U.K.'s maritime minister Roberts Courts told a group of MPs on Tuesday that the country's cruise lines could restart domestic sailings on May 17. The reports said that the government gave the industry "a pathway" to re-opening on May 17 alongside the rest of the domestic tourism industry in the U.K.
That pathway includes plans for repatriation procedures and new COVID-19 protocols onboard. It also includes a strict domestic-only green light, with international cruise travel still not approved, according to The Foreign Office in the U.K.
Cruise Lines International Association (CLIA) for the U.K. and Ireland reacted to the news with a statement that said "we strongly welcome the announcement that cruise will be included alongside the restart of other domestic tourism in the U.K. The industry has been working with the Government over the last year on health protocols, which put the safety of our passengers and crew first."
P&O Cruises, one of the U.K's largest cruise lines, also reacted to the news. The cruise line, which is part of Carnival Corp., said it was "delighted" with the news.
"We are delighted that the Government has acknowledged that U.K. domestic cruise holidays can begin from May 17. While it will take some weeks after this date for us to restart our operations, we are very much looking forward to welcoming guests on board this summer," the line's president Paul Ludlow said in a statement.
The news adds another region to cruising's phased-in restart. As lines continue to wait for the okay in North America, starting on May 17 the U.K. will join other regions such as the Mediterranean and Singapore that have already successfully restarted post-COVID-19 with health and safety measures in place.
Israel was also recently added to that group, with Royal Caribbean committing to debut its new ship Odyssey of the Seas out of the country with COVID-19 vaccinated guests.
North American guests will have to wait until at least the beginning of June, the date that most major cruise lines have canceled sailings through (Royal Caribbean, however, still has some May sailings on the books).
The timetable for the North American return remains unclear, but when it does resume, cruise execs expect pent-up demand to make 2021 a "boom time" for the industry.