Viking Cruises Names 8 River Ships in Paris Ceremony, Bringing Total to 80 on Rivers
by Brittany Chrusciel /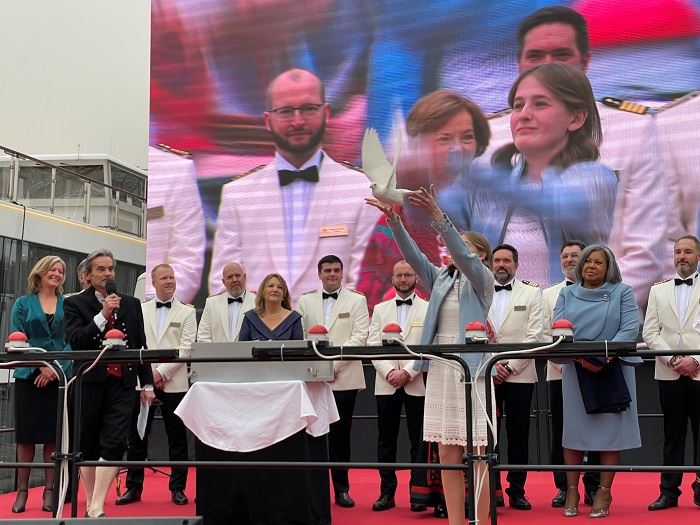 From their preferred docking location in Port de Grenelle, with the Eiffel Tower overlooking the festivities, four new Viking Longships built to navigate the Seine River were officially welcomed to the fleet in Paris along with four ships welcomed remotely in Amsterdam via telecast.
It was an intimate and joyful ceremony, minus the fireworks out of respect for Ukraine. Later, at a gala dinner, Chairman Torstein Hagen thanked travel agents, among the esteemed guests.
"Yes, we like to do direct bookings, but we also like to take bookings through travel agents. We want to be a partner."
Viking Radgrid, Viking Kari, Viking Skaga, and Viking Fjoygyn will sail itineraries along the Seine, while Viking Gersemi, Viking Gymir, Viking Egdir, and Viking Hervor will sail the line's most popular itineraries along the Rhine, Main, and Danube rivers. This brings the fleet's overall river ship count to 80 ships, 65 of which are Viking Longships.
Eight New Viking Godmothers
In the maritime tradition, each ship has a godmother; five were present for the ceremony in Paris, offering a blessing and pushing a button that released a bottle to be smashed against the hull. The ships were christened using Gammel Opland aquavit, the preferred brand of Hagen's mother and from the same county in Norway where she was born.
Three of the ships' godmothers include a mother and her two daughters, Vienna-based Dr. Janie Deutscher, musician, author, and educator (Radgrid); Alma Deutscher, a 17-year-old violinist, pianist, composer, and musical prodigy (Gymir); as well as her sister Helen Deutsher, also an accomplished violinist, pianist, and vocalist (Egdir). This year Viking will offer guests a "Privileged Access" excursion to see a performance led by Alma Deutscher, hailed as the "new Mozart," at Vienna's Wiener Konzerthaus. She will conduct the historic Strauss Capelle orchestra, performing the music of Mozart, the waltzes of Strauss on the violin, and her own compositions.
To begin the ceremony, Karine Hagen, Viking's executive vice president and daughter of Torstein Hagen, introduced Helen Deutscher who symbolically released white doves to send "peace, love, and harmony into our skies," said Hagen. Helen's mother and sister were unable to make the event, so as they joined remotely through a giant screen, she pushed the button to release the bottle for each of their ships.
The other godmothers include trusted travel partners and cultural leaders Brenda Hunsberger, senior vice president of Travel Services with AAA Club Alliance (Hervor); Karryn Christopher, executive vice president of Preferred Partnerships & Marketing for Signature Travel Network (Gersemi); Muriel Wilson, director of Event Strategy & Sponsorships for Virtuoso, Ltd (Skaga); Ghislaine Wood, deputy director of the University of East Anglia's Sainsbury Centre, one of the most important public university art galleries in Great Britain (Fjorgyn); and Kari Garmann, Former member of the Parliament of Norway and Oslo City Council (Kari).
A Full Return to the Rivers
Viking Cruises was the first cruise line to cease all operations in 2020 in the wake of the COVID-19 pandemic. Still, the line took delivery of 16 river ships during the pandemic hiatus (many of the ships named in the ceremony on March 16, 2022 were built in 2020).
Viking river and ocean ships have been operating on a limited basis since July 2021, noting that outbreaks among passengers and crew have been avoided due to rigorous testing and safety measures. However, the naming yesterday marks a ceremonial return to cruising normalcy, two years and five days later. It also kicks off the 2022 river cruise season; 17 Viking river ships are currently sailing, which will increase to more than 70 in the coming weeks.
Viking Celebrates 25 Years
Founded in 1997, Viking Cruises celebrates its 25th anniversary in 2022.
"As we mark 25 years of sailing the iconic waterways of the world, it is always a proud day when we welcome new ships to our fleet and offer more opportunities for curious travelers to explore the world in comfort," said Torstein Hagen. "Today we are especially pleased to honor eight talented and accomplished individuals as godmothers of our newest river ships, and we look forward to the start of another season of European river voyages."
Before the end of the year, Viking will welcome its second expedition ship Viking Polaris (its first, Viking Octantis, debuted in January); two additional ocean ships with Viking Mars and Viking Neptune; new river ships on the Nile and Mekong rivers; and its long-awaited Mississippi river ship Viking Mississippi in June.
What Else is New in Paris
New options on the Seine include an eight-day "Christmas on the Seine" itinerary exploring France's holiday markets round trip from Paris, as well as a post-trip extension that delves into Parisian cuisine available beginning in 2023 for guests sailing on the eight-day "Paris & the Heart of Normandy."
Through March 31, Viking is offering savings plus airfare from $599 on all 2022 and 2023 departures of "Paris & the Heart of Normandy."