CDC Adds France, Portugal to Highest COVID-19 Advisory List
by Daniel McCarthy /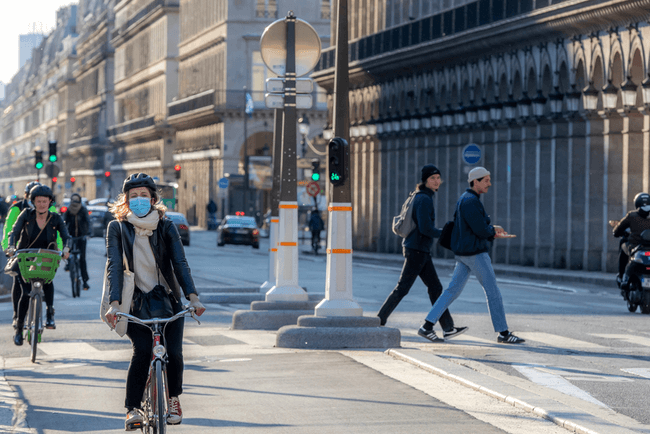 The U.S. Centers for Disease Control and Prevention (CDC) on Monday added France, Portugal, Jordan, and more to its Level 4: Very High travel advisory list because of rising cases in those countries.
The additions all now fall into a category that the CDC says Americans should "avoid travel" to. They join a list of more than 80 countries in that category including Denmark, Germany, Ireland, The Netherlands, Norway, South Africa, and more.
"Avoid travel to these destinations. If you must travel to these destinations, make sure you are fully vaccinated before travel," the warning reads.
France on Saturday reported more than 50,000 new cases, up dramatically from a week prior but still off of its April high of just under 120,000 according to Worldometers.
Portugal is also in the midst of an uptick in cases—on Sunday the country recorded another 3,700 positive cases, up from the less than 500 it was recording in mid-October but still off of the 16,000 it was seeing during its major surge last January.
Both France and Portugal are in the process of adding new restrictions.
Starting on Jan. 15, France will require booster shots for people to keep their health passes, which allows entry into restaurants, gyms, and more. On Monday it also ordered the country's nightclubs to close for four weeks over the surge.
Portugal has already added its restrictions, including a requirement to show proof of a negative COVID-19 test to enter bars, large events, and nursing homes and the addition of an EU digital certificate in order to stay in a hotel or eat indoors.
While the CDC's list is simply a recommendation for American travelers, moving those countries to Level 4 raises the level of precautions that the CDC wants travelers to take.
For instance, the CDC is advising travelers who are considering entering Level 4 countries to be fully vaccinated with an FDA-authorized vaccine or a vaccine authorized by the WHO and to wear a facemask while traveling, social distance during their trip, and self-monitor for COVID-19 symptoms.
If symptoms appear, the CDC is advising travelers to isolate and get tested.
For those who are unvaccinated, the CDC is recommending travelers get tested with a viral test 1-3 days prior to the trip, wear and mask while traveling, avoid crowded, and then get tested again 3-5 days after travel and stay home and self-quarantine for a full 7 days after travel.