Carnival in the Caribbean Is Back—Here's What Is Happening This Summer
by Charmaine Joseph /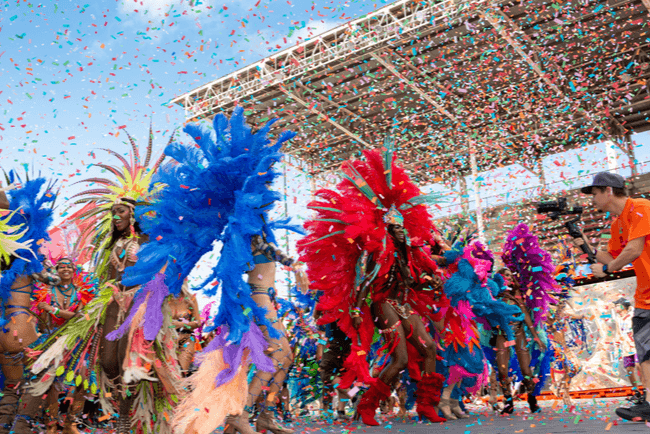 After a two-year hiatus due to the COVID-19 pandemic, the color and splendor of Carnival in the Caribbean is returning to many destinations this summer.
The legendary pre-lenten festival has been a prime event for visitors from around the world as the festival, which encompasses a kaleidoscope of colors, music, and dancing has enraptured revelers for decades. Though not historically birthed in the Caribbean region, the uniqueness of Carnival in the Caribbean has made it a must-do on many travel bucket lists. Traditionally a pre-lenten festival, the dates for carnival have moved in many islands to a spring/ summer event, with each destination offering a special twist that is distinctive to them.
Carnival, in all its elements, has not been held since the early days of the pandemic but many islands are planning an epic return this Summer and beyond.
Starting off with the mother of all Carnivals, Trinidad and Tobago has begun its road to Carnival, which is slated for February 2023. Trinidad has stuck with their pre-lenten celebration dates for their return but as a special treat to expectant revelers is planning to promote their costume band launch parties, to be held this August, as a chance for revelers to get a taste of things that will come next year. Nonetheless, if Trinidad Carnival is on the must-do list, it would be wise to make accommodation reservations soon as forward bookings for February 2023 have already begun to fill up.
Another favorite for Carnival aficionados is St Lucia Carnival, better known as Lucian Carnival. With events beginning in June 2022, the season of celebration culminates July 12th - 16th with a week-long buzz of parties, competitions, and a two-day street parade. Key events will include a Queen Show (beauty pageant), Calypso and Soca Monarch competitions, and Panorama (steel pan competition).
St Lucia's Tourism Minister Ernest Hilaire said that the initial response to the announcement of Carnival's return has been strong. "I am excited with how plans are progressing for Lucian Carnival 2022. It is very exciting when we hear that Carnival events are sold out within days after being launched, and some, even four to five months in advance."
Barbados is another destination that is returning with its Carnival celebrations for 2022. Barbados' Crop Over will make a splendid return this August. Running from July 27 to August 1, the festival is back with all of its familiar parties and competitions culminating with its Grand Kadooment, a one-day parade through the streets of Bridgetown. The Government of Barbados recently announced that they will be implementing special measures, in light of the ongoing pandemic, to keep revelers safe. Measures include proof of antigen testing or vaccination and decentralizing certain events to keep the number of partiers in one space at a safe level.
Other islands including Antigua and Barbuda, Jamaica, and Grenada have also announced their return to Carnival for this summer. As with Barbados, most island preparations will include public health measures in an effort to provide a pleasurable experience while striving to keep patrons as safe as possible. With so many destinations coming on board to provide what is primed to be the much-anticipated return of this choice Caribbean festival, it is another positive sign that travel and tourism in the region is rebounding and is expected to only grow in the ensuing months.