Five New Movies that Could Drive Summer Travel Interest
by Daniel McCarthy /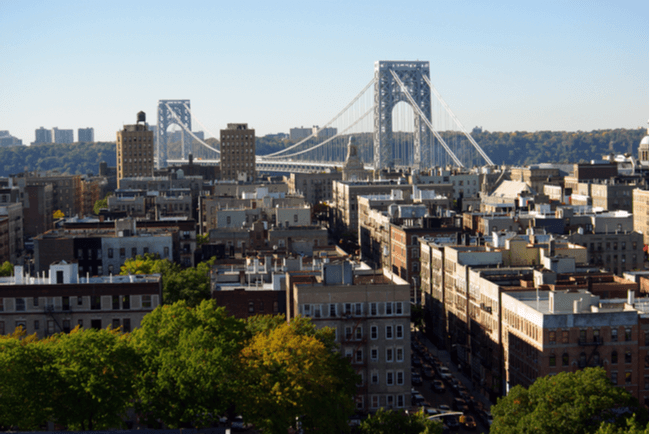 Even with COVID-19 impacting the film industry, this year's summer movie season is still filled with a lot of blockbusters that could prove popular enough to impact the travel industry.
Some movies—A Quiet Place Part II, F9, Black Widow, and Space Jam 2—don't exactly lend themselves to destination dreaming. But others, like so many in the past including Frozen, Star Wars, and Game of Thrones, have not only impacted travel decisions but have marked a turnaround in destinations around the world.
While it is impossible to tell just how successful the following films will be, here are five summer movies, most mainstays on those "Movies to See This Summer" consumer lists, that could spark some travel interest:
Movie: In The Heights
Destination: New York City's Washington Heights
Created by Hamilton's Lin-Manuel Miranda, In The Heights is the adaptation of a Broadway Tony-winning story set in Washington Heights, a culturally diverse and ever-changing Manhattan neighborhood in the northern part of the city. It is a love letter to the community and the dreams of the characters that make up the neighborhood.
The film, which will debut in theatres and on HBO Max on June 10 (it will only be available on HBO Max for 31 days after release), is getting the star treatment with a new collaboration between NYC & Company, the city's tourism arm, and Warner Bros. that will see it promoted throughout New York and on social media.
NYC & Company is also putting together a package that includes a travel guide displaying the neighborhood and the city's Latino heritage (New York is home to 4.8 million Latinos, the second largest metro-area concentration in the country) along with shareable content including "Summer in the Bronx: An NYC Love Story," "Latin-American History and Culture Sites in NYC," "10 of NYC's Best Latin-American Restaurants," and more.
According to NYC & Company, the content will be promoted with 10 million impressions on the city's outdoor LinkNYC digital screens, 1 million impressions of the promotional video on Taxi TV, 5 million impressions on digital bus shelters, and social media.
Movie: The Beatles: Get Back
Destination: Liverpool and London, U.K.
International travel is still on hold for this summer, but that does not mean that bucket lists aren't growing.
The documentary is created by Peter Jackson, the same Peter Jackson who is most well known for directing the Lord of the Rings movies and King Kong. The film takes a look at the recording of Let It Be, the 12th and final studio album recorded by the Beatles in London during the final years of the 1960s, through 56 hours of footage never before released to the public.
The project was created in partnership with the remaining Beatles members, Paul McCartney and Ringo Starr, along with the widows of John Lennon and George Harrison.
While not a destination-centric project like In The Heights, Get Back could help consumers rekindle their love of two U.K cities that have long been heavily connected to the Fab Four—Liverpool, the group's hometown, and London, the city where Let It Be was recorded and also the city of the group's final live performance.
After a yearlong COVID-19 delay, the documentary is slated for a late summer release (Aug. 27) in theatres.
Movie: Luca
Destination: The Italian Riviera
Luca is the next in a long line of Disney and Pixar summer animated releases, following Toy Story 4 in 2019, Incredibles 2 2018, Cars 3 in 2017, and Finding Dory in 2016.
It is set in a seaside town on the Italian Riviera and tells the coming-of-age story of a young boy named Luca who, according to Disney's description, experiences "an unforgettable summer filled with gelatos, pasta, and endless scooter rides…but all the fun is threatened by a deeply-held secret."
The Italian Riviera has long been a standout European destination for North American tourists, but the movie could still boost it even further as Italy continues its reopening process.
The last destination-centric Disney animated movie to really impact tourism was Frozen, and that made a major impact. According to Visit Norway, the number of nights spent in Norway by U.S. tourists after the release of Frozen increased by 170% and boosted the U.S. to the third-largest foreign tourism market for the country.
Whether that happens with Luca and Italy, a destination already favorited by U.S. and Canadian tourists is another story. The film is scheduled to land on Disney+, Disney's streaming service, on June 18.
Movie: The Green Knight
Destination: Britain and Ireland
Based on a 14th century Middle English chivalric romantic story, The Green Knight is an epic story of Sir Gawain, King Arthur's nephew, who embarks on a quest to confront The Green Knight, a "tester of men" and former challenger of King Arthur's court.
The movie stars Dev Patel, who starred in Slumdog Millionaire, The Best Exotic Marigold Hotel, Hotel Mumbai, and more, and is directed by David Lowery. Lowery is best known for his work reimagining Disney's Pete's Dragon in 2016 that earned enough praise to get a Peter Pan reimagining, called Peter Pan & Wendy, greenlit for a 2022 release.
While the story takes place near Camelot, a fictitious place somewhere in Britain, the movie was shot at Ardmore Studios in Bray, an Irish seaside village located in County Wicklow just a short ride south of Dublin.
While Game of Thrones is a difficult comparison to make for any project, that series boosted tourism to Croatia, Iceland, and Ireland, and The Green Knight, with a somewhat similar location, could drive interest for its locations. Ireland is reopening to tourists beginning July 19 and the
The Green Knight was originally slated to debut at the South by Southwest festival in March of 2020, with a wider release scheduled for May. Like a lot of the other films on the list, that debut was delayed because of COVID. The film is now scheduled to debut on July 30.
Movie: Vivo
Destination: Miami and Havana, Cuba
Another animated movie, this one from Netflix, and another Lin Manuel-Miranda project, Vivo, is a Cuban kinkajou story (a rainforest "honey bear") and his owner who spends their days playing music to crowds in Havana before traveling to Miami in hopes of becoming stars.
The movie is the first-ever musical project for Sony Pictures Animation and is now widely available on-demand after getting its release on Netflix last week.
For Americans, Cuba is still on the U.S. State Department's Level 4: Do Not Travel list because of COVID-19 and it is still not the easiest place to travel to from the U.S.—travel to Cuba for tourist activities remains prohibited by U.S. statute unless it is for 1 of 12 categories of travel.
On the other hand, Miami is reportedly back to 2019 levels of tourism if you take out the cruise traffic from that year. That's with international and business/corporate travel still heavily depressed.