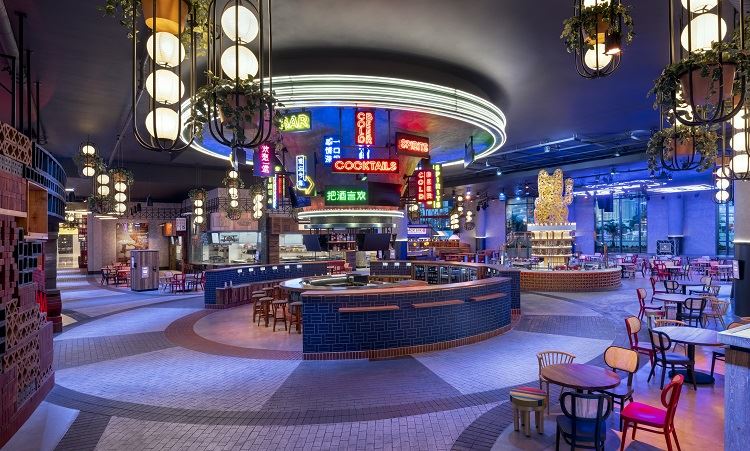 The Las Vegas hospitality sector's propensity for invention - and more importantly, reinvention - certainly helps to drive about 40 million annual visitors to the city. And the cutthroat competition on the Strip not only ensures a nonstop parade of new and upgraded accommodations, shows, and attractions; but it has also turned Sin City into a world-class culinary destination.
So while pricey restaurants helmed by celebrity chefs get most of the notice, some more affordable culinary options have popped up to fill the niche between fast food and fine dining. Las Vegas' recent, upscale food-hall evolution is yet one more example of the casino resorts' ability to convert underperforming venues into profit-making enterprises. Here's a roundup of the best food-hall options in the city right now, along with a don't-miss dish at each.

Photo: Cosmopolitan
Block 16 Urban Food Hall (The Cosmopolitan)
The Cosmopolitan's recent acquisition by MGM Resorts International was a deft move by one of the two largest casino-resort operators in Vegas, and the Cosmo's Block 16 Urban Food Hall dovetails nicely with the property's hip ethos by bringing together some of the country's trendiest regional specialties in a convivial space. Hattie B's Hot Chicken features Nashville's iconic fried chicken sandwich in a variety of heat levels - from Mild to Shut the Cluck Up, while Portland chef Rick Gencarelli's pork sandwiches grace the menu at Lardo. The Tekka Bar's handrolls and sake do justice to those respective Japanese favorites, and District: Donuts. Sliders. Brew bakes a killer Cinnamon Roll that can induce sugar shock. But my don't-miss dish comes courtesy of Bang Bar, where famed chef David Chang (of Momofuku) rolls up spit-roasted pork with Gochujang sauce into a flatbread flavor sensation called The U Wrap - for $14.
Forum Food Hall (Caesars Palace)
Iconic Caesars Palace not only boasts some of the city's most sought-after restaurants, it features them in impressive multiples: Two classic, NYC steakhouses (Old Homestead and Peter Luger Steakhouse); a pair of gourmet Chinese eateries (Mr. Chow and Beijing Noodle No. 9); a double shot of Gordon Ramsay (Hell's Kitchen and Gordon Ramsay Pub & Grill); and two celebrity chef, grab-and-go pastry outlets (Dominique Ansel and Brioche by Guy Savoy). But when looking for a quick bite, the Forum Food Hall fills the bill. New York's popular The Halal Guys dishes up their signature Middle Eastern fare here, while pizza legend Dom DeMarco's DiFara Pizza slings giant slices till late at night. But it's ubiquitous TV chef Bobby Flay's Bobby's Burgers that puts some interesting twists on the American classic. Pairing Flay's signature, potato chip-topped Crunchburger with a dark chocolate shake turns my don't-miss dish into a cool combo that comes in at an affordable $21.

Photo: Jeff Green
Proper Eats Food Hall (Aria Las Vegas)
When Las Vegas casino resorts shut down early in the pandemic, management had lots of time to consider which F&B outlets might be viable to reopen - and which to shutter permanently. Since self-service buffets were thought to be least likely to return (alas, that was disproved), The Buffet at Aria - a quality affair but never as popular as its gourmet buffet peers - was targeted for reinvention into Proper Eats Food Hall by MGM Resorts and partner Clique Hospitality. In an upscale, hip space matched perfectly with elevated culinary options, downtown L.A.'s Wexler's Deli dishes up house-smoked pastrami sandwiches, while Laughing Buddha's Tonkotsu Ramen offers its creamy, pork bone broth and fatty, char siu pork. Those in a Med mood gravitate towards Shalom Y'all for Israeli bites, and it's hard to resist grabbing a slice from celebrity DJ Steve Aoki's Pizzaoki. But it was London-based Seoul Bird's Korean Street Food that seduced me with their Signature Seoul Chicken Sandwich - a perfect balance of flavors and heat that turned it into my don't-miss dish ($15).
Famous Foods Street Eats (Resorts World Las Vegas)
When the massive Resorts World campus opened in mid-2021, the three-hotel (Hilton, Conrad, Crockfords) property injected new life into a sleepy, North Strip that had become a dead zone of unfinished construction projects. And the company's Malaysian roots figured prominently in the property's Asian-heavy F&B outlets - notably Famous Foods Street Eats. Of the 16 diverse and exotic stalls that comprise Famous Foods, 11 are Asian-themed (Chinese, Singaporean, Japanese, Thai, Taiwanese, and Indian among them), offering authentic tastes created by destination-specific chefs. Don't-miss dish: Seemingly simple, but exceedingly rare in its perfect execution, Boon Tong Kee's Roasted Hainan Chicken & Rice is spot-on with its moist (skin-on) chicken paired with rice cooked in chicken broth. A quick dip in the accompanying Ginger-Scallion Sauce elevates this dish to perfection - at $14.75.
Quick Bites (Fremont Hotel & Casino)
Offering some of the most affordable options on this list - purveyed by some well-known, national brands along with local faves - Quite Bites at downtown's Fremont Hotel & Casino is a modern, comfortable venue that replaced the property's prior buffet. Aside from reliable but unexciting Steak 'N Shake and Dunkin' Donuts, local Las Vegas favorite Craft Kitchen's brunch items are first-rate. Huey Magoo's chicken tenders - available hand-breaded or grilled - are moist and delicious, but Roli Roti's rotisserie meats are the star of the show here. In particular, the outlet's Pork Loin Sandwich, featuring a crusty ciabatta roll filled with slow-roasted porchetta (including the requisite crispy crackling), onion marmalade, arugula, and roasted sea salt, is a gourmet treat - and a don't-miss dish at a value price of $11.95