New Riggs Washington DC Cracks Open the Vault on Hotel Style
by Kelsy Chauvin /

Great architecture is resilient, and with vision, it can be transformative. At the Riggs Washington DC, resilience is proving to be essential.
The new Penn Quarter downtown hotel opened on Feb. 6 with fanfare, only to have to dim its lights six weeks later, temporarily, during the COVID-19 pandemic.
"It was a project that was 2.5 years in the making…Six weeks later, the world could not look any more different," said General Manager Dieter Schmitz, CHA, in a March statement. "At this juncture, it's become our collective responsibility both as businesses and as individuals to do everything we can to help slow the spread of the coronavirus. And the truth of the matter is that temporarily pausing business to facilitate social distancing greatly reduces the spread of the COVID-19 virus."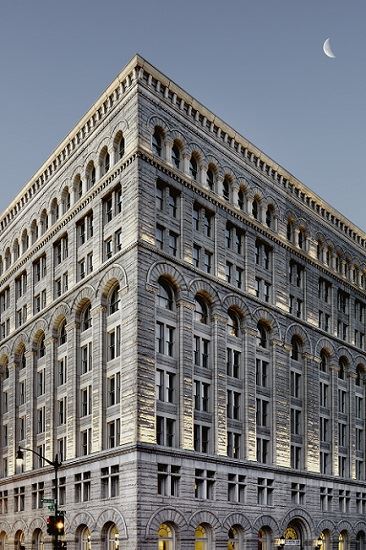 The exterior or Riggs Washington DC. Photo: Jennifer Hughes
Still, the buzz around Riggs is worth a closer look. Its 181 guest rooms (including 15 suites) occupy the former Riggs National Bank building. Built in 1891, it's among the capital's last remaining Richardsonian Romanesque Revival–styled structures. It's listed on the National Register of Historic Places for its architecture, and for serving as the personal bank of 23 U.S. presidents including Lincoln, Grant, and Eisenhower.
That presidential banking history is the root of the hotel's opulent style. And owner-developer Lore Group cut no corners to exalt the building's original grandeur. Creative Director Jacu Strauss drew on its banking legacy by preserving and restoring original features including pillars, vaulted ceilings, brass detailing, and the vault.
As it has since the 19th century, the ornate, barrel-vaulted lobby ceiling lends dignity to the main entrance. Though now, the stately hall is where travelers check in at an L-shaped desk that resembles a teller counter. They may notice the lobby's large Juno Moneta Medallion on the wall, representing the Roman Goddess of Money who appeared on the original bank doors.
The bespoke, Art Deco chandeliers tie in with other elegant brass features in common areas and room furnishings. In guestrooms, the goddess appears again on the minibar, built to look like an old-fashioned steel safe. In contrast, guests also get colorful custom headboards with floral prints that play off of Baroque-inspired wallpaper. Bathrooms are outfitted with Italian Carrara marble, chrome hardware, and amenities from fragrance house D.S. & Durga.

A standard double room at Riggs. Photo: Jennifer Hughes for Riggs Washington DC
Guests also have access to an 1,800-square-foot fitness center outfitted with Peloton bikes; and they're welcome to bring pets for a fee.
Of the Riggs's 15 suites, four honor the interests of a select few presidents' unsung better halves. These "First Lady" suites commemorate Ida McKinley's green thumb, Angelica Van Buren's classical extravagance, Louisa Adams' intense love for music, and Caroline Harrison's extensive porcelain collection. Each suite's furniture, colors, and layout are uniquely styled to reflect each woman's distinct avocation.
At the hotel's street-level Café Riggs, guests can dine for all meals, sample the raw bar, grab snacks and drinks, or catch weekend brunch specials. The restaurant caters to the 10th-story Rooftop at Riggs, a 2,500-square-foot flexible space with city views and seating up to 120 guests (230 for a reception). Additional spaces are available for meetings, dinners, and other events.

The reception at Riggs. Photo: Jennifer Hughes for Riggs Washington DC
Inside the subterranean Silver Lyan, acclaimed international bartender Ryan Chetiyawardana, better known as Mr. Lyan, debuts his first American venture. The bar's chic, velvety décor feels far from the space's original purpose as the bank vault. But its coziness is matched by elevated menus of inventive cocktails, fine wines, and small bites, including groundbreaking sustainability measures that are among Chetiyawardana's trademarks. (Don't miss the top-shelf Jell-O shot "fruit basket.")
Riggs Washington DC is part of the Preferred Hotel & Resorts network. It's location in Penn Quarter is conveniently central, three blocks from the Metro Center Station, and across 9th Street SW from the National Portrait Gallery. The hotel is walking distance from many of the capital's must-see attractions, including Capitol Hill, the White House, the National Mall and Memorial, Ford's Theatre, and Chinatown.