Southwest Airlines Opens Booking Access to Business Travel Managers
by Daine Taylor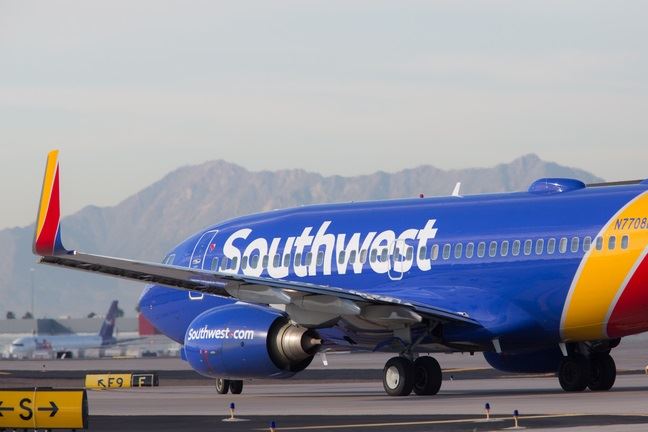 Southwest Airlines has expanded its partnership with Travelport, Amadeus, and the Airlines Reporting Corporation (ARC) to offer a new level of services to the corporate travel industry with Southwest Business.
Southwest Business is the new name for the dedicated business travel team that enables travel managers to book Southwest Airlines travel through their preferred channel. The new entity has also made major investments in self-service tools, direct-connect channels, and industry-standard GDS capabilities.
"For nearly 50 years, we've been a business traveler's airline with high-frequency travel options and low fares. Today's announcement evolves that philosophy even further by offering travel managers and business travelers new capabilities when booking Southwest travel in the channel of their choice," said Tom Nealon, president of Southwest Airlines.

"We're also making it easy and smooth for travel management companies to do business with Southwest Business through expanded partnerships, the addition of more content within GDS channels, a refreshed SWABIZ® booking tool, and more team members focused on highlighting Southwest's business-friendly policies."

Southwest Business brings travel managers and travel management companies new capabilities within Travelport's global distribution systems (GDS) and the Amadeus Travel Platform, the expanded reporting and settlement capabilities with the Airlines Reporting Corporation (ARC). Also in place is a larger team to reach more people than ever before — all in an effort to showcase the carrier's business-friendly policies, including no change fees (a fare difference might apply) and bags fly free (first and second checked luggage — size and weight limits apply).
"Behind this galvanized effort, more than 59,000 Southwest employees are all focused on bringing more heart and hospitality to thousands of businesses that put their trust in Southwest to connect their people to the places that are important to them," said Nealon.
The company announced last week that the new agreement will bring industry-standard processes to the Travelport and Amadeus GDS channels, including allowing travel managers the ability to book, change, cancel, and modify reservations.
Southwest anticipates the new capabilities to be ready for bookings by mid-2020, and estimates this new revenue initiative to provide incremental improvements in pre-tax results in the range of $10 million to $20 million in the second half of 2020, with significant improvements expected in 2021 and beyond.
"We are delighted to extend our partnership to now support Southwest Business. Whether through traditional channels or with new standards, we continue to deliver airlines' content just as they want it, and provide agencies with the technology and content to satisfy travelers," said Greg Webb, Travelport's chief executive officer. "Our new Southwest Business partnership is a great example of our customer-centric approach."
By increasing the company's participation within these channels to the highest level, travel managers and travel management companies will have access to more of the airlines' fares and flight schedules. Southwest is also partnering with ARC to implement industry-standard processes to handle the reporting and settlement of tickets booked through Travelport and Amadeus channels.
"Over the past five years, Amadeus and Southwest together have implemented a technology system designed to provide not only stellar customer service, but also a long runway for Southwest to grow," said Julia Sattel, president of Amadeus.
"Today's addition of distribution content to our technology partnership is a significant milestone. It deepens our companies' relationship to now include Southwest Business, and strengthens our ability to benefit travel sellers who rely on us to provide tools and world-leading content to help them provide superior service to their customers."