Two New Cruise Ships Highlight MSC Cruises' 2022/23 Winter Lineup
by Dori Saltzman /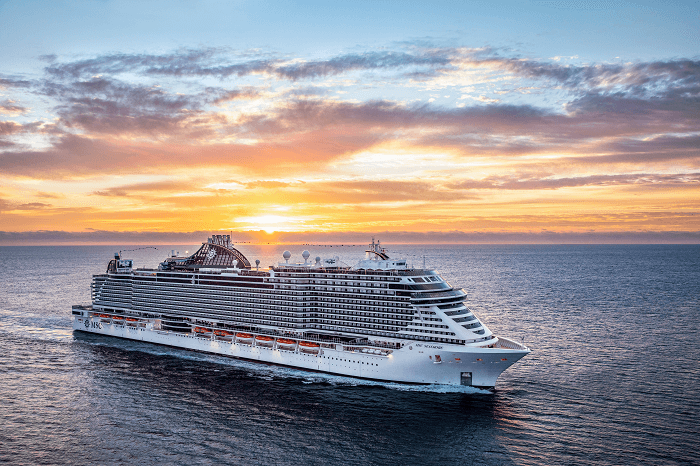 MSC Cruises' 2022/23 Winter lineup of sailings will feature two new ships: MSC Seascape and MSC World Europa. In total, the line will offer a choice of 21 ships sailing to more than 190 global destinations across 85 countries. Choices will range from mini-cruises of three nights to the line's 118-night World Cruise.
The first of the line's new ships, MSC Seascape will debut in Miami this December, sailing two choices of 7-night itineraries to the Caribbean. The second new ship, MSC World Europa, will be the line's first LNG-powered vessel and will sail in the Middle East starting December 20.
"Winter vacations are a great way to escape cold days and grey skies, and MSC Seascape offers the perfect environment for enjoying the Caribbean's endless sun," said Ruben Rodriguez, president of MSC Cruises, USA. "We designed this ship to offer our guests more opportunities to get out and enjoy the ocean, and we placed much of the open deck space on lower decks, closer to the water, where our guests want to be."
Caribbean and Antilles
MSC Seascape (PortMiami)
Eastern Caribbean (7 nights): Ocean Cay MSC Marine Reserve and Nassau (the Bahamas), San Juan, and Puerto Plata (Dominican Republic)
Western Caribbean (7 nights): Ocean Cay MSC Marine Reserve (the Bahamas), Cozumel, George Town (Cayman Islands), and Ocho Rios (Jamaica)
MSC Meraviglia (Port Canaveral)
3- to 7-night: Nassau and Ocean Cay MSC Marine Reserve (the Bahamas), Costa Maya and Cozumel (Mexico), and Belize City (Belize)
MSC Divina (PortMiami)
3- to 10-nights: Ocean Cay MSC Marine Reserve (all sailings), Belize City, Isla de Roatan (Honduras), Costa Maya (Mexico), Ocho Rios, Cartagena (Columbia), Colon (Panama), and Puerto Limon (Costa Rica)
MSC Seaside (Fort de France, French Antilles)
7-nights: Pointe-a-Pitre (Guadeloupe), Castries (Saint Lucia), Bridgetown (Barbados), Saint George (Grenada), and Kingstown (Saint Vincent and the Grenadines)
Western Mediterranean
MSC Grandiosa
7-nights: Genoa, Civitavecchia and Palermo (Italy), Valetta (Malta), Barcelona, and Marseille (France)
MSC Virtuosa
Genoa, La Spezia/Florence and Naples (Italy), Palma de Mallorca and Barcelona (Spain), and Marseille
MSC Lirica (Genoa, Italy)
11-nights: Civitavecchia and Messina (Italy), Lindos/Rhodes and Heraklion/Crete (Greece), Limassol (Cyprus), and Haifa (Israel)
10-nights: Ceuta, Malaga, Barcelona and Alicante/Costa Blanca (Spain), Tangier and Casablanca/Marrakech (Morocco), and Marseille
World Cruise
MSC will offer two world cruises on MSC Magnifica and MSC Poesia in 2023. MSC Magnifica will depart from Civitavecchia on January 4, while MSC Poesia will depart from Genoa on January 5.
South America
MSC Seashore (Brazil)
7-nights: Maceio, Salvador and Buzios, all in Brazil
MSC Seaview (Rio de Janeiro)
3- to 8-nights: Buzios, Ilhabela, Ilha, Grande/Angra dos Reis, Ilheus and Salvador (Brazil), plus ports in Uruguay, and Argentina
MSC Fantasia (Santos, Brazil)
3- to 7-nights: Ilha Grande, Buzios and Ilha Grande/Angra dos Reis (Brazil), Montevideo and Punta Del Este (Uruguay), and Buenos Aires
MSC Armonia (Itajai/Santa Caterina, Brazil)
7-nights: Ilhabela (Brazil), as well as ports in Uruguay and Argentina
MSC Musica (Bueno Aires)
Ilhabela, Rio de Janeiro, Buzios and Ilha Grande/Angra dos Reis, all in Brazil)
South Africa
MSC Sinfonia (Cape Town)
Mossel Bay (South Africa), and Walvis Bay and Ludertize (Namibia).
MSC Orchestra (Durban)
Pomene and Portuguese Island/Inhaca Archipelago (Mozambique), Walvis Bay (Namibia) and Cape Town, South Africa
Middle East
MSC World Europa (Dubai)
7-nights: Abu Dhabi (Dubai), Sir Bani Yas (UAE), and Dammam/Al Ahsa Oasis (Saudi Arabia)
MSC Opera (Dubai)
Abu Dhabi, Sir Bani Yas, Muscat, and Khasab (Oman).
All bookings made before March 31, 2022 are covered by the line's Cruise with Confidence policy that allows cruisers to reschedule their cruise free of charge up to 48 hours prior to sailing, for any reason.