More Details on Air New Zealand's Lie-Flat Economy Beds
by Daniel McCarthy /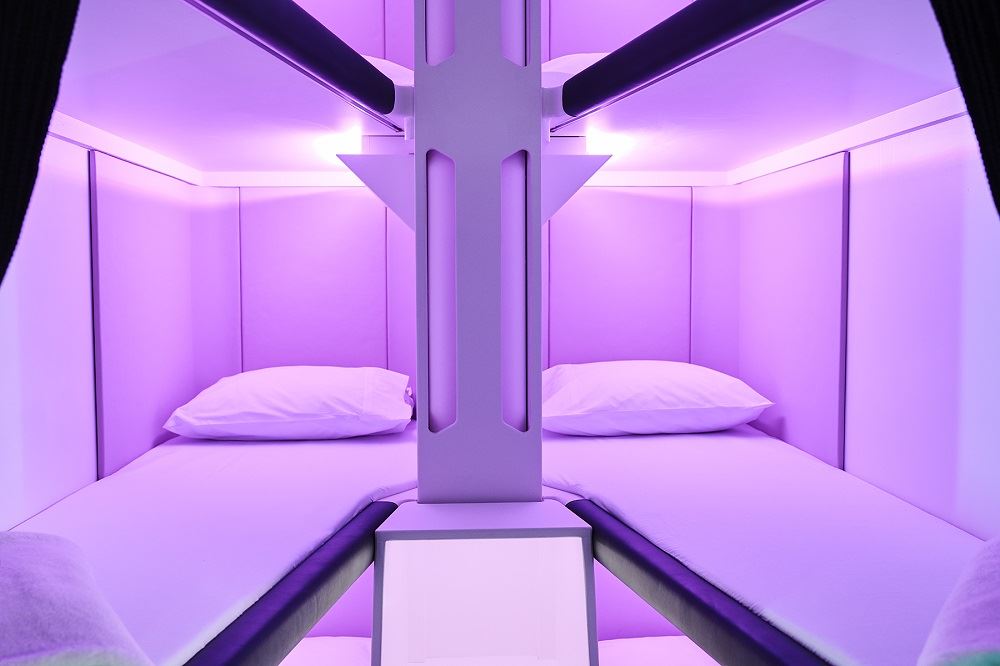 Air New Zealand this week unveiled more details about Skynest, the carrier's new lie-flat beds explicitly built for its economy passengers on long-haul flights.
The beds, which Air New Zealand says are the first-ever beds specifically for economy passengers, will be rolled out on New York and Chicago routes starting in 2024 after a refit to the carrier's 787 aircraft.
Air New Zealand says the beds, which are being designed and installed in Aotearoa New Zealand, will be a "real game changer" for its economy passengers.
"Our 83-year history is marked by a commitment to innovation and pushing the boundaries of what's possible. SkyNest is the latest example, and we're proud to be leading the way with this world-first cabin feature," Air New Zealand Chief Customer and Sales Officer Leanne Geraghty said.
The beds will be laid out in a six-pod configuration, allowing economy passengers to lie down when traveling long haul. Each pod includes its own full-size pillow, sheets and blanket, ear plugs, a separate reading light, personal device USB outlet, ventilation outlet, and lighting designed for rest.
Economy passengers will have to reserve a session on the beds (each passenger will be limited to one session per flight) and families traveling on the same ticket are able to book a session for each passenger, pending availability.
Each session is 4 hours long. Air New Zealand has yet to say whether or not passengers will be able to book two sessions on the beds during the flights, or whether passengers can book a double book. The long-haul flights between Chicago and New York and New Zealand are typically a little over 16 hours long.
Air New Zealand said it is still working on the exact details of how the booking process will work, but did say that "at this stage are looking at around $400 to $600 for the 4-hour period."