Travel Impressions Closes a Tough Year at Cancun Event and Looks Toward a Better 2020
by David Cogswell /

It was a challenging year for Travel Impressions, but when the vacation wholesaler opened its 24th annual "Best of the Best" event at Secrets Maroma on Riviera Maya, Mexico, Nov. 21-24, there was a sense of relief that it was over the hump and on its way to a smoother 2020.
It was a year marked by change, growing pains and a series of external problems that assaulted the company almost nonstop throughout the year.
The "Best of the Best" event, an annual gathering to reward Travel Impressions' top-producing agents, provided an opportunity for executives to reconnect with partners, freshen up relationships, and provide updates on changes and plans. Representatives of 153 agencies attended.
Jacki Marks, executive vice president for Travel Impressions' parent company Apple Leisure Group (ALG), told attendees at the opening session: "It was probably the hardest year of my career. It was the merger; it was the DR media crisis; it was the sargassum seaweed issue; the MAX 8 grounding. I felt like everything that was going to hit us, hit us in 2019. We couldn't catch our breath."
The biggest challenge was the task of migrating to a new booking platform. When ALG acquired the Mark Travel Corporation in early 2018, it also acquired VAX VacationAccess, the internet-based booking system developed by TriSept Solutions, Mark Travel's technology development division.
VAX is acknowledged to be vastly more powerful than the Quest system that Travel Impressions previously used. But gaining its empowering benefits required a learning curve. In the hyper-competitive retail travel industry, every micro-moment counts and some of Travel Impressions' partner agents suffered frustrating setbacks. But now a year after the introduction of the system, the pains are starting to subside and the benefits are rolling in.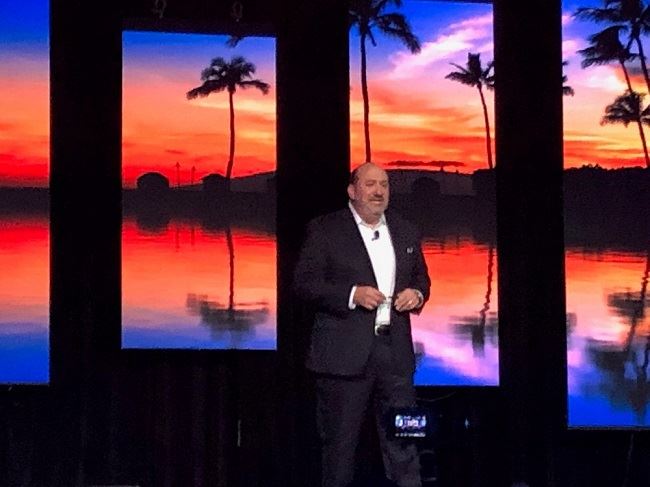 Scott Wiseman address the asssembly during Travel Impression's 24th annual "Best of the Best" event at Secrets Maroma on Riviera Maya, Mexico, last week. Photo: David Cogswell
Rebuilding trust
At the opening session, Travel Impressions' President Scott Wiseman apologized for trying the patience of its most loyal partners. But he promised that the pain would be worth the gain and that Travel Impressions will rebuild their trust.
Trust, he said, is like a bank account you build little by little over time.
"I've had lifelong friends and sometimes they disappoint me," he said, "but I don't wipe out that relationship over those issues. We keep powering through. Our relationship's the same. We know the trust account today might be lower than it should be. But we both want it to grow. And we know it's imperative that we deliver on lots of different things and give you more reasons than ever to continue to deposit into that trust bank."
Any migration to a new technology brings difficulties, he said.
"We knew that people loved the previous system," said Wiseman. "But it was like a one-trick pony, if you will. We knew there was so much opportunity for agents to earn more and we wanted to see those rewards. So, we pushed Travel Impressions to get ready for next year's peak season. Everywhere I've ever been, no matter how you plan for the perfect integration of new technology, it's going to have some bumps in the road."
Now the benefits are starting to accrue.
"I can see today that you guys are capitalizing on what we meant when we were pushing through the tough stuff with VAX," Wiseman told the agents. "I can see you making more money with the added commission tool. I can see this expanding domestic and Europe inventory that came through, that helped you capture more share for you clients, and easily booking through VAX things that you maybe wouldn't have touched before."
An uptick in business proves that the transitional hump is passed and advisors are now reaping the benefits.
"We've got two proofs," said Wiseman. "One is the numbers. Particularly in the last eight to ten weeks, we've really taken off. One year that we've lapped on the new system, we're starting to see agents adapting. And we are asking, 'What's your confidence today compared to what it was?' It's a lot more positive this year because there is one more year of stability on the system. The verbal confidence level is very strong compared to last year, and the numbers are proving that out."
Meanwhile, the incorporation of Mark Travel into ALG has brought many benefits, such as the addition of many new hotels into the company's inventory in Europe and the domestic U.S.
Rethinking groups
One of the biggest changes still on the horizon is the way Travel Impressions handles group travel. The company has received a lot of feedback that it needs to improve its systems for handling groups.
Alejandro Reynal, who was appointed chief executive officer of ALG last September, spent a lot of time in his first months on the job talking to travel agents, and "got bombarded with feedback about what we were doing and how we could do it better." After that, Marks was asked to take on the group department.
"I ran the group department at Mark Travel and it was something I was very passionate about. I knew that we could make changes. I knew we had the opportunity to be something really special," said Marks.
So, Travel Impressions' group department is headed for a major overhaul.
"We have a roadmap and I think there are a lot of great things coming for the ALG/TI group department," Marks said.
Keep the change
Travel Impressions' partners stayed loyal as the company went through a series of major changes, beginning with its merger with the Apple Leisure Group in 2013, which closely followed ALG's acquisition by Bain Capital that was announced in late 2012.
Wiseman, who had previously headed Abercrombie & Kent and later Cox & Kings USA, joined Travel Impressions as president in summer 2016, in time to begin to sort out all the changes that were cascading down one on top of the other. Bain sold ALG in December of that year to two private equity companies, KSL Capital Partners and KKR.
Still more major changes came in April 2018, when the Apple Leisure Group acquired the Mark Travel Corporation, one of ALG's strongest competitors. One key element of the acquisitions was Mark Travel's technology division, TriSept Solutions, and VAX VacationAccess.
Stabilization
Marks, as executive vice president of ALG, was part of the development team of VAX. She reassured agents that although change is essential for Travel Impressions and its partners to stay competitive, the period of intense changes will now calm down a bit.
"Some of you may argue that not all the changes Travel Impressions went through were positive," said Marks, "but I will tell you, having learned everything I have learned in the last few years, that every change we made was necessary. Travel Impressions is a better and stronger brand than we were back then. Making TI a profitable, sustainable company for the future that can invest in you – as a travel agent-only brand – we had to go through a lot of changes to get to where we are today."
But now, Marks said, things should settle into more stability.
"We have gone through so many changes that I do believe we are going to slow down a bit, because it has been a lot," she said. "There's been tech changes, process changes, people changes, a lot to digest in a short period of time. But I'll also tell you we won't stop changing. We are going to keep making TI the absolute best brand that it can be so we can fight back against the OTAs, and we can be the company that can support you for the very long, long future."
But, she acknowledged, we owe it all to you, and it's all about the travel advisors. "You've obviously built this company," she said. "You've made this company successful. I'm excited about all we've accomplished, but I'm really excited about where we're going."