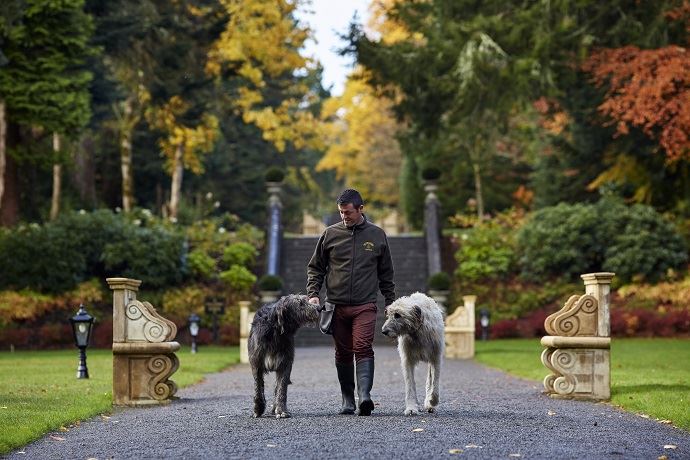 If you want a quintessentially rural Irish resort, head for Ashford Castle, three hours' drive west of Dublin near Cong, County Mayo. Red Carnation Hotels' owners, the Tollman family, bought the massive estate in 2013 (it is rumoured they have since spent $100 million on overall enhancements, including $3 million on accommodation for some of the 465-strong team, who are augmented by outsourced gardeners).
At Ashford's imposing medieval stone gateway, credentials are checked by a senior gent in a full-length, grass-green winter coat. You then proceed slowly along a twisting single-track road, with, as far as the eye can see, the same green, just-mowed grass on either side. At the bottom of seven entry steps, for my arrival, awaited GM Niall Rochford, boss of this 83-room treasure, which claims heritage back to 1228, and since then, a myriad of owners has included the Guinness family.
I was escorted about 40 yards along twisting corridors – past a courtyard where "my" bright green bike, with helmet, awaited – to #224, the Kennedy Suite (Ted K. stayed here about 40 years ago). Wow. I looked through a trio of adjacent 13-foot-high, cathedral-like windows, their shared cream drapes' pelmet an elaborate tassel-decorated theatrical prop, and across to Lough Corrib, and snow-capped mountains of Connemara. I had a log-look working fire; electric towel rails; and a 19th-century, walnut bed, its four twisting wood poles topped by cheery wood cherubim with waving arms.

The bed in the Castle's Reagan Suite. Photo: Red Carnation Hotel Collection.
Time to explore. I started cycling some of the 350 acres of wooded grounds – Ashford offers trips with former 2008 Olympian, David O'Loughlin. The paths, many surfaced with tarmac, are thoughtfully well-maintained. At one point comes an enormous squawk in a tree high above: A falcon has landed. The falcon school is right nearby. I pass two, brand-new tennis courts, and a dog clean-up station (the hotel has a pair of gigantic Irish wolfhounds on daily call). I passed St. Mary's Church – the hotel restricts itself to two or three weddings a year.
Castle enhancements include a residents-only billiard room with smokers' terrace; and a plush, all-red, 32-seat screening room, with daily free showings of John Wayne's 1951 film called "The Quiet Man" (shot here), as well as two other movies, with popcorn included. One of the first-floor reception rooms is now a showcase for 1,200 pieces of Roebling-marked silver, the formal dining set of the engineer of New York's Brooklyn Bridge, bought by the Tollmans at auction.
The hotel has eight dining venues. Tonight, Cullens', named for a former staff member, opens for the season. Once a movie theater, it is now a cottage-like comfy space, all white with a fishing boat and nets hanging over. We drink a Tollman wine, Bouchard Finlayson 2014 Walker Bay.

A bird's-eye view of the Castle grounds. Photo: Aervisions.
A few hours later, I breakfast in the signature restaurant, the George V Dining Room. I look up at 12 multi-level, early 20th-century chandeliers, and down at plush, multi-coloured Victorian carpeting. As well as international health offerings, there are such local dishes as kippers, and farl (potato flatbread) with truffle sour cream and oil.
This is a place for destressing and privacy – recently, 10 adult girlfriends flew in from Texas for four nights, and stayed without going off campus. General activities include golf, falconry, archery, sheepdog working, clay pigeon shooting, small cruises, walking those wolfhounds, tree climbing, ziplining, history tours, riding, fishing, boating, cycling, kayaking, tennis, paddle-boarding, off-road driving, biking, and visiting resident artist Rick Lewis. And, as would be expected, there is a good gym, LifeFitness; and a superb spa, a haven of palest greys and big white orchids. The softest music and skilled technicians while away the hour-long facial (unusually, therapist Laura carefully explains why, for my skin, she chose Elemis rather than Natura Bissé or Voya).

The Castle's wine cave. Photo: Red Carnation Hotels Collection.
But now for Ashford Castle's crème de la crème. A 30-ish local hotelier, Eoin Warner, working with, and exclusively for, Ashford Castle, has set up four different days of Irish experiences. First, today, we head for a distant farm at the foothills of Slieve Aughty Mountains, County Galway. A former cowshed has, with considerable thought – and money gained from selling 13 milking cows – been turned into Kylemore Farmhouse Cheese. A fourth-generation dairy farmer's daughter, Teresa Roche, returned from nursing in New Zealand, learned alpine cheese-making in Switzerland and, four years later, she is turning out 1,000 cheese wheels a year. We toured production, and the maturation shed; and then made and ate raclette followed by Teresa's mum's Irish stew, lamb and veggie bits, and boiled potatoes.
Forty-five minutes later, we visited another shed-in-a-field, the workshop of veteran Uillean (Irish bagpipe) player Eugene Lambe. About 40 years ago, he could not find a maker, so he started making his own. Now, with pipe-playing really back in Millennials' sights, he is inundated with work: Waitlist for pipes with elbow bellows is over a year (and the cost is $6,500, though Eugene can make a simple whistle for $450, with a 3D-printed mouthpiece). Such experiences, as I said, are exclusive to Ashford Castle.
Mary Gostelow's travelogue is www.girlahead.com