An English 'Town and Country' Hotel for the Young at Heart
by Mary Gostelow /

Here's an English town and country suggestion for the young at heart, those who want something that offers continual experiences away from yet more antiques and chandeliers and faux-Tudor mantels. The Mandrake Hotel London and The Pig in the Forest are delightfully eccentric: They lack gyms and arrogance – they have genuine, ultra-enthusiastic workforces, and uniqueness.
The Mandrake Hotel London
The 34-room Mandrake, ten minutes' northeast of Oxford Circus, is in Fitzrovia, the center of entertainment gurus, fashion and tech. I walked along a vaguely-lit, all-black entrance tunnel, some 20 metres long. The black wall at the end, I later discovered, is a screen hiding an original Andy Warhol. In through automatic glass doors, I found a fantasy. The two-floor lobby looks into an inner garden. Turn and look up, over where I came in, and there is a back-lit upper window revealing the studio of the current artist-in-residence, who may well be champion tattooist Mark Mahoney – the hotel spends $30,000 a year on tattoos for its 92 team members, "The Tribe." Tribalists have no uniform. All wear black, there's a dress allowance, plus a box of exotic jewellery for guys and girls to wear on-shift.

The hotel's 1,280-square-foot Penthouse Suite. Photo: Mandrake
The 1,280-square-foot Penthouse Suite has a jacuzzi under an openable skylight. Surprisingly, normal bedrooms are rather normal. Street-facing room 21 was about 300 square feet, with instant WiFi and plenty of sockets, an easy-to-see minibar, kettle rather than espresso machine, Grown Alchemist toiletries, cashmere-filled bed; and, apart from one yard-square wall painting, overall cream colors relieved by a soft peach chaise longue that matched the cover of one of my four standing hardbacks. I also had a booklet promoting the hotel's on-site shaman concierge.
This is a family business. Brother Rami Fustok owns the hotel, a repository for his own collection. Sister Tala did the interiors. Mother is Lebanon's most famous sculptor, Bushra Fakhoury. (Saudi Arabian father, never mentioned, is also, apparently, "in hotels.")

The hotel's Mandrake Suite. Photo: Mandrake
I tour what could be called Fustok Palace. In the basement, toilets share a common hand-wash area that has a table bearing eight white and one black china bowls, all fed automatically, when hands are under, by ceiling-hung brass tubes. Next door, Masha-Hari Theatre is, in fact, a versatile public space, with a migraine-inducing video wall, and other walls that (like the wood floor) can be put on to vibrate mode.
Waeska bar, which has a Labradorite counter "for energy," is crammed nightly with Fitzrovia professionals. Its ethnobotany drinks menu utilizes such produce as green wakamomo peaches, specially imported from Japan. YOPO, the South American restaurant named for a Venezuelan plant, is, as often, bought out, so I dine with GM Simon Drake at one end of the 18-seat wood table in the private dining room, where walls and ceiling have been scarlet-lacquered 28 times. Drake describes the hotel's parties: At the last one, a sell-out for 600 Londoners and hotel guests, an actor in a loin cloth emerged from an outsized egg.
The Pig in the New Forest
It was obviously time for the English countryside. An hourly train from London's Waterloo to Brockenhurst, followed by a five-minute cab ride, took me to the enormous grounds of The Pig in the New Forest, a conversion of a two-floor house built in 1634. This is, today, the epitomal shabby-chic 21st-century luxury lodging.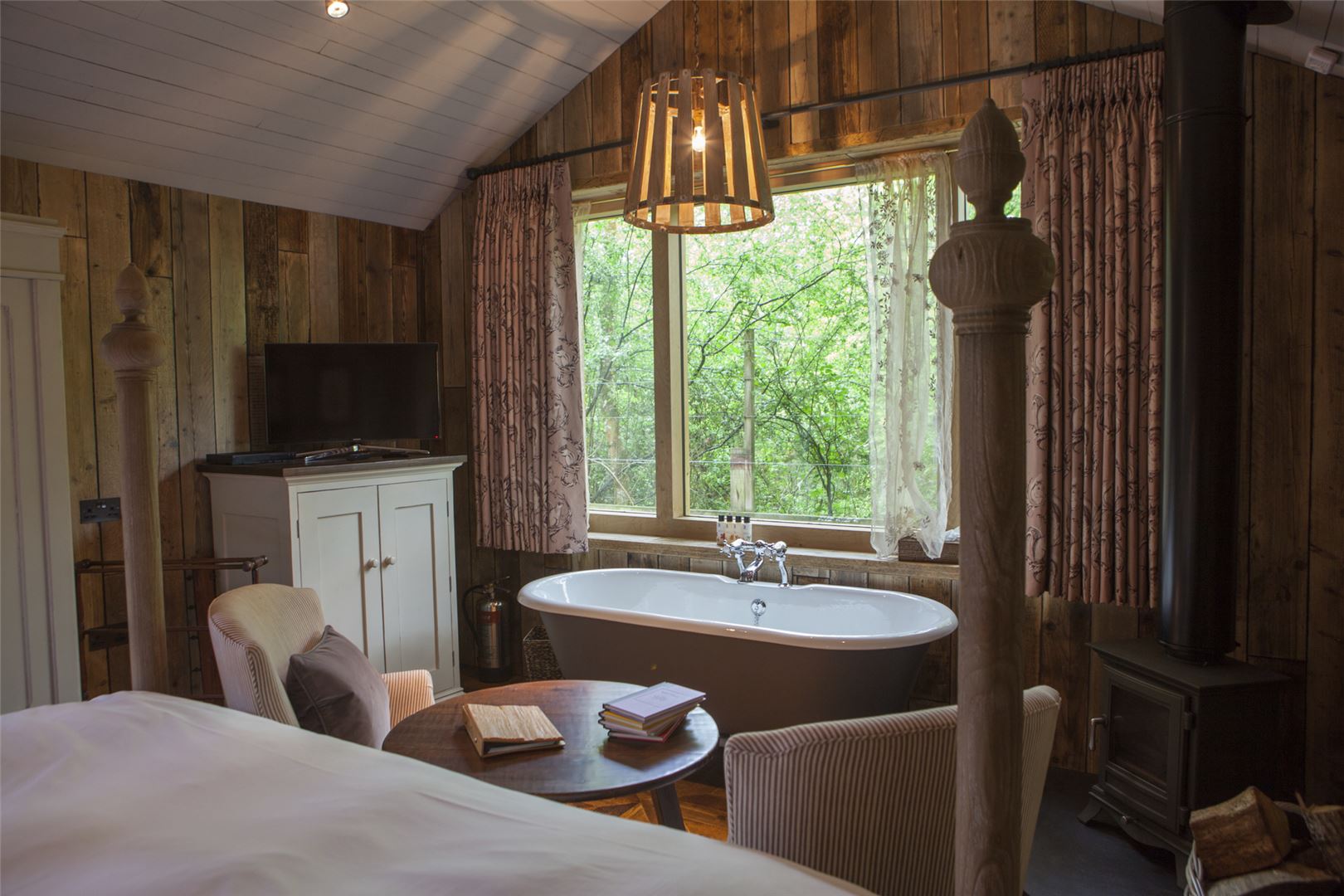 A room with a view at The Pig in the New Forest. Photo: Pig Hotel and Lime Wood Group
Stay in the main house, or one of the attached blocks, but I recommend the two-bedroom Pig Lodge, 300 yards away. You have a living room with a big Smeg refrigerator, stocked with masses of wine, and a full working kitchen: a loaf of new bread, butter under a ceramic cover, and a bottle of English sparkling water. I never got around to lighting the log-burning stove. My bedroom, about 45 square meters, had recycled wood railway sleepers for flooring. I had a Roberts radio, black Bakelite telephone and light switches, a flatscreen Samsung and excellent WiFi. There was plenty of reading material. The bathroom had a freestanding tub, one big old-fashioned sink on a long granite stand, a superb strong-pressure walk-in shower, and towels warmed over a radiator. Toiletries were Bramley. The toilet functioned via a metre-long hanging chain.
I headed for a pre-dusk walk in the surrounding New Forest, ending with checking the immaculately tended Walled Garden, with its rows of well-labelled vegetables (there must be a couple of dozen gardeners among the 100-strong employee count). Whoever knew there were so many types of kale? At the rear is a real shepherd's hut, used for massages.
As with all 17th-century English houses, there are numerous reception, for which read "withdrawing" rooms, all of which now have shabby-chic sofas and an eclectic collection of leather and other arm chairs. Looking around, all the staff appear to be English; all wear pale pink shirts, blue jeans and Converse trainers. Someone brings glasses of the house bubbly, Hambledon Classic Cuvée from this very county, Hampshire.

The hotel's Greenhouse Restaurant. Photo: PIG Hotel and Lime Wood Group
The restaurant, attached to the house, is a large glass conservatory, full of flourishing plants. Mix-match plain wood tables are set with china, cutlery and glass from garage sales. Pair this with crisply-ironed white linen napkins and smiling staff. The menu is 25-miles-radius, with a map that shows what comes from where. I follow a Walled Garden salad, with enormous chunks of home-made bread, with oyster mushroom pappardelle with garden herbs and cream sauce.
The bed, which has four two-meter-high corner posts, is Four Seasons comfort. I sleep through to the (old-fashioned) alarm and make an espresso. The conservatory's Breakfast Table buffet is an incredible bargain; pay $18 for masses of fresh stuff, from whole fruit through to boil your own eggs from The Pig's hens, with a choice of home-made toasting breads (you can pay extra for, say, a 'full Pig-out' of Hampshire middle-cut bacon, eggs, sausage, field mushrooms, grilled tomatoes, and both black and white puddings).
And then, sadly, it is time to head back to Heathrow, under an hour away.