Are Private Jets An Option? What Should Advisors Know Before You Book?
by Doug Gollan /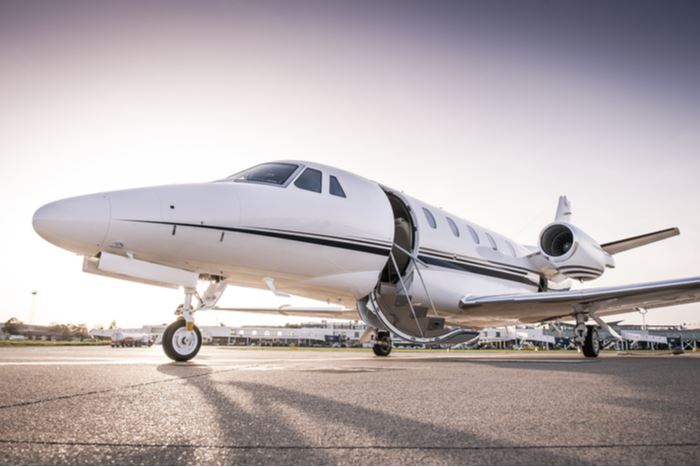 With the COVID-19 causing airlines to scuttle most of their schedules, private aviation is in some cases becoming the only option and certainly the best choice for clients who need to get somewhere and can afford the price.
Typical prices for a one-way flight range between $5,000 and $15,000 per hour based on size of aircraft and where you are coming from and going to. Keep in mind ferry fees – empty flights to get the plane to your client or back to base after they drop them off - have to be factored into the quote.
For travel advisors, helping customers is your natural instinct, so booking private charters seems like a natural extension to your services. To assume that it's straightforward would be the same as some of your friends from outside the industry who see your glam posts on social media at exotic resorts and think, "How hard can that be?"
Even if arranging private flights is part of the larger travel industry, the knowledge needed to do it well could be compared to the differences between the various types of doctors and lawyers. For example, on the medical side, you have doctors from neurosurgeons and oncologists to podiatrists. In terms of the legal profession, you have tax lawyers and criminal defense attorneys. In other words, don't just jump in the deep end and assume things will go well. Private jet charters is a nuanced market. A family physician isn't going to jump in and perform heart surgery.
To help sort it out a bit, below are some basics:
Who am I talking to?
In booking private flights, you can go with either charter operators or charter brokers. Operators are the companies that actually fly the plane. In the U.S. the operate under the FAA's Title 14 of the Code of Federal Regulations (14 CFR) Part 135, generally just referred to as Part 135.
There are 575 Part 135 operators in the U.S. with a fleet of just under 4,000 business jets (so excluding turboprops and helicopters). Less than 20 have fleets of over 25 private jets, and more than 300 operate only one to three jets. In other words, while there are a few big players, most are small. File this tidbit away because it will be very relevant as you read on.
Operators can also be brokers. When the fleet they operate doesn't fit a customer's needs, they can broker that customer selling them transportation on another operator's fleet.
Pure brokers, on the other hand, don't operate aircraft. In a way, they are like you. They work with the companies that provide the product, matching the right airplane and operator to the right customers. However, while there are regulations covering disclosures brokers must make, brokerages and individual brokers are neither certified or registered by the Federal Government. Nobody actually knows how many brokers are out there. All you need is a laptop, a nice website and a subscription to some databases.
Also, keep in mind, like the travel agency business, there are brokerages that are focused on a personal approach, while others have been targeting the market with for the "Do It Yourself" crowd that wants to book online.
What do I need to know before I call?
In addition to the from and to, you will need to know how many passengers will be traveling as well as how much luggage. While an aircraft may have enough seats, it may not have enough luggage space for your client's needs, particularly for oversize baggage such as skis, surf boards and golf clubs. Total weight may also dictate the need for a different type of aircraft that can fly nonstop. You also need to know if there will be any pets (not all private jets accept pets) and if there will be minors traveling unaccompanied. Again, policies vary. Also, know the physical address your clients are leaving from and going to. Private jets in the U.S. have access to over 5,000 airports compared to less than 500 for the airlines. Your private aviation provider should be able to recommend the most convenient airports your clients can use based on type of aircraft they charter. Many times, these airports aren't served by the airlines, so you might not be aware of them.
Is it preferable to use a broker?
While all operators meet Federal standards (Part 135), many operate to a higher level. A good broker knows the difference. For example, the reliability of the operator and ability to secure replacement aircraft if needed. The reason two similar aircraft – same type and year of manufacture - can have widely different prices is impacted by many factors, including where they are positioned, whether or not flight crew is staff versus freelance, as well as how recently the aircraft was refurbished. Good brokers also know if an operator has ever had FAA enforcement actions as well as crew training standards, how much insurance is provided, and other critical details you and your customers might not know to ask about. Even more, good brokers are like you. The day before departure they are in touch with the operator making sure everything is set. Day of departure they are in contact with the FBO – the private jet terminal – to make sure catering was delivered and then picked up by the flight crew and boarded. They are also in touch with the operator about possible delays, and can start to look into alternatives if needed.
Are there standard policies for payments and cancellations?
The answer is no. During peak periods, payments can be non-refundable and payment terms, as well as cancelation rules vary. While credit cards are often accepted, for first time customers, wire transfers may be required, especially for new customers. Also, credit card fees are often added to the quote. Terms for each quote, even from the same operator may have different terms. That's because many operators don't own the jets, but manage them for UHNW families and companies, renting them out when the owner isn't using them. Make sure to review the terms of each quote thoroughly, and don't assume they are the same.
What happens if a pilot gets sick or there is a mechanical?
This is tricky and a good reason to use a broker. Unless the operator has another aircraft that they own and is readily available, it will be up to you to figure out a replacement aircraft. If there is an extra charge, that is generally passed along to the customer. In other words, if your client paid $30,000 for a flight and once they get to the airport, it's canceled, and the replacement flight is $40,000, your client would have to pay the difference. Keep in mind, that would be for a new contract, so if your broker can't front the money, you or your client might have to pay for the replacement flight while waiting for a refund from the canceled flight. Discuss service recovery with both brokers and operators you use, and read the contract to make sure it's aligned. Make sure clients understand this as well so there are no unpleasant surprises.
Are there extra charges?
Catering and deicing, as well as various airport and terminal fees, are extra. For flights within the U.S. and ending or originating within 200 nautical miles of the border, there is also a 7.5% Federal Excise Tax. Deicing can range up to $10,000 for larger aircraft. Catering beyond packaged snacks and drinks is ordered a la carte. Your broker can help guide you. Make sure to ask about any additional costs that might be billed either after the quote or post-flight, including WiFi charges or cleaning charges for pets.
What's the best way to find a good broker?
The best way is to ask somebody who flies privately regularly. Talk to your clients who fly privately and ask them for recommendations. Many owners of private jets also charter when their aircraft is idled for repairs, or if they need a different type of plane for specific trips, or like cars in your driveway, sometimes one isn't enough. In some cases, your consortia may have preferred relationships. Talk to your colleagues to find out if there is a specific person to go to. Like therapists at a spa, some are better than others. The range of two similar private jets can vary significantly, so a good broker will help you find the idea aircraft for your needs. Also check with the Better Business Bureau and other review sites online. Since private travel is a rarified market, you may not find a lot, however, you may see some red flags that will want to make you be cautious.
What's in it for me?
Brokers and operators typically offer either net pricing or will pay a commission. Typical mark-up for private jet charter brokers can be as low as 5-10%, so like with travel agencies, margins are tight. While sometimes commissions can be negotiated, remember, a good broker is like a good travel advisor – sometimes the true value isn't visible until something goes wrong.
Are there any other risks?
In these challenging times, it's quite possible some operators and brokers might fail. Generally speaking, brokers who do strong business with an operator don't transfer funds until the day before the flight, day of the flight, or even operate on credit. Zetta Jet's 2017 bankruptcy left more than $50 million in unpaid bills, as well as funds collected in advance for flights it didn't perform.
This is scary. Should I even bother?
That's up to you. View private jet charters as an ancillary business where you work with experts who add value, something akin to how travel advisors use concierge or ticket services. If you have access to wealthy clients, certainly, it's something to consider. Just like you get calls from clients saying, you charged me X for this hotel room, and I see it online for Z, and you can explain the difference in what they are getting, a good broker can do the same for you and your clients.
What do I need to know before I call?
In addition to the from and to, plus preferred departure or arrival time, you will need to know how many passengers will be traveling as well as how much luggage.