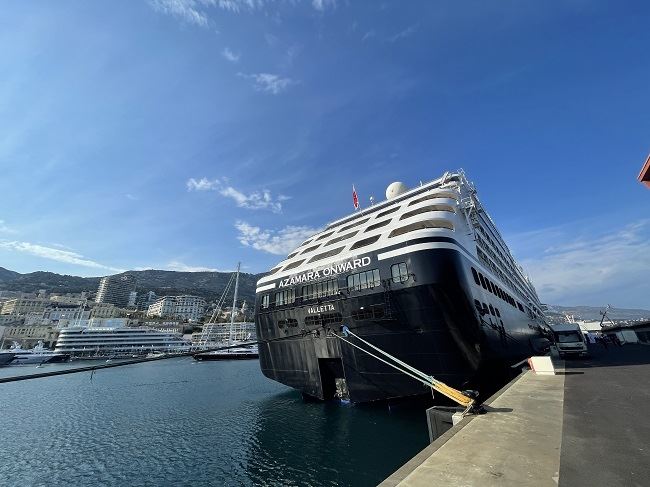 On May 2, Azamara Cruises christened its fourth ship, Azamara Onward. Under new ownership and leadership, Azamara used the inauguration to symbolically usher in a new era for the small cruise line with a fiercely loyal following — about 45 percent of its guests are repeat passengers.
The ship itself is identical in most respects to the other three in the fleet: Azamara Quest, Azamara Journey, and Azamara Pursuit (with the exception of the all-new Atlas Bar, which replaces the library on Deck 10). The captain, the hotel director, the cruise director, and many crew have been with the company for decades. The specialty restaurants haven't changed, and while new shows have been added to Onward's repertoire, ABBA is still a crowd favorite.
So apart from breaking ties with Royal Caribbean Cruises Limited, many might wonder what, if anything, is changing at Azamara Cruises. We sailed onboard Azamara Onward's five-night, pre-inaugural voyage from Barcelona to Monte Carlo and had the opportunity to hear the company's leadership team speak about some new approaches to marketing, an expansion of evening tours, and many of the things that will purposefully remain the same.
Attracting Guests with New Marketing Tactics
Azamara is actively looking at different marketing and media channels. A revamped e-commerce platform will feature a new website and become more efficient for users as well as those on the back end. Azamara executives noted that they recognize people consume media in different ways, and that things have become even more digital following the pandemic.
"Within our marketing, we're looking at how we expand our reach in different ways to customers who might be interested in this product, but maybe we haven't been able to get in front of based on the channels we've used in the past," Carol Cabezas, president of Azamara Cruises, explained.
Azamara recently hired Andrea Baigorria as a global head of PR and communications, who is expected to incorporate more of these initiatives into what each department does across the business, as well as streamline marketing efforts. The cruise line just launched a press center, as well as a new brand campaign that will run digitally called "Change the Way You Sea" to gain share of voice with different audiences.
In terms of bookings, we're told that UK customers are leading the charge. North America is booking "in fits and starts," according to Cabezas, who agreed that the current testing requirements to reenter the U.S. play a big part. Australia/New Zealand customers have made a strong showing for local summer bookings, despite a very recent reopening of their borders. Cabezas noted that the cruisers who are booking, especially their loyalty customers, are staying onboard for longer and booking back-to-back sailings.
Travel Partners Remain Essential
Cabezas reassured us that despite new and multifaceted marketing tactics, the advisor community will remain an essential part of selling the brand and bringing new guests to Azamara. "Our travel partners are key. Azamara is a brand that needs to be sold; it doesn't have that mainstream recognition." New-to-brand customers make up about 10 to 15 percent of Azamara's passenger mix.
"They're graduating from other lines; they had their kids and now they're finding something that matches their current style of vacationing," Cabezas inferred about new-to-brand cruisers. The panel also disclosed that guests who primarily vacation by land are attracted to the Azamara product because of the destinations. So, selling Azamara becomes less about people who are considering a cruise and more about matching clients to a product that will show them the best itinerary in a comfortable way.
Cabezas highlighted something that many of us know, and that is despite initial sticker shock for some, cruising is always a tremendous value when you consider the cost of the hotel, entertainment, food, transportation, etc. "You're taken care of in a way that no land experience is going to do. We aim to provide that authentic experience that land-based guests are looking for," Cabezas said.
In terms of the hardware, the marketing efficiency of having four very similar ships is huge, making it easier for travel partners to understand the product and how to sell to clients. "One message fits the whole fleet," according to Cabezas.
"The trade is and continues to be the dominant part of our [customer] sourcing. Our travel partners have been extraordinary in introducing guests to our brand, and they work tirelessly to make sure their clients have a wonderful experience. So, we'll continue to support and rely on our travel partners to be the major sourcing of our guests."
The Destination Promise
For Azamara's valued itineraries, the pivot toward country-intensive cruising came before the pandemic, and they remain popular. But these destination-immersive sailings became even more vital when visiting one country was significantly less challenging to organize given testing and vaccine requirements. Greece and the Canary Islands were featured early in the cruise line's return to service.
Azamara Onward will be doing Greek-intensives in summer and fall this year, as well as cruises exploring Croatia and Italy. Michael Pawlus, Azamara's director of strategic itinerary and destination planning, said he's excited about the "Islands of the Mediterranean" cruise, from Rome to Barcelona, which departs on October 21, 2022, and will be offered into 2023 and 2024. Cabezas emphasized that single-destination voyages are still a staple of Azamara Cruises and will remain that way going forward.
"We've given a lot of thought to what needs to change and what needs to remain the same. At the core of Azamara is the destination promise and that is not going to change," Cabezas said. "What we are doing [to attract the next generation of Azamara cruisers] is looking at world events that attract certain clients looking for something special."
Two of Azamara's ships will go to the Monaco Grand Prix at the end of May, and we're told the British Open is another hugely popular theme sailing.
"We're always adding new maiden ports to keep things different for returning guests, as well as visiting some other areas."
Owning the Night
Gina Dunnett, Azamara's director of land product development, mentioned that the brand's concept of "owning the night" is currently under development. "It's not just taking someone off the ship in the evening; it's having them come back and feeling really enriched," Dunnett said of the line's work to claim evening excursions and experiences; it's a concept which they will be expanding in 2023. "We're looking at key cities — their entertainment; food — a lot of times it's just connecting with a local and seeing what happens in that evening. We want you to connect with the crew onboard, but the locals as well."
"When you travel with Azamara, it changes your perspective, and it's centered around the time we give in port to enhance the vacation experience," Cabezas told us. "Statistically, we spend the most amount of time in port of any cruise line in the industry, and that is absolutely intentional. Late nights and overnights are how people can do things in an unrushed and very relaxed way. Whenever you go to a destination, there is one story during the day and a whole other one at night."
AzAmazing Evenings are a once-per-cruise included event for all guests and are a signature offering of the cruise line. Due to the pandemic, logistics made it difficult to take hundreds of passengers off the ship in any given port and gather them in a single place, so versions of this destination enrichment activity were brought onboard the ships in the interim. In our case, in late April, an AzAmazing evening exploring Porto Venere, Italy with live music and bites was transformed into a daytime event. We're told that AzAmazing Evenings will resume in the coming months.
Ramping Up the Onboard Experience
With so much talk about the destination, it's also important to consider the onboard experience. While service is regularly rated very high, the daily activities and enrichment are a bit sleepy.
"We are looking at how we approach activities differently," Cabezas told us. "So, giving the experience onboard, when you're not visiting a destination, a bit more of a kick. It's not just about what you're doing in destination. Sea days are not common because we're always spending the most amount of time in a destination, but really refreshing what you can do onboard and making it fun."
We're curious to see how the destination can be tied more clearly to the activities onboard, and what will improve upon the current afternoon highlight of bean bag toss.
What's Next?
Given that all of the former Renaissance vessels are now reclaimed (four ships under Azamara and four with Oceania Cruises), the obvious question is, what comes next for growing the fleet?
"Why would you want to buy anything else? There's nothing else floating that I want to work on," according to master of Azamara Onward, Captain Carl Smith.
Time will tell whether Azamara is looking to purchase Oceania's ships and continue their legacy of R-Class cruising or stretch themselves as a company by undertaking a new build.
"The long-term strategy is absolutely to grow the fleet, and that can happen in different ways," Cabezas explained. "Our investors are focused on growing our brand because they feel like what we're doing speaks to a vacationer today, and there is room within that audience to have more of this product for them."