Collette Outlines Next Century at its Global Travel Conference
by David Cogswell /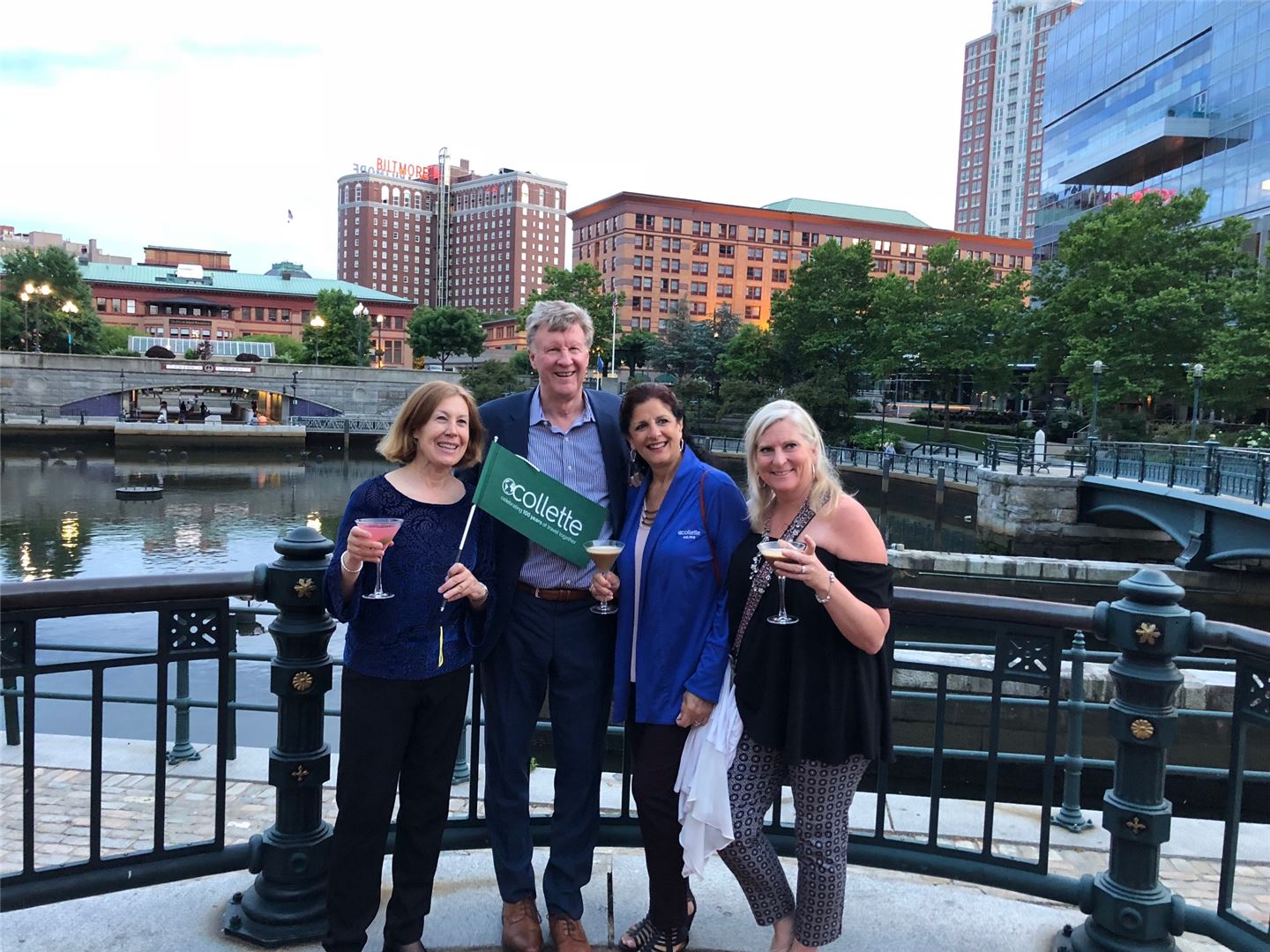 Collette, the Pawtucket, Rhode Island-based global tour operator, planned an event in Providence to celebrate the company's 100-year anniversary, but it developed into more than just a birthday party. Under the inspiration of Dan Sullivan, Jr., the company's CEO, they ratcheted up the event to become a global travel conference centered on the future of travel, and they pulled it off without a hitch. Collette's first travel industry symposium ran as smoothly as if the company had been doing it for years.
A broad spectrum
Collette invited a wide range of attendees from across the travel industry and around the world to the event, creating a true industry forum.
Presenters and panel moderators included CBS Travel Editor Peter Greenberg; U.S. Tour Operators Association President and CEO Terry Dale; and Todd Knapp, owner of Envision Technology Advisors.
Airlines were well-represented with executives from Lufthansa, United, Delta, Air New Zealand and Norwegian Air. Also in attendance were representatives of the travel industry philanthropic association Tourism Cares, AARP, as well as universities and destination marketing organizations.
Wholesale tour operators at the conference included direct competitors of Collette, such as Robin Tauck, co-owner of Tauck; and John and Mary Stachnik, co-founders of Mayflower Tours; as well as representatives of Flight Centre Travel Group, First Choice Tours, Thomas Cook and Marriott Vacations Worldwide.
There were many journalists and representatives of an assortment of media and travel publications from around the world. And, of course, many travel agents and representatives of agencies and consortia participated.
Collette's new president
One of the major milestones of the centenary was the promotion of Jaclyn Leibl-Cote to the position of president of the company, which became effective just days before the conference. Though still a young woman, Leibl-Cote's track toward the presidency has been a long one.

Jaclyn Leibl-Cote.
Jaclyn Leibl-Cote grew up in the travel industry as the daughter of Collette President Dan Sullivan, Jr., and observed the industry from up close since her earliest years. While still a child, she took jobs with the company, such as working in the mailroom.
She graduated from the University of Rhode Island with a B.A. in Communication and earned an M.B.A. from Babson College. She traveled extensively throughout Kenya, China, Tibet, the South Pacific, Europe, the U.S. and Canada.
Collette family members who wanted to work in the company were required to establish themselves first with employment outside the company, and Jaclyn worked with American Power Conversion in West Kingston, Rhode Island; and at ADP Solutions of Boston, before joining Collette officially in 2005. She worked as a tour manager, a sales manager and then as a product manager for the region of Australia and New Zealand. She worked her way up to executive vice president of product development.
Leibl-Cote's father, Dan Sullivan, Jr., who previously held the title of president and CEO, remains CEO of the company. Paula Twidale, who has worked with Collette since 1992 and served as the first female chairperson of the U.S. Tour Operators Association from December 2015-December 2017, continues in her vital role as executive vice president.
Collette's first century
The history of Collette is a classic success story of American business. Collette Travel Service was founded by Jack Collette in 1918, offering transportation services and regional tours in the Greyhound Terminal in Boston's Park Square. The company's first on-the-road tour offering was a 21-day trip to Florida that cost $61.50. After the success of that, Collette added $50 Cherry Blossom specials to Washington D.C., and found a healthy market on which to build a business. Collette became part of the early growth of the travel industry as Americans became mobile and started to explore.
In 1927, Collette moved the company's headquarters from Boston to the New England Transportation Company Terminal in Providence, Rhode Island.
Jack Collette built the company until World War II, when most tour businesses were forced to stop operating. When business resumed after the close of the war in 1945, a young veteran named Dan Sullivan returned from Europe, where he had been serving in the army working in counterintelligence under Gen. George Patton, and took a job with the New England Transportation Company running passenger operations in South Station, Boston.
The New England Transportation Company, later sold and renamed Sage Short Bus Line Company, worked with Collette Tours, and Dan Sullivan developed a working relationship with Jack Collette. When Collette turned 70 in 1962, Sullivan convinced him it was time to retire and negotiated a deal to purchase the company.
Sullivan expanded and grew the company through the 1960s and into the explosion of travel under airline deregulation in the 1970s. Collette rode the wave and began offering escorted tours to Europe.
In the 1970s, Sullivan's son and namesake Dan Sullivan, Jr., one of Dan Sr.'s six children, joined the company as a tour guide, and began working his way up through the ranks.
Dan Jr. took on increasing responsibility in the company as Collette expanded to offer tours across the U.S., Canada, Europe. In the 1980s, the company expanded to offer tours to Australia, New Zealand, China, Africa and Mexico. Dan Jr. took the helm of the company in 1990 as president and CEO, and in the 1990s, the company continued to expand its tour offerings to South America and Antarctica.
From Jack to Jaclyn: Collette's next century
At her first public appearance as president, Jaclyn Leibl-Cote took a strong stand on leading Collette through its next generation in an environment of head-spinning change.
Addressing attendees at a reception, Leibl-Cote said, "As we head into our 101st year, we are building on four pillars: people, community, environment, and product — and we are making sure what we do as a business is smart across the globe.
"Things are changing so rapidly in the travel space, the technology is changing every day. If we were to think about Uber just 10 years ago and how it's transformed the travel industry … most people probably would have said, 'I would never get in a car that's not yellow with a stranger.'"
Leibl-Cote and the Collette team are determined to stay on top of the wave.
"On Aug. 7, watch for a big launch for our Explorations product," she said. "It was maximum of 24 guests. We're going to have a major relaunch. They will now have a maximum of 19 guests. We've redesigned these programs to separate them, to really get off the beaten path and find the things that other companies aren't doing and change the way we are doing it. They are off the coach a lot more, using different modes of transportation, and lessening the drives but enhancing the experiences."
For Collette, it is axiomatic to always keep the guests top-of-mind. However, she said, "We are really elevating our thought for how we're doing that as we move into the future. People are looking for personalization. People want more customization and flexibility. They want to be meeting with people. They don't want to be on a coach all day long, so we are really getting immersed in the destination as we continue to develop product, and that's across all product lines in 2018 and 2019. Today's traveler is very different from the traveler of 100 years ago, and the way in which we travel is very different from how we started off as a business.
"So keep an eye out for that. It's going to be really awesome for 2019."