Expedition Pioneer Hurtigruten Navigates New Waters With Inaugural Galapagos Cruise
by Brittany Chrusciel /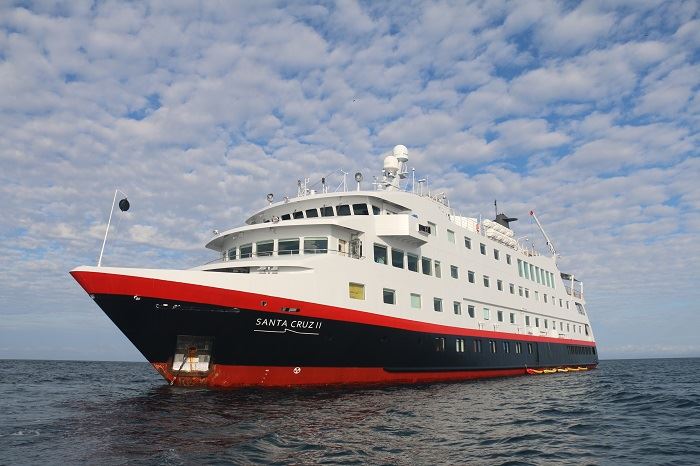 Hurtigruten Expeditions is the latest newcomer to Ecuador's Galapagos Islands, with an inaugural six-night Eastern loop sailing that departed Baltra on January 7, 2022. "Newcomer" is not a word commonly associated with Hurtigruten, a company that has been in operation for 129 years. With all of that expertise, it wouldn't have been surprising if the cruise line worked to forge its own relationships along its new Galapagos itineraries. However, it takes true wisdom to know how to mutually benefit from someone else's expertise; on our Galapagos voyage, Hurtigruten gave everything, including the actual wheel, over to in-destination experts Metropolitan Touring. The result was an impressive and deeply authentic experience that demonstrates how everyone benefits — and guests above all — from a strong, logical partnership.
Next year Hurtigruten adds the Western and Northern loops, which can be combined into an 11-day itinerary. It also means that the Santa Cruz II will be operating year-round in the Galapagos for Hurtigruten guests to experience. With a growing range of options to explore this one-of-a-kind ecosystem, we're offering our observations on why we're so glad our introduction to Ecuador and the Galapagos was with Hurtigruten.
The fully refitted Santa Cruz II is super comfortable, and I was in love with my cabin.
I've been on expedition cruises where the nature revealed by small-ship sailing and Zodiac landings left lasting impressions — but those memories were marred by seasickness from constant motion coupled with tight quarters. I'm thrilled to report nothing was farther from the case onboard the completely renovated Santa Cruz II.
The ship, adept at navigating the Chilean Fjords in its former life, sailed steadily and effortlessly from island to island. Onboard, spaces have a clean and simple feel but a cozy hygge aesthetic synonymous with Norwegian design. The library, with ample window seating and an espresso machine, has been outfitted with a "Science Corner" microscope, bone clones, and other research materials — a Hurtigruten standard — to enhance the enrichment provided by onboard naturalists. Elsewhere, in the hallways leading down to the dining room or upward to the bar and lounge, you'll find charming, obligatory portraits of Darwin and representations of his quotes and sketches made famous by his Galapagos research in "The Origin of Species."

Photo: Brittany Chrusciel
But while people might use "comfortable" as a throwaway word to describe their surroundings, I was seriously at home in my 161-square-foot space, marked cabin 227. I mention the number because while it featured a large picture window, twin bed, and desk area like most other cabins, its location adjacent to the Observation Deck added an additional layer of convenience. I was not only two steps from sunrise and sunset, both hot tubs, and a water bottle refill station, but I lived next door to the washers and dryers; when packing light for an expedition cruise, this included amenity is key. (The front desk provides its own biodegradable detergent upon request, which has a nice citrus scent.) Straight down the hall was morning coffee or evening tea in the library, a quick deck up was the Panorama bar and lounge where lectures were held, and two decks down was the dining room.
Another worthwhile note is on the bathrooms, which feature a separate toilet (some are all-in-one on expedition ships — really) and glass doors on a shower that felt spacious by industry standards. Their sustainable La Botica coconut shampoo did wonders for my humidity-haunted hair, and I even liked the pillows so much I took them out of the case to Google the brand (Plumatex). While we were often hiking, swimming, and sweating our way through the islands on land, these little touches made the cruising portion of our trip feel luxurious.
We're told the larger ship size is actually a benefit when exploring the Galapagos.
The Santa Cruz II carries 90 guests at maximum capacity and is one of the larger ships sailing these waters, due to a government cap of no more than 100 passengers. Metropolitan Touring also operates smaller vessels, chartered by cruise companies like UnCruise and Tauck. But contrary to what you might imagine, very small group sizes of maybe two-dozen people or less, might hamper your experience in the Galapagos, according to our expedition leader.
In pristine environments, where reducing human impact is all-important, we assumed the smallest ship size would offer the most intimate experiences with the flora and fauna — which is still true. However, having a ship large enough to staff a number of naturalists not only provides those same closeup encounters by divvying the guests into small groups, but more staff makes it possible to have more choices.
For example, if you're sailing onboard a very small yacht with just one or two naturalist guides, it might not be possible to have more than one difficulty level of hike in the morning, or four options to swim, snorkel, kayak, or paddleboard in the afternoon. As your naturalist guides need to be with you at all times inside of the Galapagos, having more guides on staff means providing guests with a range of ways to discover and experience the islands. Even with five naturalist guides (excluding our expedition leader) and a photographer onboard, we get the feeling that none of them slept. I can say that these choices made the voyage well-rounded and personally satisfying, having the ability to absorb the otherworldly landscapes of the Galapagos by land and sea, day to day, in a number of ways.

Photo: Brittany Chrusciel
The Metropolitan Touring partnership makes all the difference
Given both companies' deeply rooted expertise and dedication to sustainability — Metropolitan Touring has been in operation for 69 years and running on a carbon-neutral basis since 2017 — it's not surprising why Hurtigruten is such a congruent match. Luckily for Hurtigruten, Metropolitan Touring shined from arrival to departure and wowed us with their safety protocols, service levels, knowledge base, and culinary talents.
Most of the Galapagos park rangers and naturalist guides are from the Galapagos and have an encyclopedic understanding of the islands. But it also made all the difference to have Ecuadorians onboard our ship, explaining what colored a local tequila pink or telling us about their local dishes featured at breakfast, lunch, and dinner. Early in the cruise were so infatuated by an Ecuadorian hot sauce, our waiter (shoutout Eduardo) had it waiting for us at every meal and even shared the recipe.
This harmonious pairing extends to Hurtigruten's pre-and post-cruise Galapagos offerings, which for 2023 and 2024 will include a stay at Masphi Lodge, a one-of-a-kind property nestled in the Ecuadorian cloud forest that's also operated by Metropolitan. The thread that runs through all of Metropolitan Touring's ships and properties is so tight and the experience is so streamlined that a lodge located hours into the Andean mountains will feel vaguely familiar; the food and beverage program is run (across everything!) by the same mastermind, Jossimar Lujan, and even that excellent coconut shampoo showed up in my shower at Mashpi, hundreds of miles from the ship.
One of Metropolitan's more intangible programs is the Big 15. Similar to Africa's Big Five, the list identifies unique and endemic species that guests might see throughout the Galapagos. Cleverly, at least two are just out of reach on the Eastern loop, located in the islands of the Western Galapagos to beckon guests back. But being able to "check off" an impressive 13 species heightened our excitement as well as our knowledge base. A checklist is provided on paper and in the app and branded Big 15 merchandise is sold in the shop. A friend who recently traveled on a similar itinerary with Celebrity Flora was not aware of the Big 15 and it seemed as if she was disappointed to learn of the list after the fact, having to retroactively compare notes on what she did and did not see during her cruise.

Photo: Brittany Chrusciel
Plus, according to a travel advisor onboard, it's a family-friendly adventure.
On our sailing, we had to opportunity to chat with Orlando-based travel advisor and expedition cruise connoisseur Coleen Swezey (Stress-Free Vacations, Inc.), who specializes in Disney and other theme park travel. Given her 20 years of experience, she told us that she could easily see families onboard a Hurtigruten expedition in the Galapagos. If the families are young, active, and travel well, Swezey believes it's a great opportunity to expose children to the fascinating sights and lessons of the Galapagos and its many wild inhabitants. Swezey also mentioned that she felt the programming was comparable to Adventures by Disney, the company's guided tour product, which includes river and expedition cruises.
Of course, traveling with children has gotten slightly more complicated during the pandemic, but Hurtigruten welcomes children over the age of 7 who have been fully COVID-19 vaccinated aboard its ships.