First Look: InterContinental Lyon Along the Rhône
by Mary Gostelow /

InterContinental Lyon - Hôtel Dieu, in Lyon, France, which opened in June 2019, is the most exciting and significant historical conversion to open in Europe this century.
The three-floor building, occupying 300 yards along the Rhône, goes back in parts to the 12th century, and until less than a decade ago, it had been a pilgrims' relief site and hospital. Now, thanks to massive investment by Crédit Agricole Assurances, it is the ultimate community project.
The total six-acre site includes a conference center to seat 400 people. There are co-working and residences spaces; 20 boutiques; and a seriously large food hall, called Les Halles, that, with its ranges of Gillardeau oysters through to just-pressed juices, make Whole Foods plus your local farmers' markets open their eyes. There are also two other, smaller, food stores; plus 12 restaurants and bars.
The icon of the 144-room hotel is the Dome, which bisects one perimeter facet along the riverside quai Jules Courmon. Everything else was up-and-running before the hotel opened. And yes, it too, is cut into two, as it were, by The Dome. You do have to make sure you get in the right bank of elevators.
The area GM, Madelijn Vervoord, who is based here, had already opened one conversion: InterContinental Marseille, by the same designer, Jean-Philippe Nuel (yes, he who has also brilliantly shown how a ship's cabins, as on Ponant's Lyrial, can empathetically seem larger than reality).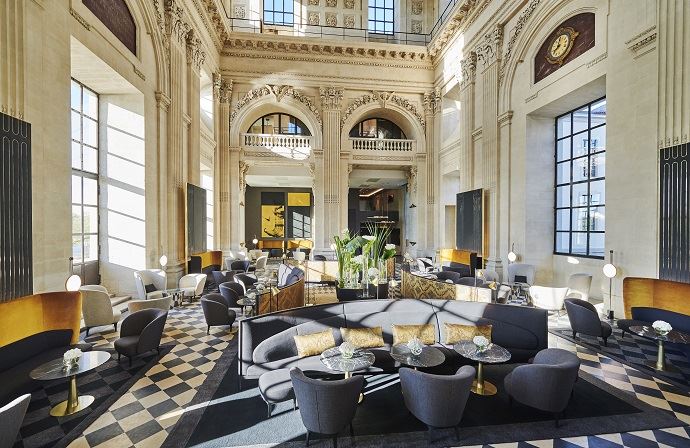 The hotel's Le Dome Bar. Photo: Eric Cuvillier.
Both the Club Continental lounge, to one side of the Dome, and the salon of the 1,500-square-foot Presidential Suite, to the other, look down into its interior lounge-bar, a magnet for the half-a-million people who live in Lyon; apparently 50,000 locals traipsed through in the first three months. One evening, I had a lovely people-watching Dome dinner, a steak tartare paired with the house specialty (a glass shaped like a fish on one leg, stork-style, holding a wasabi and gin concoction bound with egg white).
Lyon is said to have 4,200 restaurants, including 20 with Michelin stars, and the decision was made here to eschew fancy hotel food for really-great local ingredients cooked by a heart-throb of a young chef, Mathieu Charrois, who obviously loves working the floor of the 90-seat Epona restaurant, named for the Gallo-Roman goddess of fertility and travel.
Many diners automatically go for sharing cocottes, but I started with the signature Belle de Lyon, tomato nuggets immersed in Côtes du Rhône granita with gazpacho poured over. We shared a magnificent smoked prime rib, brought to table already carved, on a substantial wood tranche (I loved the '947' steak knives by Percival).
Daytimes and evenings, by the way, you also see pop-up restaurants in the various cloister-surrounded courtyards, no-space-available. Lyonnais have flocked to these restaurants, independent of the hotel — some are run by the food purveyors of Les Halles.
Since one-third of all adult locals are reputed to have been born here — at Hôtel Dieu during the building's role as a maternity hospital — masses want to come and stay. Nuel has tastefully blended locale and style in the bedrooms. Guests reach them via tall and narrow corridors, flanked by centuries-old stone pillars along one side, and the Nuel carpeting, with dark mushroom and champagne burst, a reflection of medieval chiaroscuro.

The Deluxe Room. Photo: Eric Cuvillier.
There are 28 duplex suites, with bedrooms upstairs, but I was really pleased to be in single-floor, Rhône-facing #358. Nuel's soft-greys interior palette is enlightened with bronze, and the fabrics and feel of day cushions.
Instead of walking ten minutes to the hotel's intimate gym, take a healthy exterior hike along the river bank and over Lyon's famous Pont de la Guillotière — in medieval times the only Rhône bridge south of Paris.
In my case, after a splendid breakfast that showed French products at their best, I walked through the conciergerie and across the public walkway under the Dome to reception, its end decorated with bookshelves reaching right up to its centuries-old ceiling. Some walls down at this first-floor public area are partly covered by freestanding silk screens — Lyon is still the center of silk. This entire hotel has so many stories waiting to be told, and shared.