Inside Traditional European Grandeur at Fairmont Hotel Vier Jahreszeiten
by Mary Gostelow /

Hamburg is Germany's center of the musical universe, thanks to its unique Elbphilharmonie and Laeiszhalle concert halls. I was heading there, and also to the city's iconic history-hotel.
Arrive at the Neuer Jungfernstieg entrance of the 1897-vintage Fairmont Vier Jahreszeiten and two giant proscenium curtains, red and black, guard the entrance. Then, past a wood cabinet with the hotel's crest in gold, holding bottles of Vittel for runners, are seven stone steps, with black-edged red-carpeting and flanked by bronze-railed wrought iron banisters, that lead to the main, revolving, door. Ahead is a 50-foot walkway to a wall-hung tapestry that must surely be Flemish, and old.
To my left, the lobby lounge is a composite of various reds with a black grand piano and an enormous fireplace, working in winter. To my right stretches the lobby seating area, again mostly ruby reds, with original panelling, masses of flowers, books and red apples, and two baby buggies, one black and one cream, loaned free to guests. The near wall, here, is entirely key cubby-holes, as used in the movie Grand Hotel Budapest. The concierge is partly hidden behind a gigantic 2017 coffee table book, Jens Meyer-Odewald's Das Hotel, on a music stand.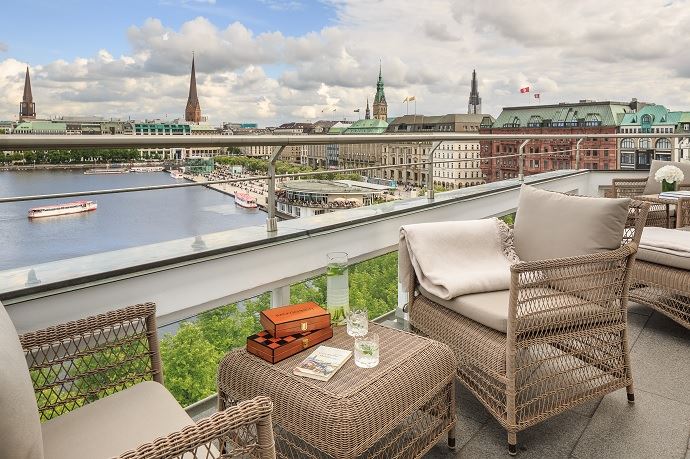 Balcony view
My room key is a heavy retro sculpture, too big for ladies' present-day clutches. I make my way up in one of two elevators: parquet floor, elegant gold-legged chair and a crest above the mirror. The second floor corridor is, like the rest of the upper corridors, elegantly taupe, with white, including orchids in pots.
The River Suite is at the far end of the corridor. I go in, past a holding area with two umbrellas and two winter-coat hooks, is a second, inner, door. Inside this, I look along my salon to a curved French window, which opens, to Binnenalster, Inner Alster, with its 180-ft-high jet d'eau in full flow – in early mornings, and pre-sunset, eight-person boats row past. Turning 180°, to face my front door, to its right I look through glass-and white-wood treble doors, with curved top, to the bedroom, and on to an open closet, beyond to the left, and the bathroom, beyond to the right. The salon has bleached oak floor with a soft grey-blue central carpet, the bedroom's carpet is soft beige: walls in both rooms are soft mushroom panels with white border highlights. Drapes, bordered in sea blue, are a mushroom-grey ogee pattern, and I particularly like the multi-knot cord retainers, a reminder that Hamburg is home of shipping.

Park Suite
There are other maritime associations. The desk holds a sextant globe, books artfully scattered around the salon include a Cube Book on yachts: I have miniature leather and copper telescopes, both antique, and numerous leather-bound books in German. There is an iPad. The decorative fireplace, beneath the Samsung screen, has a standing set of fire furniture. Fruit, simply on a glass plate, comes with hotel-crest china.
The bedroom is dominated by the Californian king bed and a powder blue velvet headboard, buttoned, and its bent-forward sides holding easy-work fiber optic lights. I adore the soft-and cuddly throw, indeed 'thrown' on the bed, nonchalantly. I have a leather alarm clock. The bathroom has black tiled flooring, and walls are white tiles up to a height of nine feet, above which the rest is black-on-white wallpaper. Ceiling lighting in the bathroom is spots, the bedroom has an eight-arm hand blown Murano chandelier, and the salon holds a glorious 10-light chandelier from which hangs a kaleidoscope of glistening Swarovski crystals. A discreet bureau in the salon, with easy-work Nespresso on top, holds a Dometic refrigerator with Moët, Veuve Clicquot, Ruinart Rosé and Red Bull.
Many choose to run, walk or bike around the lake, but I decide to use the gym. This is surely unique. Hotel GM Ingo Peters is a runner, which helps, as does the fact that when Dohle Handelsgruppe, best known for HIT supermarkets, bought this, their only hotel, in 2013 they wanted the entire thing taken up at least one luxury notch.
So this fifth floor facility, which includes the spa, is more like a SoHo loft with latest Technogym bits sharing space with white orchid plants, mock maritime travelling trunks and wall-hung ship pictures – and a brick-walled relax area with really comfortable tan leather sofas, books, apples, and a light-pistachio Smeg filled with complimentary ice water. Peters says the gym, which has no outside members, definitely helps fills bedrooms, attracting younger, lifestyle-fit consultants, financiers and techies away from the competition.

Relaxation area in the gym
Japanese, or to be exact Peruvian-Japanese Nikkei 9, was our choice for dinner – the alternatives included two-star Michelin Haerlin, or the see-and be-seen Grill, plus, in summer, rooftop and pavement terrace dining. We went past two lifesize black crystal panthers, from a Paris flea-market. The 80-seat restaurant is alive with mirrors and shiny panels hanging from its low ceiling (no-one realises this is windowless, says Westphal). Plain dark wood tables are set with chopsticks and square-folded brown linen napkins. I look to the bright theatre of the open kitchen, at the far end: I turn to the integral bar, which morphs to a weekend nightclub.
A manager brings heavy gold card menus with eight gold interior sections: introduction, cold appetizers, hot appetizers, noodles/kushi yaki, robata, sushi/sashimi, combination. Each section has listed dishes plus explanation, in English and German. Food is brought on assorted Lambert ceramic dishes: I have a Nikkei ceviche, with chili-spice aji amarillo, cilantro and tobiko (flying fish roe), I go on to braised miso short rib with chocolate mole sauce, corn and sweet potato. I enjoy a glass of Pinot Noir Vier Jahreszeiten Cuvée, from Rheinau August Kesseler.
After an excellent night's sleep, I find the New York Times, in a black linen bag, hanging on the outer door. Then it is breakfast, in Café Condi (oh the luxury of a dedicated breakfast room). Café Condi has a main floor, with servery, but you can also go up nine stairs, curved, to the upper level, overlooking Inner Alster. Alternatively, from the main floor take 11 straight steps down to the all-day casual café, opening on to Jungfernstieg.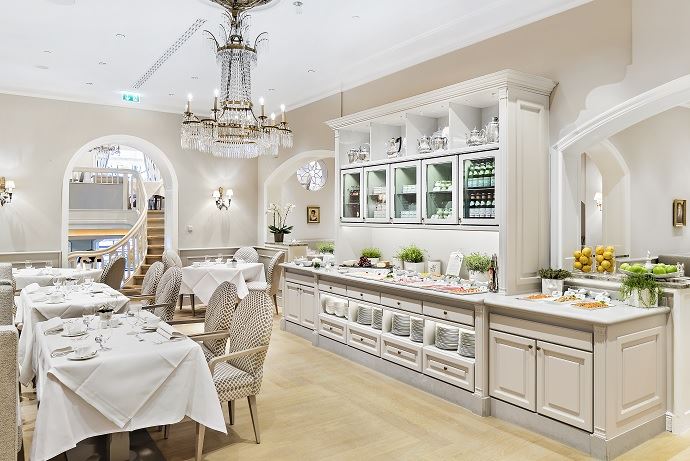 Café Condi
I sat on the main floor, at a table whose white linens were like an advertisement for a laundry's whiteness and starching proficiency. A ceiling-high white-painted Welsh dresser holds fruits and cold proteins, including nine different cold meats, all labelled. Open the glass-fronted chilled upper cupboards to find pots of different yogurts, avocado cream and things like that. Elsewhere there were organics, a splendid display of REAL breads, with a futuristic toaster for which I needed help.
This was an eat-in-silence occasion, all the better to concentrate exclusively on my really good omelette and those breads – Ingo Peters had trialled breakfast music but the good hausfraus of this Hanseatic city disapproved. And any way I was, as always, running to a tight schedule.