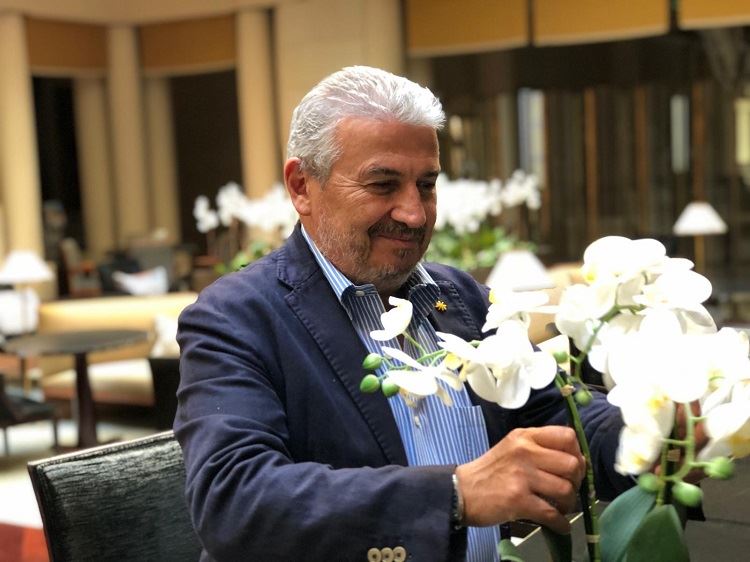 Park Hyatt Paris-Vendôme in Paris, France, re-opens Sept. 1, but advisors booking ahead now, for Spring or Summer 2021, can be sure that their clients will have even more of a stylish stay. Claudio Ceccherelli, GM of the 156-room property, which is owned by Hyatt, has been busy during lock-down refurbishing the first floor public areas.
The glorious historic building dates back to 1891 – its first occupants were couturier Jeanne Paquin (1869-1936) and her atelier colleagues. Today, come in through the main entrance on Rue de la Paix, a few steps from Place de Vendôme, and you will now find a new and somewhat more casual free-flow lobby concept.
Until now the total space, which is about 2,000 square feet in all, had sitting areas and a casual dining area that served breakfast and lunch but closed at 3 pm. The space fortunately has a two-way log-look fireplace that previously separated the dining area from the lounge area.
The hotel was originally designed by Ed Tuttle, the Paris-based American who sadly passed away June 21 this year. Ceccherelli is sure Tuttle would approve of the fact that the traditional concept of a bar, a lounge and a restaurant with set mealtimes is being intentionally disrupted. The central buffet station, mirrored to allow unusual views of the space, will be replaced by a bar counter with the same design but the concept will forever be a monument to Ed Tuttle.
He points out loyal local diners and regular hotel guests will still find the hotel's fine dining restaurant, the Michelin-starred Pur'Grill, which will, apart from social distancing of tables, be unchanged. Chef remains Jean-François Rouquette, a staunch believer in farm-to-table.
One feature of most of Palace-status hotels in this city is a central courtyard, and Ceccherelli designs his, too – generally twice a year. He is currently working hard on the courtyard's winter-long wood chalet, serving cold-weather goodies, say hot gluhwein and raclette.
When he was working in Monte-Carlo, he was part of the team that suggested the tunnel that brilliantly connects Hôtel de Paris and its sibling, Hôtel Hermitage, to Les Thermes Marins wellness. Later, at Villa d'Este on Lake Como, Italy, he similarly advised constructing a tunnel from the main hotel to the spa and sport center. Use of space is so strategic and determinant for the success of any hotel or outlet, Claudio Ceccherelli says.
Mary Gostelow's daily travelogue is www.girlahead.com and sign up, now for her weekly podcast https://anchor.fm/gostelow.