How This Year's Travel MarketPlace West Got Nicknamed 'CO-Vision 2020'
by Lynn Elmhirst /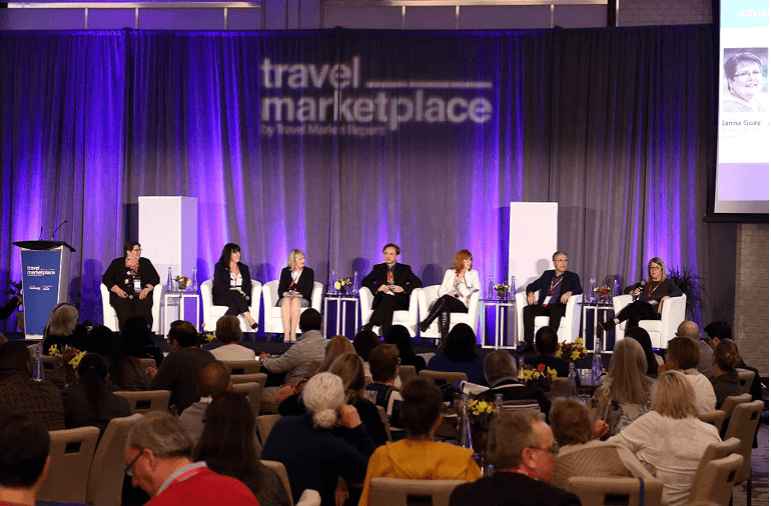 "It was important to carry on if possible."
Early last week, before North American borders started closing and before the travel world virtually shut down with an acceleration of the COVID-19 crisis, Travel MarketPlace West proceeded with its annual conference in Vancouver.
Organizers admit it wasn't easy to decide whether to go ahead with the annual event connecting travel advisors to suppliers and thought leaders to help them grow their business.
"It was as close as I've ever come in my career to canceling," said Anne Marie Moebes, publisher of the Travel Market Report, which produces Travel MarketPlace, "but it's not an international conference, it's a regional one, with 85% of the attendees driving in, and that made a difference. We weren't getting a lot of cancellations, so we took an affirmative approach."
"We followed all advisories and were in full consultation with health experts and official in the last days and even hours leading up to TMP, " added Geraldine Ree, executive director of Travel Market Report, Canada, "It was important to carry on if possible. We wanted to do something unique and important, to keep our eyes on the horizon and give advisors hope as well as ways to get prepared with a path and strategy for dealing with COVID-19."

TMR's Geraldine Ree onstage.
Travel industry 'love in'
"The industry needed to come together - especially with the increasing numbers of IC's in Canada working on their own at home," added Moebes, "and it was so timely and relevant. In global crises, the travel industry is the first impacted, but we are resilient. Speakers were able to pivot from their planned presentations to make many of the presentations specific to the challenges of COVID."
"I feel lucky time favored us in a way," said Ree, "We were able to go forward, and Travel MarketPlace has such an important role to fill. It was so inspiring to see this industry there for one another, the advisors giving heartfelt ovations for industry veterans there to support them."
The two-day event, "Gave advisors tangible ways to address the COVID crisis in the coming weeks and months. The whole conference gave advisors and the entire industry an emotional embrace."
Industry attendees agreed.
"I love how we all came together to share and help each other in difficult times," said Katrina Rourke, a BDM with Transat.
"TMP has done a helluva job keeping this upbeat," approved Nexion Canada's president Mike Foster, "You can't shy away (from COVID-19), but you can't make it a weeping party."
And Chad Kowalenko, market sales manager for Celebrity Cruises, reflected the overall mood of the conference, "If you needed a pick up in the travel industry this week, this was the place to be."

Princess Cruises representatives, along with agents, on the trade show floor.
A message of confidence
"Friends say you're going to go broke," revealed Shawn Kilner from Imagine Cruise and Travel, "We have to stick together and stay strong. We are more than salespeople, we are travelers ourselves. It's our industry and our passion. If we show we are still traveling (to come to TMP) we show we still believe in travel to our clients and to the world. And being here, we get to connect to suppliers and see the future after COVID through their eyes."
"I knew coming this year would be really important," said Jay Nanji of Boomer Tours and Travel North Vancouver, "This gives us confidence to deal with what's going on; suppliers give us confidence, reminding us it's not the end of the world."
Laura Angco is with Expedia CruiseShipCenters Surrey, BC, and she's new to the industry. "I've only been doing this two years," she said, "I admit I hesitated to come. But I wanted to see people here, to connect with BDM's in person to give me confidence and the industry confidence it will stay alive. I thought it over and I came and I'm glad I did."
"I expected it to go on," said Zeeyad Popat, with HB Vacations Vancouver, "I didn't even think twice – I said, 'I'm going.' And I'm home based, just on my own so it's really hard to take 2 days away. But it's been worth it. Lots of take-home, especially that life will return, and when it does, it'll be like a huge wave season."

Attendees listening to Lorraine Simpson's session during TMP West.
"So proud of our industry"
Laura Main, with Merit Travel Vancouver, is also a TMP regular, "The last time I came it was uplifting and inspiring. Now taken the current situation, it's still inspiring, with practical messages, too, that this will pass. It's a positive message, and my biggest takeaway is to take time to reach out and make a difference and really connect. That's how we'll get through this."
"It's put me on a quest for a new path," said Anna Teglasi of Anna's Travel Adventures, "Every year I come there's a huge takeaway that has a positive impact on my business, this year especially."
And Imagine Cruise and Travel's Kilner summed up the mood of the conference overall, "I'm so proud of our industry, all the agents coming out."
And he echoed appreciation for supplier partners that earned many standing ovations during their presentations, "Our suppliers, offering such supportive changes of policy? It's not their fault what's happening. No other industry would step up like this to support sales agents. It sends a huge message to all of us in the advisor community."

Attendees of TMP West gather for Day 2's general session.
Business-building advice
Among sessions, advisors attending TMP were treated to seminars on how to improve their business and how to do so as times are more uncertain than ever.
Sandra McLemore shared with the audience of travel advisors her insights into what a successful marketing funnel for the travel business should look like, along with specific tactics to achieve that success.
Others, like NCL's Derek Lloyd, talked about how advisors can look to Millennials, a generation that has buying power now equal to that of the Baby Boomers.