Seven New Spas To Have On Your Radar
by Anne Dimon /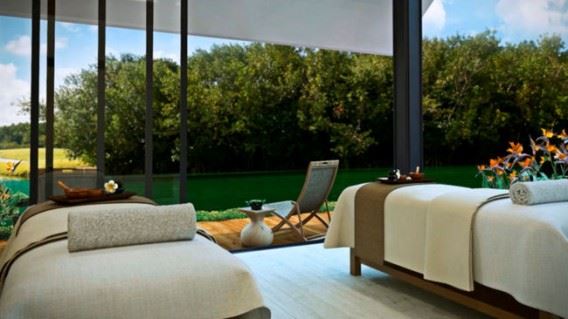 Falling under the wide umbrella of Wellness Travel, spa vacations are alive and well—and demand is soaring. Around the country and around the world, new spas are opening and upgrading their features, services and packages to keep up.
The International Spa Association's 2016 U.S. Spa Industry Study reports there are 21,020 spa locations in the United States, up fivefold from just 4,140 in 1999, and revenue reached a record high of $16.3 billion in 2015; ISPA chairman Todd Shaw says he expects continued growth across the board when results of the 2017 study are released in August.
Meanwhile, savvy travel agents know a spa component worked into an itinerary can enhance the experience. Here are seven unique spas that opened recently or are scheduled to open soon:
1. Kimpton's first spa in the Caribbean
Kimpton's first Caribbean property, opened late last year on Grand Cayman's renowned Seven Mile Beach, the Kimpton Seafire Resort & Spa houses a 8,500-square-foot-spa facility with seven treatment rooms and a Turkish style Hammam, the only one of its kind in Grand Cayman. Hotel guests also have access to a fitness center and group fitness classes.
2. Ayurveda Spa, India
Also opened late last year, the Ayurveda-focused Anaha Spa and Wellness Centre at Shreyas, a Relais & Chateaux property located in Bangalore, India – offers services in keeping with a "wellness center." The 16,000-foot spa houses four dedicated Ayurveda therapy rooms, a separate Naturopathy section with rooms for hydrotherapy, acupressure and acupuncture, plus consultation rooms that allow for private meetings with Naturopath and Ayurveda doctors. The resort also offers numerous wellness retreats that include Ayurveda treatments and therapies.

Ayurveda-focused Anaha Spa and Wellness Centre.
3. Spa in the African wilds
In keeping with the "wellness in the wild" trend, the five-star Gondwana Game Reserve in South Africa opened a new bush spa in February. Situated along the Garden Route, and a four-hour drive from Cape Town, Gondwana Game Reserve is set on more than 26,000 acres surrounded by mountain ranges.
Part of the reserve's Kwena Lodge facility, the tented bush spa is tucked away along a footpath and offers treatment rooms with an African themed décor. All rooms can be completely opened to the outdoors, allowing guests to enjoy the living soundtrack of birdsong, feel the natural breeze, and watch the animals even while having an African foot reflexology treatment.

Gondwana Game Reserve in South Africa.
4. Fairmont spa pays homage to Turkish tradition
New in March at the Fairmont Quasar Istanbul, the Willow Stream is inspired by the culture and traditions of Turkey. In keeping with the international Willow Stream brand, the new spa offers signature treatments inspired by local culture, indigenous plants and herbs and, of course, here in Turkey, the centuries-old tradition of the Turkish bath. The spa also offers a selection of fitness and meditation classes.

Willow Stream Spa at the Fairmont Quasar Istanbul.
5. New spa concept for Rosewood
Of the seven new spas being launched this year by Rosewood Hotels and Resorts, one of the most anticipated is the spa at Rosewood Phuket scheduled to open late summer. It will be the brand's first Asaya spa.
Announced late last year, Asaya is Rosewood's new wellness concept incorporating alternative therapies, lifestyle and nutrition coaching, fitness activities, specialized healing treatments and educational wellness programs. For small groups wanting to partake of the experience, Asaya will also offer private suites and villas.
6. Spa meets nature in the Seychelles
Located on a hill overlooking the vistas of Félicité Island in the Seychelles, the 7,000 square-foot Six Senses Spa Zil Pasyon is set to open this coming winter. The uniqueness of the spa facility lies in the singular design that weaves into this private island's dramatic rocky outcrop, natural pools and waterfalls. The resort's five spa villas are also uniquely designed to reflect the island's colors and textures, and are in keeping with the Six Senses philosophy of bringing guests closer to nature.
7. Riviera Maya spa focused on Mayan traditions
Local ingredients and indigenous Mayan techniques are incorporated into many of the treatments at Naum Spa, which opened in February at Andaz Mayakoba Resort Riviera Maya. Embraced by a jungle setting in the very center of the resort, and named for the Mayan God of consciousness and mind, the spa offers a series of customized Naum Rituals based on Mayan traditions. Features include six open and airy treatment cabins, two hydrotherapy areas and an interactive aromatherapy bar where guests can create their own products and scents.
Anne Dimon is Travel Market Report's wellness travel columnist and the founder/editor of www.traveltowellness.com. Follow her on Twitter at @AnneDimon