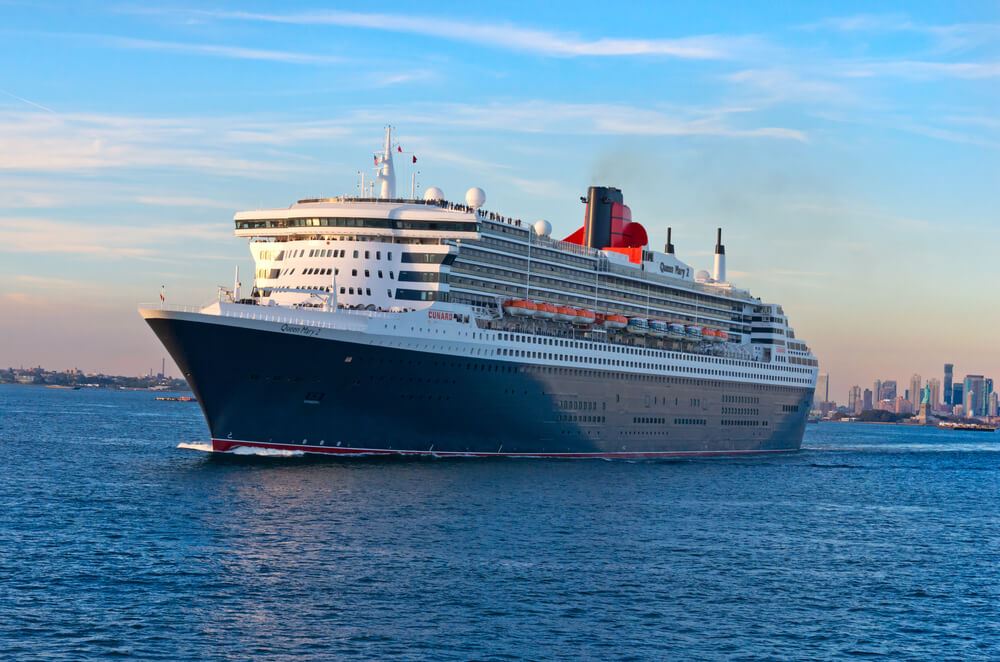 Hopping "across the pond" was once required to be aboard a ship before the advent of transatlantic flight. Used for the purposes of immigration as well as for leisure, North Atlantic crossings from Southampton, UK to New York City were a luxury in the early 20th century, but far from the polished experience offered on cruise ships today.
Cunard Line was founded in 1840, and while its pleasure cruise offerings have evolved by leaps and bounds, transatlantic crossings are still an integral part of the company's legacy with its ocean liner Queen Mary 2 (QM2). Other cruise lines also run transatlantic itineraries, but no one has the abundance or experience that Cunard brings to its crossings.
While we are spoiled for choice when it comes to travel in our modern era, many are choosing to return to the romance of the seas, whether to avoid the hassles of the airport or to savor a historic journey appointed with contemporary comforts. If your clients are considering a transatlantic cruise with Cunard, here are some helpful tips to pass along.
1. To avoid the roughest seas, book a summer crossing
Few cruise companies offer winter crossings, which is what makes them so cozy and special aboard Cunard's QM2. However, the wintry weather from November to January is notoriously more likely to result in choppy seas across the North Atlantic Ocean. If your client is looking for a more mellow crossing, including the chance to fully enjoy the outer decks featuring pools and plush loungers, suggest a transatlantic passage during the summer months. Of course, weather is never guaranteed, and ships are well equipped to avoid the roughest conditions, but clients particularly nervous about motion would do best to avoid a winter crossing. (The ship's spring months are typically spent on a world voyage, which disembarks in May.)
2. QM2 knows how to put on a theme evening
Like almost everywhere these days, dress codes have relaxed aboard Cunard Line, but the fleet's "sense of occasion" is still a part of what makes it stand out from the rest. A one-week transatlantic crossing features two gala evenings, in addition to nightly dress code expectations in the Britannia main dining room, specialty restaurants, and lounges. (Overpacking is the expectation on a transatlantic sailing; if clients book roundtrip, there are no baggage limitations.)
Galas are themed — expect a masquerade party or roaring '20s attire — and most passengers go all out, donning gowns and tuxes with gusto. The QM2 matches this enthusiasm with themed trivia, gala cocktails, special menus, and even themed movies on the in-stateroom TV. For those less inclined to get fancy, there are still venues that will cater to casual dress in the evening, but those who opt out of dressing up for dinner and drinks tend to be in the minority.

Photo: Brittany Chrusciel
3. Choosing the correct stairway is essential
The QM2 is a beloved ship for its nautical prowess and Art Deco décor — but it can be hard to find your way around. Stairwells around the ship are labeled A, B, C, and D. After taking these designations for granted and trying to forge our own way, we realized the path of least resistance is to map out stairwells from our stateroom to common venues like our dining room and the theater as soon as possible. Choosing the wrong stairwell could lead to a dead end; while that's a fun adventure for discovering new nooks around the ship, it gets frustrating when you're trying to be on time for a reservation.
Stairway A is forward, B and C are midship, and D is aft. Navigating to the correct set of stairs from your cabin is the best way to get where you're going with minimal turnarounds.
4. The days fill faster than you would expect
Despite a week at sea being the definition of "slow travel" — also known as intentionally enjoying the journey — a crossing might be a little less snail-paced than many might originally expect. It's true that the days tend to revolve around meals, but there are four of those, including tea. In between, there are lectures from experts in various fields, including salacious topics like what we have learned about Jack the Ripper from a modern medical examiner.
There are ballroom dancing lessons and language classes, wine or whisky tasting, a planetarium, and trivia galore. There are a full-service spa and thermal suite where hours are lost to relaxation. And there are enough scenic and comfy spots to settle into for the entire afternoon, from coffee bars to a popular pub, a top-deck lounge, and one of the largest libraries at sea. By night the ship fills with musical acts and theater performances, ensuring any boredom is run out by the clock.
5. Go early for the pub lunch
What can we say? The Golden Lion is not only an iconic QM2 experience serving up draught beer and British-style hospitality, but its pub lunch is not to be missed. Every day from 12 to 2 p.m., the Golden Lion serves a small, complimentary menu including fish and chips, chicken tikka masala, a "Ploughman's platter," and savory pies. The food is piping hot and satisfying with an in-house ale, like the Golden Lion red, which is part of what makes this space so popular with passengers.
Arrive well before noon to secure seats for lunch, and even earlier if you want one of the highly coveted window seats, where guests seem to make themselves at home for hours. The pub's location on Deck 2 is especially useful during bad weather, where motion is less likely to be felt but the storm can be seen from picture windows. Did we mention sticky toffee pudding?

Photo: Cheryl Richards
6. Crossings are for the dogs — and cats
Either for logistics or leisure, pets have been traveling aboard the QM2 on crossings for decades. The kennel was expanded in 2016 to double its capacity to 24 cages, but it still regularly books up years in advance. (As of December 2022, kennel reservations are booked until 2025.) The facility is run by an experienced kennel master who cares for all visiting dogs and cats — and occasionally smaller critters like hamsters.
Pets must stay up on Deck 13, but owners have ample opportunity to spend time with their fur kids during visiting hours throughout the day, including an outdoor area to walk and an indoor room to play and cuddle. Prices vary by kennel size (large or small); cats require two cages, which include a space for their litter box.
7. Queen Mary 2 is actually not a cruise ship
Due to the way that the Queen Mary 2 was constructed, it is considered an ocean liner — not a cruise ship, in the common sense. A steel-strengthened hull reinforces it against rough seas and its specially designed shape — a low, pointy bow — and massive engine power make it an ideal vessel to provide the smoothest ride across the North Atlantic. The QM2 can reach speeds of about 30 knots — about double that of your standard cruise ship. So not only is QM2 unique for onboard features like a planetarium and pet kennel, but it's also the only proper ocean liner currently in operation.
8. You can try multiple different types of afternoon tea
For the non-Brits among us, teatime is still something of a novelty, and during a week onboard the QM2, the novelty won't wear off. A white glove tea service is held daily in the Queen's Room, a grand ballroom fitting for scones, sandwiches, and teacups on linen, accompanies by a classical trio or harpist. The daily afternoon tea is free of charge, but if you'd like to jazz it up a little, book a special Champagne tea service, which includes bubbly and upgraded treats. If you're booked in a suite class, there is even more tea variety to be found, with a dedicated private venue for you and your favorite cuppa.
9. You will pass the final resting place of the Titanic
Perhaps the most famous transatlantic voyage was the ill-fated Titanic, operated by White Star Line, in 1912. While safety at sea has improved immensely in the past 100 years, it's still a sobering experience to sail essentially the same route as those passengers on a ship once thought to be unsinkable. QM2 guests can read about the firsthand experiences of the survivors, which can be found in books within the library or on signage around the ship. If you're sailing this transatlantic passage between Southampton and New York (or reverse), you will actually pass near the final resting place of the Titanic, located about 400 miles from Newfoundland. It's a milestone both eerie and moving.