Computer Programmer Rejects OTAs for More Traditional Agency Career
by Dori Saltzman /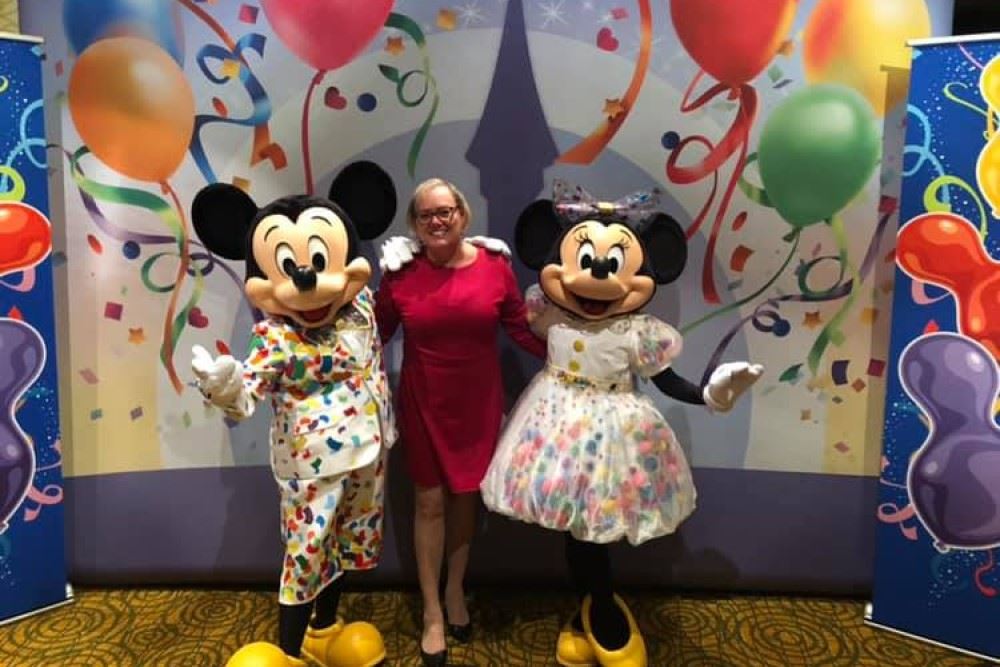 Back in the mid aughts, as large online travel agencies were pushing hard to replace traditional brick-and-mortars, not everyone was comfortable with computers. Those who couldn't figure out how to book travel online often turned to anyone they knew who was tech savvy for help.
"I had a computer degree," said Margie Lenau, who at the time worked as a computer programmer and data analyst. Her friends, often confused and frustrated when trying to navigate the new world of OTAs made a habit of calling her. "They would say, well Margie knows computers, so she can help me do this."
"I'd go online and try to book hotels or theme parks or any kind of vacation and thought, there's got to be a better way… There was Orbitz, Expedia, things like that but I knew that wasn't the way to do it," she said. "The tools were just craziness to me."
So Lenau did the opposite of what everyone else was doing. She turned to a local brick-and-mortar travel agency and asked if she could work with them in order to have access to their tools.
"I didn't really know the career path, but I knew they [travel agents] existed. And I thought, they've got to have the tools."
Fast forward some 15 years or so and today Lenau is the owner of Michigan-based Wonderland Family Vacations, a member of the MAST Travel Consortium.
Helping others as priority
"My goal was not to become an agency," she told Travel Market Report. "It just was to help people book."
With an ex in the car sales business, Lenau added, she never thought she'd "do sales."
"But this isn't that. This is really helping people while you make money."
Helping people turned out to include others like herself to get into the travel business.
"I felt like I had this freedom and I was making pretty good money, and other people, men or women, could do this too, and why not?"
Her first hire was a client who booked a lot of theme park visits. Despite people telling her to stick to doing it on her own, Lenau figured why not get the extra help.
"I don't want to be limited. I don't like limits," she added.
The sky's the limit
Lenau kept things pretty steady at her agency for several years, but an Amazon awards event for a book she co-authored – "The Road to Success, Vol. 2," with Jack Canfield – in 2016 changed all that.
"I thought I was doing pretty well shooting for the stars, but holy cow, that was life changing. That was pivoting," she said of the event. "After that, I hired more agents and thought, let's get this moving because it occurred to me, you really are a business."
While Lenau has occasionally jumped into business without a clear path forward – as she did when first starting out as an advisor and later on hiring her first employee -- in general, she's a by the numbers, systems-first kind of person. It's how she runs her travel agency and how she makes most of her decisions.
"I have to have my systems and I have to have them in order and I have to be able to look at the numbers," she said. "That's how I get my direction about where we're going."
For instance, she's currently working on a marketing plan. Some people, she said, would take that to mean, what do I put on social media.
"We think of a marketing plan as, where are we doing to get the money? How much money can we get from suppliers? Can we enhance events that are going to make a difference? And I go back and look at the numbers. To me, everything is a number."
Like any good Midwesterner, she said, she doesn't like to spend a lot of money, so she needs to know ahead of time that her investment will translate into "good ROI."
Her most successful ongoing event to date is an annual Disney movie to which clients are invited. (The majority of Wonderland Family Vacations' clients are located in west lower Michigan, or what she called "the lower half of the mitten.")
"We do not insist you book Disney with us to come to this movie, but Disney partners with us for that. Last year was "Toy Story." This year, it was Indiana Jones... This movie really is a thank you to our clients to book with us. It's also taking care of your A-clients who refer a lot of business to us... We get to meet them, talk to them, have conversations with them and they can see what we look like... That event alone gives me the greatest ROI."
Because of the success of these movie nights, Lenau told TMR she's looking to do more in-person events.
"We would love to do that. We just have to target it better now… And when I say working on it, I'm not saying just go out and rent the orchard for the pumpkin picking or whatever. I'm talking about, who am I going to invite? Where am I going to have it? How am I going to structure it?"
Families first
Another reason Lenau believes her agency has been so successful is its focus on families, something she said people advised her not to do.
"When I did it, people told me, you're going to eliminate a lot of romance travel and you're not going to make enough money. And totally the opposite was true."
"We are family oriented because we value the memories that families can make together," Lenau explained.
It doesn't hurt that families are often multi-gen groups and can encompass romance travel like honeymoons.
"I think about a couple of the families that I've just done. They want their kids to be able to do that [experience the world] with them, and they want their kids to share their memories, so they take their kids with them because they have the means to take them."
In many cases, she added, this translates to grandparents paying for the entire trip, particularly with things like cruises and theme park visits.