Cruise Industry Panel Opens Day 2 of Travel MarketPlace West, Expresses Confidence and Support
by Lynn Elmhirst /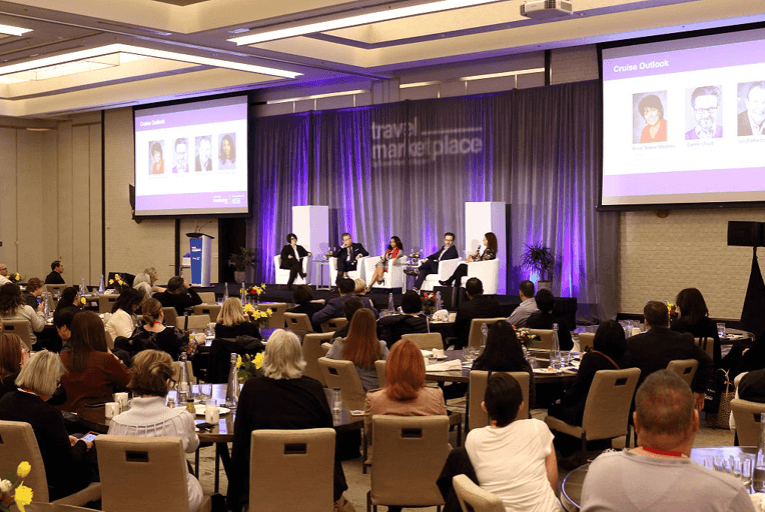 With the cruise industry under fire at the center of the COVID-19 outbreak, the impact of the virus on the travel community was bound to dominate the conversation at the cruise industry panel that opened the second day of Travel MarketPlace West in Vancouver.
Ian Patterson, country manager, Canada, of MSC Cruises; Derek Lloyd, national director of sales, Canada, Norwegian Cruise Line; Denella Ri'Chard, senior director, Holland America Line; and Cathy Scott of Victoria's Departures Travel assembled on stage with Travel Market Report's Executive Vice President and Publisher Anne Marie Moebes moderating the panel.
To resounding applause, Moebes began the discussion by addressing cruise suppliers on the stage and in attendance at the conference on behalf of the advisor community. "We are with you." she declared, "We are so sorry you have been affected. We believe in you and we stand by you and we thank you for communicating to the agency community so quickly."
Policy changes support advisors and reassure guests
In the last few days, the cruise industry response has coalesced, with many cruise lines now instituting similar policies that allow guests to cancel within 48 hours of embarkation with no risk that also protects advisor commissions.
It prompted Lloyd from Norwegian to remind advisors: "The purpose is to prevent cancellations, not encourage them. We need your help. Say to clients, 'You don't need to cancel. With this cancellation protection, you can wait and see without risk. Don't cancel yet.'"
"These cancellation policies are really helping us," confirmed advisor Scott. "We are saying, 'We know you are concerned, so let's wait and see. With this, you have peace of mind.'"
One advisor in the audience was worried about "if we sell based on these policy changes and then you end the cancellation policy."
Lloyd from Norwegian, whose 48-hour cancellation policy runs through Sept. 30, responded: "We're not going to rip the rug out from under you. We put it in place to support agents. We are going to support agents the best way possible."
Future bookings 'at an all-time high'
The conversation became unexpectedly positive and optimistic when it turned to future bookings, with current cruise line incentives motivating travelers not put off by the coronavirus scare to book.
Holland America's Ri'Chard revealed: "We are seeing guests onboard right now who ARE booking future cruises – in fact, bookings onboard are at an all-time high! And advisors get 100% commission on that."
She advised: "Always tell your clients, especially now, 'See the onboard cruise consultant.' We can't tell you the number of future cruise deposits that go unused. Those are leads for you – don't miss out on them! We can pull that report and give you those leads. That's a great thing to do with your time right now."
MSC guests from Canada can now book a future cruise onboard in Canadian dollars. "Our reservations department contacts the Canadian agent to let them know their client has a future cruise credit," said Patterson.
"People forget they've deposited!" exclaimed NCL's Lloyd. "And too many end up getting used with another agency. As a group, travel advisors need to get a lot better at following up. Now is the time to put a follow-up process with every client and every client who has just traveled in place. As the old saying goes, 'If you're not talking to them, someone else is.'"
Cruise line health and sanitation – the best in travel?
One advisor asked the panel if cruise lines were undertaking new measures to clean the ships, so she could share that information with concerned clients.
"The good thing about cruises," pointed out NCL's Lloyd, "is that we have to follow CDC practices. Do hotels? Did they shut all of Vegas down?"
And he listed some of the practices put in place to prevent the spread of the virus – or any sickness – onboard: "We are disinfesting rails. We are serving at buffets instead of people serving themselves. And you cannot escape the 'washy-washy' people with the spray bottles at the buffets. The bottom line is that cruise lines go out of their way and are held to a much higher standard than any of the other travel options – or what's happening in your hometown."
MSC's Patterson referred to the pre-embarkation process: "We've had a pre-boarding questionnaire about fever for years! And thermal scanners. Those are not new."
Lloyd added that NCL is also checking the passport of every guest for stamps indicating travel to affected areas.
When one advisor asked about changing travel insurance policy coverage, panelists referred them to the insurance companies, but Holland America's Ri'Chard pointed out: "With our cruise protection insurance, we've always covered pandemics. So coverage is still out there."
Bright future for cruise sales
"Only 3% of Canadians have cruised!" revealed MSC's Patterson. "That's a huge opportunity for advisors to sell more cruise. There's a huge market there. We all have new ships coming out, and those builds are based on future growth. We know we have the demand."
"This will pass," repeated Lloyd. "Start thinking about future business. 2021 will be a great cruise year," he predicted.
Patterson agreed: "There are new destinations and new ships available to your customers (including a new MSC ship later this year). You have passengers who have already booked with the 48-hour protection, so go back to them to get another booking," he advised.
Counteracting negative messages and advisors voicing support
But the topic that really got advisors on their feet and reaching for the microphone, was messaging.
Many expressed frustration about the negative messages and policy they see unfairly targeting cruise travel and wondering why they are not hearing the cruise or the travel industries being more vocal counteracting inaccurate and unfair messages, with one advisor saying, "We've got to lead government in the right direction."
Moebes reminded advisors, that's why it's so important for them to be active through memberships in the Association of Canadian Travel Agents (ACTA) and CLIA. She pointed out both organizations do speak out, and are engaged in meetings with government officials.
Another advisor asked how she should respond to clients saying to her, "How dare you go against government policy and promote cruises?"
Agency owner Scott noted, "If it's an advisory, we don't go against it. But if it's not an advisory, I'd say go. I'm confident I can wash my hands and be fine."
That prompted another advisor in the audience to stand up and announce: "It is an actual government advisory in place, and I still say screw them! COVID-19 will be everywhere anyway – everyone just needs to wash their hands."
His outburst was greeted with enthusiastic applause, prompting other advisors in the room to stand up and announce they had just returned from a cruise or were personally booked on a cruise in the near future – and they were not going to be panicked into canceling.
Another advisor was cheered when they stood up to rally everyone in the room to be part of the solution: "Let's NOT use our social media sites, our websites, to share news of COVID-19. But let's use our voices positively!"
In wrapping up the rousing session, Moebes reminded advisors they can find links to the latest, accurate information about COVID-19, cruise lines' updated policy pages, and more here on Travel Market Report.