What Are the Risks of Resuming Business in the Late-Stages of the Pandemic?
by Paul Ruden /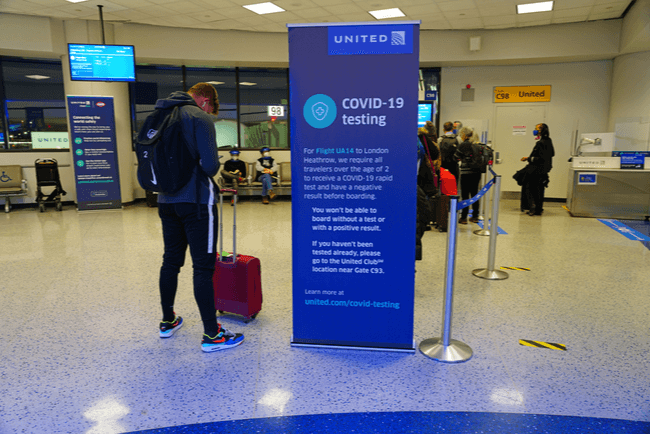 As the distribution and administration of multiple vaccines begin to blunt the pandemic, there is much talk about the long-awaited resumption of travel. While "experts" continue to predict various positive and negative timelines, there seems to be no question that there exists large pent-up demand to travel again. That is very good news for everyone.
At the same time, the reality is that COVID-19 is still raging around the world. CovidActNow.org reports for the United States a cumulative total of 31.2 million cases of COVID and 561,000 deaths. Against that, the Center for Disease Control reports 120 million first doses of vaccine have been administered in a total adult population of 255.2 million (mid-2019). A bit more than 74 million adults have received full vaccination. About 4.6 million vaccine doses were reported to have been given on April 11, a single-day record, bringing the daily average of doses administered over the past week to 3.1 million.
Clearly, huge progress is being made. Deaths are trending down even as cases continue to trend upward. There are still serious risks from COVID, but they are declining. Nevertheless, we have a long way to go before reaching "herd immunity."
It is also problematic that countries, industries, and individual companies continue to have variable and erratically changing policies and enforcement of anti-COVID measures. That fact adds to the risk of selling travel services in the re-start on top of the reality that every travel experience involves varying degrees of risk affected by the nature of the trip, the condition of the traveler, the condition of the other travelers, conditions at the destination, conditions during travel and so on.
Uncertainty abounds at every turn and yet, over the course of "normal times," travel advisors helped tens of millions travel safely throughout the world. We are, however, no longer in normal times. COVID has altered the nature of risk assessment in giving travel advice.
The latest example is that the CDC has recommended (but not directed) a "pause" in the use of the Johnson & Johnson vaccine based on six cases of blood clots developing among almost seven million J&J doses of vaccine administered thus far. In individual cases, however, a doctor and patient can still agree to use the J&J vaccine. Based on the risk of blood clots, the danger of the J&J vaccine is extremely small.
If you sensed a kind of back-and-forth in the above discussion, you have a decent feel for the background conditions in which travel advisors are preparing to re-engage with travel-starved consumers.
Assessing the degree of risk in this environment is complicated. As we have said many times in the past, the decision to take risks in travel is one that must be made by the traveler after being provided the best information that the professional travel advisor can give. Travel advisors are not guarantors of travel safety and should be careful not to imply otherwise.
One useful way to look at risks is based on the visualization of a spectrum running from zero risk at one end to 100% dangerous at the other end. Of course, no one, including the best medical professionals, can estimate risk with precision and it is pointless and potentially dangerous to try. And there is no such thing as "zero risk." There never was.
It may be helpful to divide the risk spectrum into blocks – I prefer quarters, but some may be satisfied with thirds. Thus, rather than trying to locate the risk of COVID along the entire spectrum, in small increments (12 percent for this, 47 percent for that), it's easier and likely accurate enough to place the risks inside one of the (in my preferred model) four quarters, that are called quartiles. In the bottom quartile, you would place actions that are very low risk. Other actions would be placed according to your judgment as to the risk in relation to other actions.
For example:
You have a client whom you have learned is an anti-masker. The client is also 60 years old and has some health conditions. This client is putting her health at risk but is happy to take the chance because she is firmly opposed to being told to wear a mask and thinks she should live life to the fullest. You are not going to change her mind. This client's proposed trip to the beach scene in Florida (in the upper end of new cases per 100,000 population) is at least a third quartile and more likely a fourth quartile (highest risk) traveler.
You should find a way to explain the risks without challenging her views. You may not want to disclose your specific judgment about the quartile she is in, but you want to establish that you did discuss the risks of the particular trip in question. Maybe you can suggest a destination that fits into the second quartile. Or, taking a leaf from advice I received as a young lawyer from a more experienced one, you can decide that this client needs to find another advisor.
For another example:
Your client wants to fly to a destination from which cruise ships are, or soon will be, allowed to depart. The cruise line's policy on vaccination is still being developed and the countries on the itinerary have had varying policies regarding treatment of foreign travelers. Currently the departure country does not require testing upon arrival, but the subject is being discussed. Your client has never been tested and you don't know if she's been exposed to COVID. She seems healthy but lives in a county where COVID cases have been growing lately.
This is a harder case, likely a second quartile but could also be third. In these cases much depends on your own risk tolerance. How will you explain the risks, recognizing there is no true zero risk situation? What happens if the client gets COVID on the trip? Or another traveler with her is infected? How well are you prepared to deal with that situation? Preparation is nine-tenths of success. In the pandemic world, selling travel requires additional planning based on a large number of conditions that could go wrong and require your intervention.
My view at this stage in the pandemic crisis is that it's better to go a bit overboard than to underplay the risks and end up with a sick client who may then believe you did not fulfill your duty to warn. Be very clear about the risks while preparing for the potential "uh ohs" that are present as never before. This may not be popular advice, but it is prudent in this uncertain and changing environment.
The current Gold Standard for low risk is full vaccination at least three weeks before departure. Such people are, even according to the CDC, safe to travel under certain circumstances. The CDC's current view on domestic travel is here.
CDC's position on international travel for fully vaccinated people has a recommended post-travel testing provision but is otherwise similar. All of that could change, of course, so it's crucial to stay on top of the health news. Currently, no universal standard exists regarding acceptable proof of vaccination, adding another uncertainty to any trip that depends on such evidence.
Two cruise lines (Norwegian Cruise Line and Silversea) have adopted gold-standard policies requiring all passengers to be fully vaccinated. On the other hand, the Governor of Florida has issued an executive order that forbids cruise lines operating out of Florida ports to require vaccinations. Florida has also filed a lawsuit challenging the CDC's procedures in adopting restrictions on cruise lines' resumption of service out of U.S. ports.
The courts will decide but I share the views of most of the lawyers who have spoken publicly on this – the Florida suit will likely fail for multiple reasons too legalistic and complex to get into here. Suffice to say that the Florida litigation adds yet another layer of uncertainty into an already chaotic situation. In the unlikely event of success, which isn't going to come quickly in any event, the lawsuit will probably lead to more rulemaking activity at CDC and thus will be what we call a pyrrhic victory: you win at great cost but there is no prize or true gain.
To sum up: be informed (really informed), consult with your counsel and be direct and clear with clients in explaining risks and uncertainties surrounding any trip as well as your agency's policies regarding health-related risks. Think specifically about the risks of each trip you are asked to create. Put everything in writing so that there is no question you fulfilled your duty to warn. In consultation with counsel, you may want to create a special disclaimer that makes explicit that you have advised the client of pandemic-related travel risks and that the decision to travel is entirely that of the client.