Belmond Unveils New Suites on Venice Simplon-Orient-Express for 2023
by Dori Saltzman /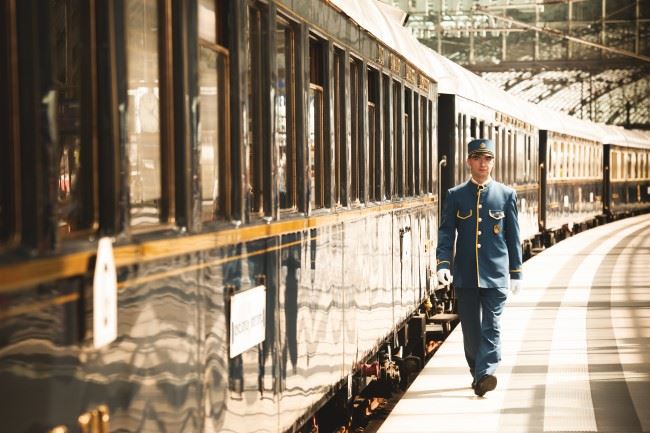 Belmond has unveiled eight new suites that will debut on the Venice Simplon-Orient-Express in June 2023.
Bridging the train's iconic history and craftmanship with modern comfort and luxury, the new accommodations will feature a private marble ensuite bathroom and spacious lounging area by day that transforms into either a double or two twin beds at night. Additional amenities will include a personal 24-hour cabin steward and a complimentary kimono and slippers.
Paying homage to the European landscapes through which the train passes, the Suites are inspired by four regions: La Campagne (the countryside), Les Montagnes (the mountains), Les Lacs (the lakes), and La Foret (the forest).
The interiors of the suites will celebrate these natural landscapes. For instance, La Foret Suites take their inspiration from the Black Forest, while La Campagne Suites will be adorned with vivid greens and intricate flowers as an ode to the pastures and vineyards of Northern Italy and the Cote d'Azur in the South of France.
Plush fabrics and furnishings will channel famed Art Deco designers, such as Majorelle, Dufrene, Leleu, Rousseau, Prou, and Lalique.
To make room for the suites, two original 1920s and 30s carriages will be restored and reimagined to hold four suites each.
The new suites complement the two existing cabin categories, Historic Cabins and Grand Suites. The Historic Cabins transform from day-time lounge into upper and lower beds at night. The Grand Suites feature private ensuite bathrooms with showers, double beds, and a living area with underfloor heating for private dining experiences. Grand Suite amenities include 24-hour cabin service, free-flowing Champagne, and private transfers to and from the train.
Prices for a one-night stay in the new suites will start at 5,500 Euros per person.
From March to November, the Venice Simplon-Orient-Express offers routes through Prague; Paris and Cannes in France; Florence, Venice, Rome and Verona in Italy; Vienna and Innsbruck in Austria; Budapest; Bucharest; Geneva; Brussels; and Amsterdam. It offers the iconic Paris to Istanbul journey once per year.