The Travel Corporation Celebrates International Women's Day with Event Featuring Inspiring Women in Travel
by Lynn Elmhirst /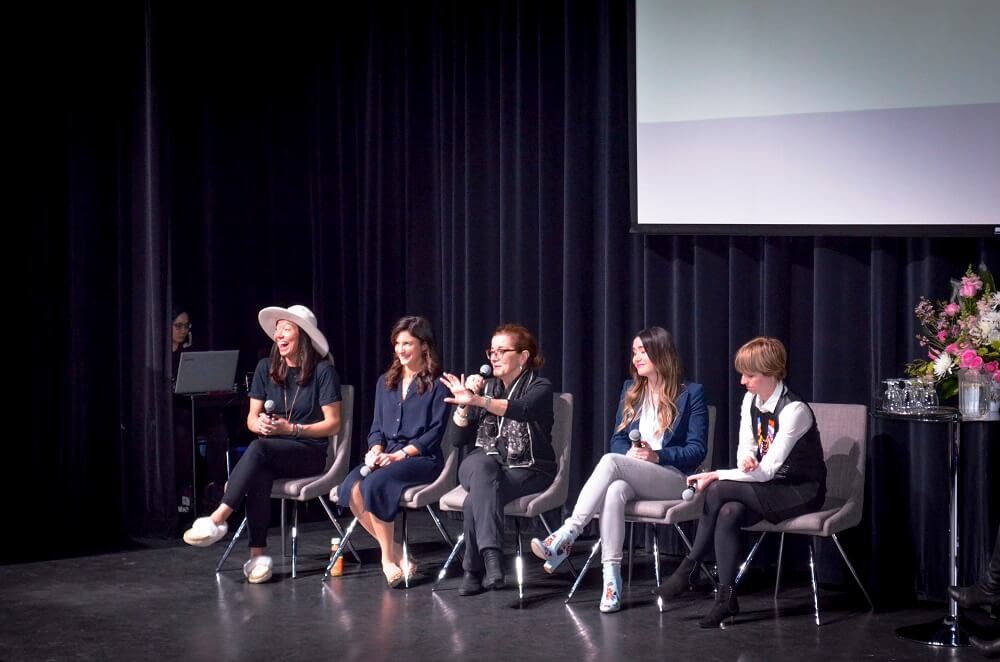 International Women's Day was Mar. 8, and this year, The Travel Corporation (TCC) in Canada started a new tradition to celebrate the day dedicated to the empowerment and voice of women all over the world.
All of the company's brands — including Insight Vacations, Luxury Gold, Trafalgar, Uniworld, Contiki and others — joined forces at an event billed as "our first #TTCIWD Talks and Panel Session featuring five of our trailblazing women in travel."
Three hundred and fifty invited guests, including past customers of TTC, members of Toronto women's groups, media and influencers, filled a theater at the University of Toronto. They came to hear about the travels and life journeys of five women who live lives inspired by travel, and who work with TCC as ambassadors of their travel philosophies.
With diverse backgrounds and careers, they all shared stories with common themes: Their unlikely paths to becoming travel trailblazers, and the power of travel to inspire people to connect and effect positive change for women and the world.
Nadine Sykora, successful travel vlogger and honorary Contiki Ambassador, took first to the stage. She debunked the myth that being a travel influencer was an easy job, but described its rewards in connecting with people whose perspectives she would never otherwise have met.

Sarain Fox, indigenous dancer, choreographer, activist storyteller and TreadRight Foundation's "People" ambassador introducing "The Pledge" video describing simple acts of responsible travel. Photo: The Travel Corporation.
Patricia Schultz, the author of New York Times bestsellers beginning with "1,000 Places To See Before You Die," is also a Trafalgar's Global Brand Ambassador. Her books have become a household name. But it's a beloved travel book series that may not have happened at all. During her presentation, Schultz recounted a conversation with the head of a major bookseller just before she launched one of the most iconic travel publications of our time. He told her, "You'll never be able to sell a book with the word 'die' on the cover."
After the laughter of the audience died down, Schultz continued to share some of her experiences of decades traveling as a solo woman before it was often done. Not only did she learn to overcome fears in order to feed her appetite for new travel experiences, Schultz was inspired to persevere by coming to the realization that no matter where she went in the world, she would meet good people who would enrich her travels and life.
Roxanne Joyal, the CEO and co-founder of ME to WE, works every day to unleash the positive effects of travel and personal engagement with the world around us. ME to WE is a social enterprise founded in Toronto that empowers people to change the world with their everyday consumer choices, including purchasing items made by indigenous women artisans, and taking "purposeful" trips including those offered in conjunction by TTC's TreadRight Foundation.
Joyal spoke of her work and travel inspiration creating an international market for the handiwork of more than 1,500 indigenous women in Kenya and Ecuador, allowing them to lift their families out of poverty and establish themselves as leaders in their communities.
And TCC's Global VP of Strategic Partnerships Marie Anne MacRae described how the company works in partnership with ME to WE. Several TTC brands offer the social enterprise's culturally immersive trip extensions to Kenya, India, and Ecuador. "The trips support women's economic empowerment in those destinations," MacRae said. "For example, guests can learn the art of beading from local 'mamas' in Kenya and purchase their jewelry so that the women can earn a sustainable income."
Sarain Fox, the Canadian indigenous dancer, choreographer, activist and storyteller, who is also TTC's TreadRight Foundation's "People" ambassador, recounted how she overcame her own internal conflict about her love of international travel. Fox initially struggled to reconcile her wanderlust with an awareness "that many people have shown up in other countries without permission" from the original inhabitants — with disastrous results for their lands and culture.
"I like to say indigenous people are the world's first tour guides," Fox quipped. "We're always saying, 'Here, let me show you the good stuff.'"
So, Fox consciously follows a practice of introducing herself in her original language, and asking for permission to be present where she travels to share stories of the world as the voice of indigenous people.
She showed the audience the new video she's made in collaboration with TCC describing simple actions we can all undertake to contribute to responsible travel. Advisors can see the video here and share it to help support its goals.
Ami Vitale is an award-winning National Geographic photographer and filmmaker, and TTC used the International Women's Day event as the opportunity — so close to World Wildlife Day on Mar. 3 – to introduce her as TreadRight's new "Wildlife" ambassador.

"I'm the last person you'd think would end up on this stage," she told an enthralled audience, describing her introversion as a young person, and her path to wildlife advocacy. Photography gave Vitale her voice and her camera became her conduit to travel and to engaging with people and their experiences. She made a name for herself capturing not only some of the violence, conflict and despair in the world, but also images of what TTC calls "surreal beauty and the enduring power of the human spirit."
Vitale shared some of her photography. They were familiar images published around the world that transformed Vitale's work to shift focus to wildlife and the environment. She was the photographer who captured the story of the world's last white rhinos in Africa, eventually including the heartbreaking story of the death of the very last one, surrounded by mourning gamekeepers.
Supporting women through travel, and women in travel
Vitale's message to the audience merged with the philosophy of the other women on the stage: The power of people coming together to improve the world, and how travel can lead to enlightenment for people who travel, and empowerment of people who live in the destinations we visit.
It was a night of inspiration, and one that TCC has translated into action that gives the company much to celebrate on International Women's Day.
TTC's Marie Anne MacRae pointed out: "Our TreadRight Foundation has supported over 55 sustainable tourism projects in 280 communities worldwide. Some of these projects provide economic empowerment, such as the women's weaving collectives that our guests visit in Peru and Italy where they have the opportunity to purchase these handmade artisan products."
Anita Emilio, VP of sales for Trafalgar and Costsaver Canada, said the company believes in supporting women through travel and women in travel. "When you prop up women in places you visit, it sustains the community and provides a future for them … and for the guests to return to have that community experience."
Julia Wong, marketing manager of Insight Vacations and Luxury Gold Canada, added that TCC's own Canadian office was made up of over 70% women, and 50% of the executives are women. "We want to celebrate tonight, empowering women through travel on all levels."
The International Womens' Day event included the announcement that Insight Vacations is launching its first women-only journeys to India that are designed and run by women. The new itineraries include immersive learning opportunities, wellness experiences, and deliciously authentic dining, while featuring the power of tourism on women's economic empowerment in local communities.