A First Look at Belmond's Newest European Luxury Properties
by Mary Gostelow /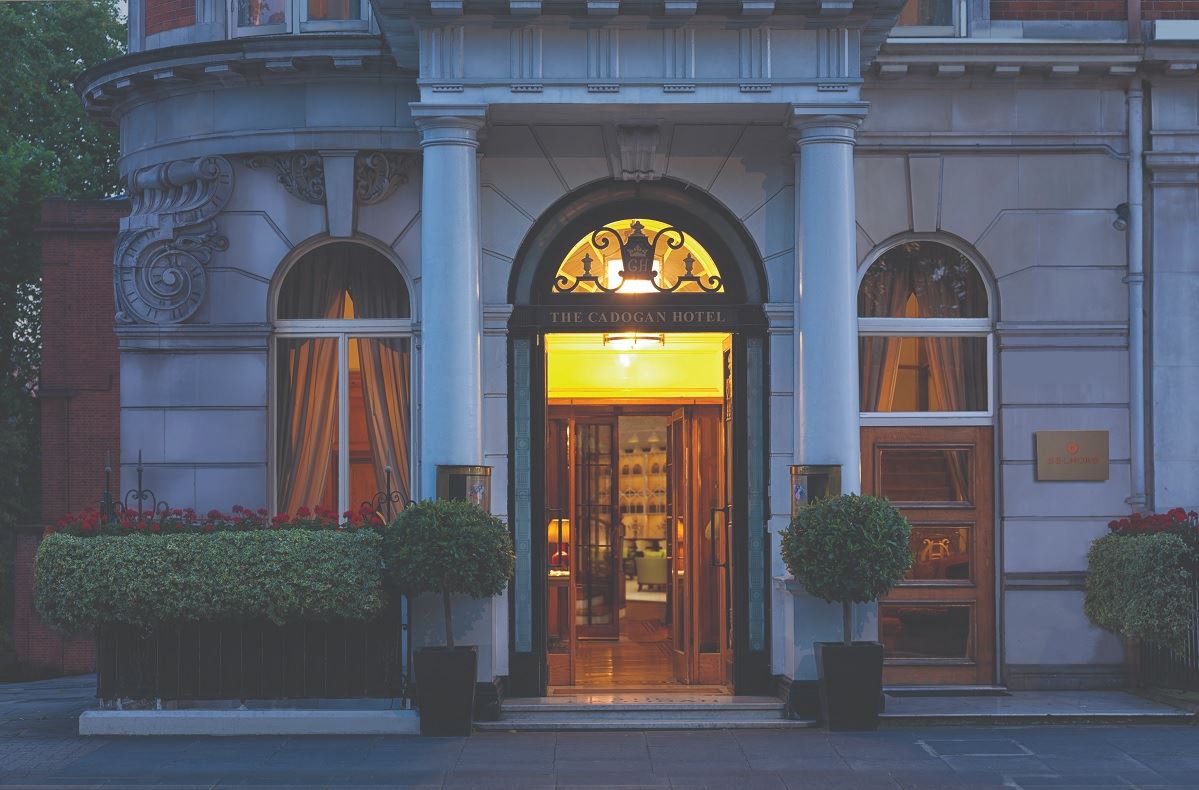 London is, some luxury travelers say, the gateway to Italy. Belmond has been highly significant in Italy for decades, but now the company, soon officially to be part of LVMH, can offer both a gorgeously authentic London townhouse hotel and an Italian castle on 4,200 rolling acres in Tuscany just an hour's drive south of Florence.
In town: Belmond Cadogan, London
Belmond Cadogan, London, opened at the end of February 2019. It cannot be said to have re-opened its doors, as frankly apart from a staircase, nothing remains of the original hotel. Built in 1887, it was home from 1892-1897 to actress Lily Langtry and, for some of that time, among the hotel guests was Oscar Wilde, who was arrested there in 1895.
Those who knew it since the beginning of this, the 21st, century will be amazed at the size of its lobby today (designer is GA International). Owner Cadogan Estates has deliberately opened the whole thing up, to put it on the map. Belmond Cadogan is now a statement. Even the doorman, dressed in bright scarlet with black trim, says "wow" (his outfit, Chelsea Pensioner meets Mary Quant, is by a one-time television costume designer, Debbie Leon of Fashionizer).
Lots of praise must also go to the hotel's ultra-passionate GM Klaus Kabelitz. As all those who know him from years at the Four Seasons and then The Berkeley, nearby, will attest, this is someone who is full of detail.
The hotel now only has 54 rooms. A welcome card is almost a 3D popup, showing an outline of the six-floor exterior. You have Jacob Jensen phones, and Bamford toiletries, as in the spa, and books fill you in on the locale. A yoga mat can be used for sessions in Cadogan Gardens, immediately across Sloane Street; hotel guests can also play tennis or picnic in the Gardens. Five minutes' walk to the left of the hotel entrance are Knightsbridge boutiques of the caliber of Dolce & Gabbana, Hermès and Pucci. Five minutes' walk to the right, by contrast, takes you to zingy King's Road.
When you check into the hotel, you are asked your choice of newspaper and what kind of fresh milk you would like for your morning tea. In the morning, your New York Times, or whatever you chose, hangs outside your door in a proper leather holster, with an extension for your bottle of milk. The longer I stayed in this hotel, indeed, the more I realized it is way above average. My morning teacup is a bright floral design, its dominant color exactly matching a hand-knitted cosy on the teapot that has a professional label, 'made by Adam's mum.'
Adam is Adam Handling, the culinary guru at this luxury hotel – and he is also into drinks, as his name is on the label of my bottle of English sparkling wine. Handling has had a hand in the teacup design, and all the china, made by William Edwards. Add to this Handling's oversight of two bars; and a lounge that does afternoon teas; and the main restaurant, cleverly reached by walking alongside the actual kitchen (those who know reserve one of the three kitchen tables, looking down at production, and, unusually, you are asked, after your first course, if you would like to help plate your main). My meal was truly memorable, namely a pair of one-bite truffle dumplings; then a celeriac-egg-apple composition; and, finally, a tranche of turbot with kohlrabi, baby shrimps and sea-herb and caviar sauce, with a glass of Seresin Sun & Moon Pinot Noir Marlborough 2013. Breakfast can be equally memorable: Who else presents the bread basket as a two-tier wooden box, pastries upstairs, butter and preserves below?
In the country: Belmond Castello di Casole, Tuscany
From town to country we go, from London to Tuscany, where Belmond's newest baby opened end of March.
Think rolling hills and woodland, and hazy vistas, and you have the setting for Belmond Castello di Casole. Judging by artefacts found during its recent construction – the same priceless bits of pot now displayed throughout the 39-key hilltop hotel – there have been people living on this site for millennia. Belmond bought the estate in 2018 and, with the help of designer J Banks and on-site Manager Roberto Protezione, they spent months bringing it up to snuff. This involved immaculate manicuring of the immediate gardens; and, inside, adding such significant antiques as the chest shown here, which opens up to be the reception closet.
The hotel has in the near vicinity 30 timeshare houses, with another 15 to come – these lucky fractional owners can use all the hotel facilities, which include a scenic outside pool permanently heated to 27 degrees.
The whole complex was put together a decade ago by Timbers, from Winter Park, Florida; and the interiors were done by Hilton Head-based Joni Vanderslice, of J. Banks, a designer who has worked with Timbers' founding Chairman, David Burder, before. The hotel itself has evolved from what was a small village.
My suite was down a short, pebbled street from the anchor three-floor "mansion" in CP33 (Casa del Prete, where the priest lived). Up 13 smooth brick steps from the "street," my home looked out to Tuscan infinity. I was reminded of the past and, at the same time, I had the trappings of today, including an espresso maker, electric towel rail, and good WiFi.
I also loved such differentiators as a satin pincushion with threaded needles, and a box of goodies with postcards showing the famed opera singer, Maria Callas, with Italian theater director, Luchino Visconti, whose brother owned this place. An enticing booklet suggested a range of activities, from boar hunting to ballooning, but sadly my time was limited (next time, the Essere Spa is definitely on the list). I hiked briskly down the near-diagonal approach road, for cardiac therapy; and watched world news on a Technogym elliptical (how nice to have a gym with a view, especially over Tuscan valleys).
I dined with Roberto Protezione, Hotel Manager, and with big-local-boss, Emanuele Manfroi, who is based at Belmond Villa San Michele, which he also oversees. We dined in Tosca, which to my surprise, was full, a mere six nights after the hotel opened; oh, those lucky fractional owners, who have Daniele Sera's food on their doorstep. We paired the hotel's own olive oil and wine, a 2016 Sangiovese, with our meal. I started with a tight-knit ball of al dente spaghetti lightly infused with squid ink; and pride-of-place went to the bistecca all Fiorentina, shared with Emanuele Manfroi – this is a hefty loin cut, generally Chianina beef, and it must be hung at least 15 days. Tonight, it was presented upright, and effortlessly carved at table by a charming young lady who smiled throughout.
In the morning, after a good workout and a few minutes admiring the stunning array of high-fashion athleisure separates in the spa's boutique, I had my usual healthy breakfast. I then, merely for a change of creative environment, used the luxury hotel's main building's lounge and bar as alternative work spots. Sadly, Eduoardo from Sienna was already ready with the black Jaguar to drive me one hour to Florence airport – who knows, next time I might be chauffeured in the electrically modified, 1936 vintage Fiat 1100 Musone that Emanuele Manfroi is having decorated, inside and out, by Rome street artist, Lucamaleonte. There will be a built-in Champagne cooler inside.