ASTA Legislative Day Brings Advisors to Capitol Hill
by Daine Taylor /

This week, approximately 160 travel professionals convened at the nation's capital to discuss issues and concerns regarding the travel industry with their state and local representatives, during the American Society of Travel Advisors' (ASTA) annual Legislative Day event.
This year marks the fifth annual Legislative Day since ASTA's rebrand in 2014. The event has grown over the years, from hosting only 27 advisors in 2014, to about 160 advisors this year.
"It's certainly the largest event we've held," said Zane Kerby, president and CEO of ASTA. "We started Legislative Day in 2014, and there were 27 hearty souls that year; and as you can see, we have around 160 here, from 34 states. So, there's been enormous growth each year.
"I'm very happy with the turnout. I'm very happy that travel advisors have come from all over the country, including places as far as California, Washington state, and Hawaii even, to come and tell legislators what's on their mind, and what's important to their business."
This year, ASTA has focused on advocating for two pieces of legislation reform: Ending the diversion of TSA fees to reduce the deficit; and the Independent Contractor Harmonization act, which would provide a clear and consistent rule set for categorizing workers as employees or as independent contractors (IC).
"It was great. We got our points across; we spoke to the representative of Senator Gillibrand and he was very attentive to what we had to say," said Hervey Lewis, travel agent and manager of Just Travel NYC. "It's good, first of all, because it helps the consumer. Consumers [often] don't know what's going on as far as TSA fees or independent contractors."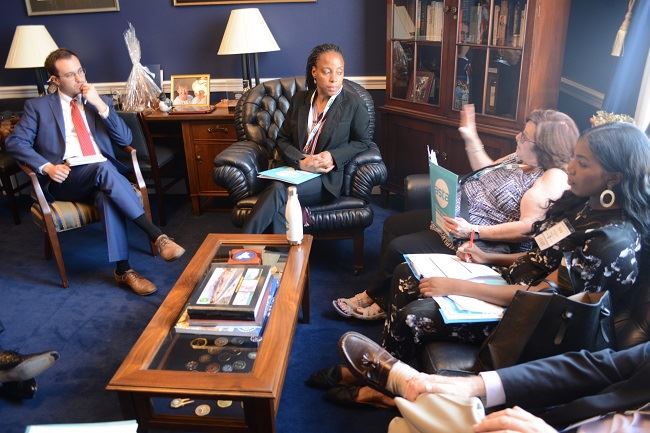 A group of advisors met with Michael Christesen, a staff assistant for New York Congressman Tom Suozzi, to confer about legislative reforms that could impact their businesses. Photo: Daine Taylor/ Travel Market Report
Training first, then 150 meetings
Over the course of a single day, ASTA arranged more than 150 meetings with House and Senate staff, agents and association leaders. After their meetings, advisors said they felt the representatives were receptive to the issues, and that the meetings increased the prospect of lawmakers supporting meaningful legislative reforms that would benefit both the industry and consumers.
"[The meetings] went very well," said Odell Duppins, technology specialist for Safe Harbor Business Travel. "We didn't get to speak to the representatives directly. We spoke to their aids. But, they were really receptive and open to it. A lot of them even shared stories of their own, so yeah, it was really nice."
The event, which was held over two days, also featured a reception and training segments to equip travel professionals with tips and advice on how best to address talking points and bring their concerns to representatives.
"You'll meet with very important representatives that you will tell your story to, [because] it's your story, and you're responsible for telling it and educating them," said Eben Peck, executive vice president of advocacy for ASTA, and moderator for the event's training.
"Any congressman or woman who's worth their salt will ask their staff a question: 'Who's been in to see us on this?' And the follow-up is: 'What's their position?' You're showing a seriousness by taking time out of your busy schedule to [travel] here and explain your position."
"You're probably the only ones from the travel advisor industry that they'll see all year, so no pressure," Peck added.
During the training, speakers emphasized the importance of advisors personalizing their messages, by speaking from personal experience, explaining that advisors are humanizing the issue so it is not so abstract for lawmakers.
"We're responsible for telling our own story to the people who make the rules, and that's it in a nutshell," said Kerby.
"You can't plan things for people who you don't know exist, and since travel advisors aren't on every street corner like they used to be 25 years ago, we're less in the public consciousness than we once were. So, it's really important that we come and make sure that legislators who make the rules know that we [exist], we're doing brisk business, and providing a valuable resource to the traveling public."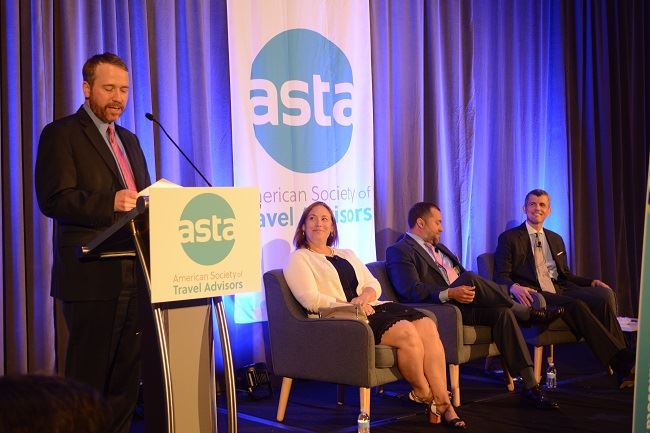 Executive Vice President of Advocacy for ASTA, Eben Peck served as moderator for the event's training segment where fielded questions for panelists and offered advice on how best to address industry concerns with representatives. Photo: Daine Taylor/ Travel Market Report
Engaging in the conversation, and winning
Last year, ASTA members managed to generate enough congressional support for the removal of several burdensome new consumer disclosures contained in the Senate version of the Federal Aviation Administration (FAA) reauthorization bill, saving the industry $29.8 million per year in "talk time" and lost sales.
"In politics, you face a choice: Engage in the process or put your head in the sand, leave the field to the opposition and hope for the best. ASTA and our members choose to engage, both in D.C. and in the states, and we have a series of wins to show for it.
"By showing Congress who we are, who we employ, and that we are paying attention, the government will understand that travel advisors watch out for the traveling public. Legislative Day is the most important part of that engagement," said Kerby. "According to the Congressional Management Foundation, an in-person visit from a constituent is rated by congressional offices as the most effective way to influence a member of Congress."